Kenosha has the opportunity to do some serious good while having a seriously good time at the "It Takes a Village" fundraiser set for Sunday (June 13) from 1-6 p.m. at The Vault, 625 57th St.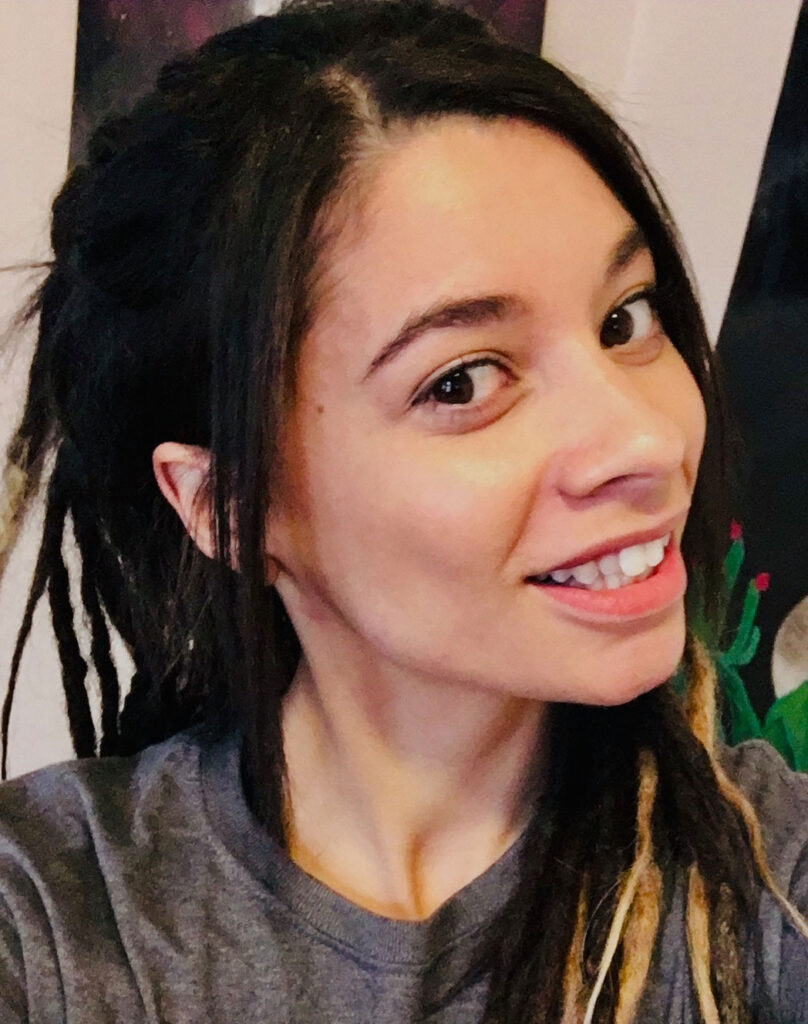 The event features a collective of local artists, crafters, musicians and resource professionals along with entertainment and food and drinks purveyors, all raising funds to support youth in foster care by providing gift cards to help with initial placement, said organizer Katy Wallner.
"A lot of foster youth are just in survival mode and struggle trusting caregivers, community and even themselves," Wallner said. "Starting a new placement can be very traumatic as it's sudden, sometimes without warning and you are expected to adjust accordingly not knowing or understanding what it is you're adjusting from."
A $5 minimum donation is requested at the door for any attendee 18-and-older, which will go toward the goal of providing at least 50 youth with $25 gift cards.
The cards will be handed directly to the Racine foster care program and the Kenosha Community Impact Program to get them to school-aged foster youth, Wallner said.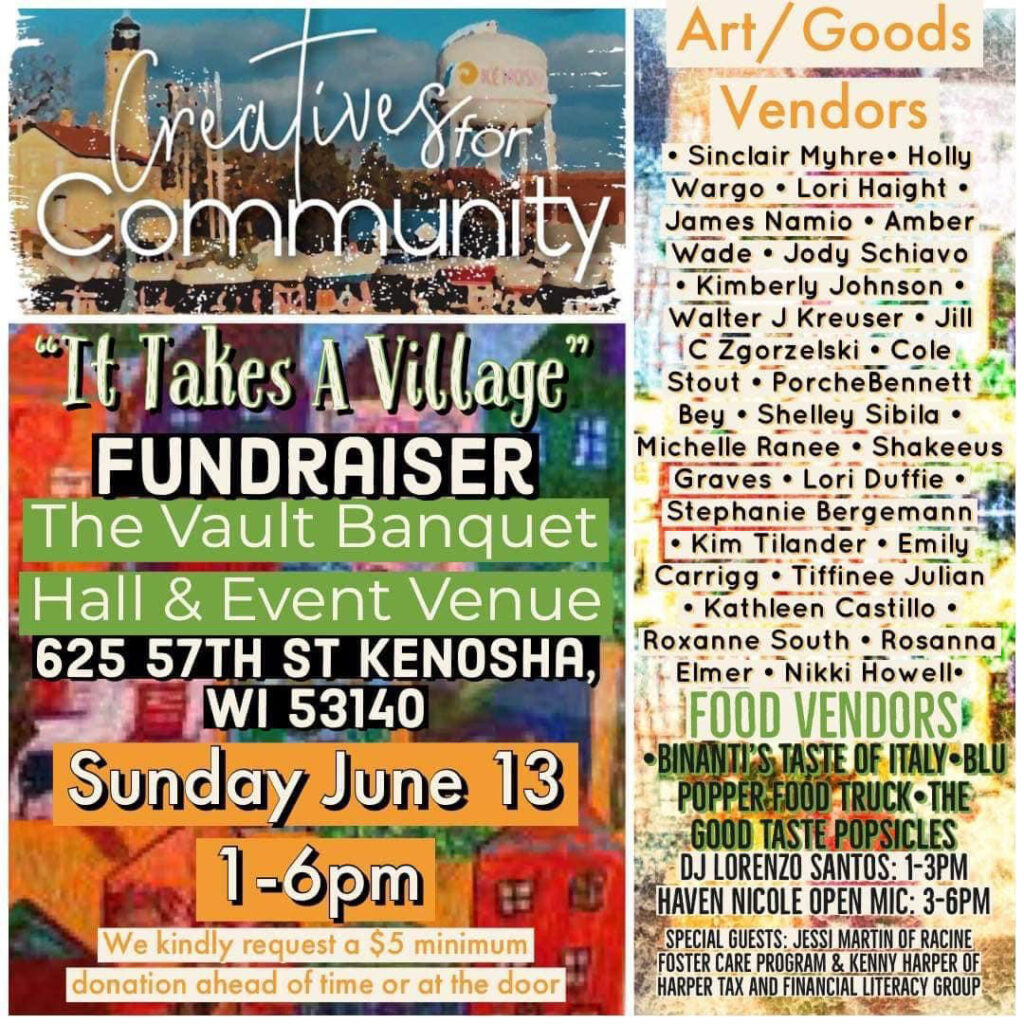 "The idea is while the kids are transitioning into a new home they can use the gift cards for either something for enjoyment or for needs, with guidance either from a social worker and or caregiver," said Wallner, who is the director of Sunday's event assisted by Kathleen Woodard Castillo who has organized vendor events in the community for the past six years.
"It Takes a Village" is both hosted by and inspired by Creatives for Community, a public website that gives artists and crafters a home to sell their creations. Wallner has nurtured the now-trademarked group from its beginnings in an Uptown craft fair to support the neighborhood in the wake of the traumatic events last summer.
"Creatives for Community is a collective that does just that — we find ways to support ourselves while sharing knowledge, skills, talents and crafts to implement them into actions for a better community," Wallner said.
In keeping with the spirit of Creatives for Community, the fundraising event brings together local artists, crafters, musicians and resource professionals The slate of about two dozen vendors includes arts and crafts from macrame to jewelry to decor, and products such as oils, and home goods. Food, music, and even a mobile paint studio will be on hand. The offerings will be both inside and outside The Vault, which donated its space to the event. See the full list below.
DJ Lorenzo Santos will entertain from 1-3 p.m., followed by Haven Nicole (Miss B Haven) hosting open mic from 3-6 p.m.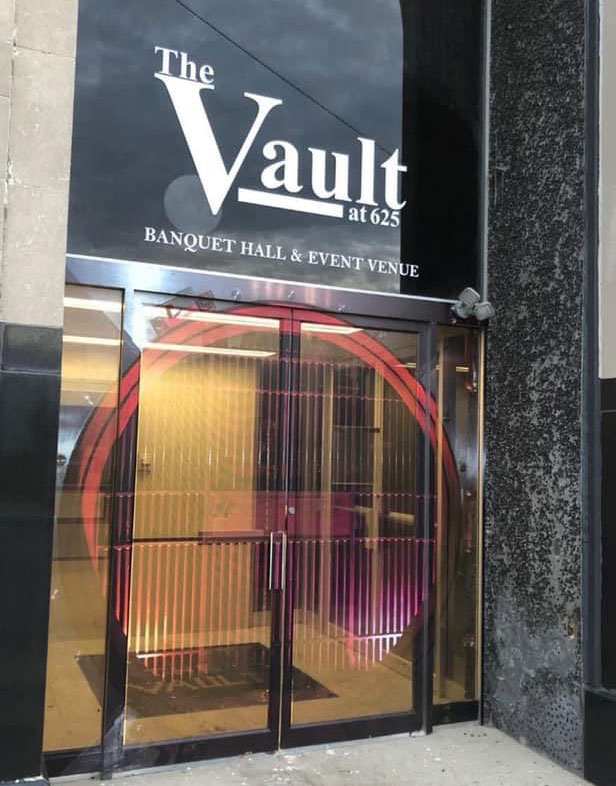 Special guests will include Racine Foster Care program and Kenny Harper of Harper Tax and Financial Literacy Group. Both will be available throughout the event to talk about their organizations and help people get involved.
Tastes from Italian to Mexican to soul food will be available from vendors including Bianti's Taste of Italy and Good Taste popsicles.
"It Takes a Village" organizers and participating vendors hope to do more than raise money for foster youth, there is also the feeling of community support and personal connection. For example, patrons can visit a craft table to make bookmarks which will be included in care packages for foster youth. Recently Kenosha Achievement Center clients pitched in to help by making bookmarks with messages of hope and love.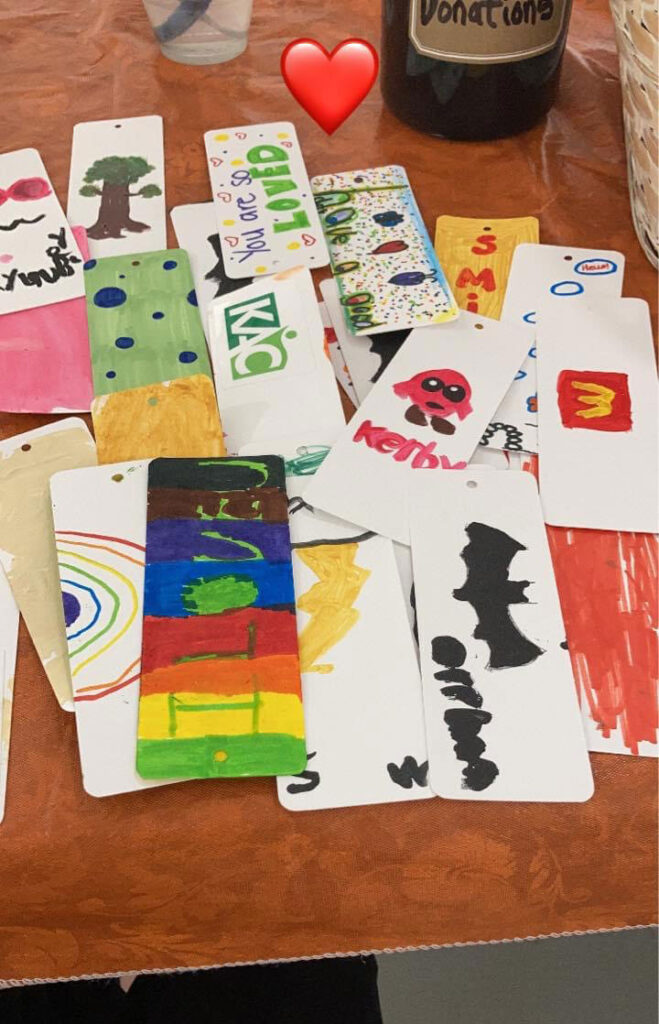 "Although many youth in general go through a lot of situations and difficulties, a youth in foster care handles many different spectrums of trauma," Wallner said. "The needs of physical and emotional safety are challenged as well as a sense of belonging and love. Navigating feelings of self worth and (asking) why your life is different from other kids."
If it sounds like Wallner has strong insight into the foster care experience, it's because she has lived it.
"This event is put together out of my own personal experiences and feelings about my own short time with foster care and adoption," Wallner said. "Although the time was short, the trauma and the sense of not belonging carried well into adulthood. With more awareness and support from the community, there are a lot of ways that our now foster community do not have to go through life feeling that way.
"Bringing more awareness and support from our everyday community may help build a bridge to let our foster kids know that they are not alone. We will find ways to let you know we do see you, we do want to hear you and you don't have to go through this difficult time in life in silence. Uplifting our youth, especially those going through times that a lot of others don't experience I truly believe will improve our community's future."
Vendors (Subject to change):
Sinclair Myrhe Photography (print making, graphic design, digital illustration, nature art), Healing with Holly (essential oil and natural body/home products), aCORDing to Lori (macramé bags, plant hangers, ornaments), Jim Namio Artworks (pop culture and history inspired paintings/drawings), Crafty Wade Creations (clothespin wreaths), Elasia's Gifts (glass beads, pendants, jewelry), Kim's Dream Jewelry (wire art/jewelry), Nothing's Wrong Here Studio! (watercolor/ink paintings, graphite/charcoal drawings), Art by Jill C. Zgorzelski (acrylic painting, digital art prints), Pure Body Love (body care products), Cole Stout Photography Art (photographs and jewelry), Shelly's Scensations (all-natural palm wax candles and melts), Michelle Ranee (earthly goods), Black Essence Candles (handcrafted candles), Tastefully Simple (seasonings, sauces and spreads), Mary Kay (skincare, cosmetics), Paparazzi with Kim (jewelry), Thirty-One (bags and accessories), Color Street (nail polish), Charmtastic (charms), Roxanne South (wood home decor), Life Expressions (painted boards), Senegence (skincare/cosmetics).
Entertainment, food and special guests/attractions:
DJ Lorenzo Santos, Haven Nicole open mic, Jessi Martin of Racine Foster Care Program, Kenny Harper of Harper Tax and Financial Literacy Group, Hot Mess Studios, Binanti's Taste of Italy, Good Taste Popsicles.