If you're looking for fun things to do around Kenosha this summer — and you're up for a cool adventure — check out the KTown100 challenge.  
Kenosha native David Leto, the creator of the KTown100, started the project as a friendly challenge for his friends and posted the idea to his Facebook account.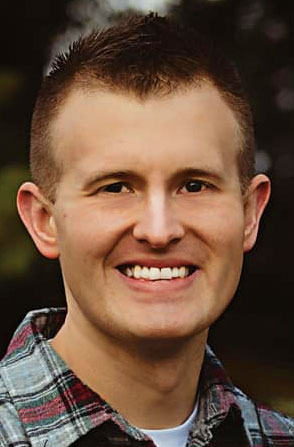 What started as a random idea for doing things around town, quickly turned into a full-blown summer scavenger hunt of sorts.
"Every year, my wife and I make a list of things to do during summer time and over the last few years there's been a lot more things going on — you know, pop-up beer gardens, bonfires by the lake, music events," Leto said. "Last year, Kenosha kind of suffered with COVID and the civil unrest and all that, so I really wanted to create something to promote all the good that's going on in the city."
Since most people consider summer to be the window between Memorial Day and Labor Day, Leto wanted to round that number of days from 98 up to 100, and that's how KTown100 was born. 
"Let's be honest, summer is between those two holiday weekends," Leto said. "I thought about the time frame and thought, 'Meh, I could think of 100 things to do around here.'"
The Bradford High School and UW-Stout graduate decided to make a Facebook group so that everyone that wants to participate can join in.
Appropriately named, "KTown100," the public group is open to anyone that wants in on the fun.
Leto encourages everyone to check out the page and from there, they can see the official list of 100 things to do.
The list is broken down to 5 categories: Natural Landmarks, Local Landmarks, Summer Events, Summer Activities, and Local Businesses.
"Living in Kenosha my whole life, I kind of know what's going on around here — everything from the lighthouses, the Velodrome, the whole Big Star vs. The Spot feud, Pets, the Biergarten, the Dinosaur Discovery Museum, there's honestly so much," Leto said.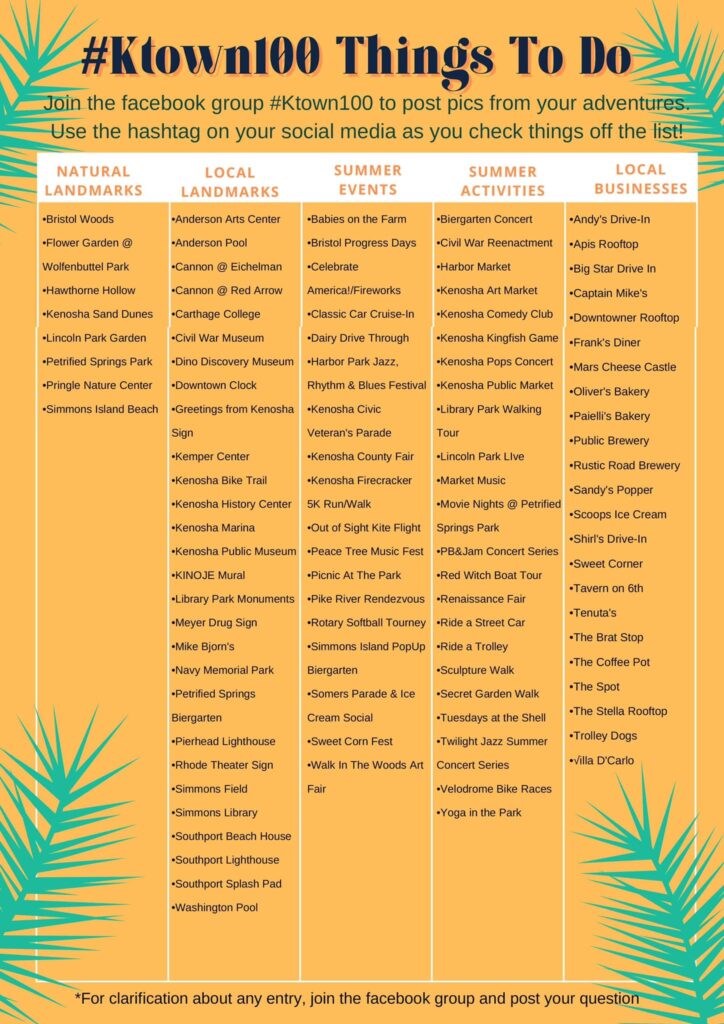 "I just wrote this list of things I've already done and things I want to do yet. There's also a lot of live music to check out. PB&Jam used to be once a week in the afternoon, and now there's so much going on all around the city that you can actually see live music every night of the week if you know where to look."
Participants can take photos while checking off items on the list and tag them on Instagram or Facebook with the hashtag #KTown100. 
They can also be uploaded to the Facebook group where they can interact with others that are participating. The group is also a place where people can ask questions about the challenge.
For anyone new to Kenosha or even those that are uncertain about a landmark, event or location, the Facebook page can be used as a bulletin board.
"Snap a picture, share it, make it competitive, and use it as a way to network and meet people," Leto said.
Many of the entries on the list are free, and the list spreads out all around the city.
"Hawthorn Hollow and Pets are some good spots, of course," Leto said. "Downtown is always cool. There's sailboat racing down there. All kinds of things going on that don't cost anything. What I hope is that for people of Kenosha to get out and just experience things — maybe check out some places they haven't seen before. It really just promotes unique things around town. 
"Last year was such a bummer. Nothing was going on, so many things got canceled, everything was boarded up and I think a lot of people are ready to get out and do things now. Hopefully, this will do some great things for people, families, and businesses."
Leto was asked about his favorite thing on the list.
"Ooh that's tough," he said. "I'm an ice cream guy, so I love all the ice cream shops around town. I also love taking a pizza to go from Villa D'Carlo and going down by the lake to have a picnic by the water."
To see the official list, visit KTown100.