The Washington Park Velodrome isn't just the oldest operating velodrome in the country — as the sign proudly displays — it's an opportunity for cyclists of all ages and abilities to partake in an experience unlike any other.
"It's fast-paced excitement," said Velodrome president Robby Gauss, a two-time national track podium recipient. "Your heart rate is going. Your adrenaline is maxed."
After a lost 2020 season, racing returns to the Velodrome tonight (June 1). The season opener features several events including miss-and-out, scratch and points races.
The Velodrome's Monday night stock bike program begins on June 7.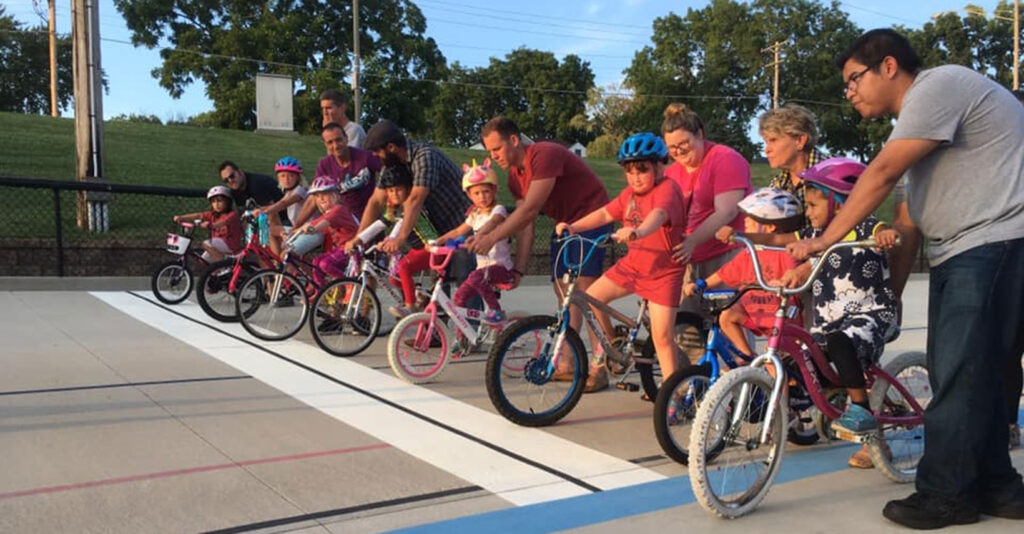 Gauss, a Kenosha native, spent his childhood racing at the Velodrome and helping his father, Marty Gauss, fine-tune bikes and assist cyclists competing in front of jam-packed, hillside crowds.
"I was the one walking around with a bucket for donations," Robby Gauss said.
The Velodrome, which opened in 1927, is one of the few original operating velodromes. The 333-meter track was resurfaced in 2017, complete with 28-degree banked corners to give the 95-year-old track a modern-day feel.
"It's a special place," said Robby Gauss, a second-generation owner of Total Cyclery, 5039 Sixth Ave. "Not many cities can say that we have a velodrome in our city that is usable."
Throughout the years, the Velodrome has graced the presence of national champions, world champions and Olympics medalists, who torched the straightaways at speeds over 35 mph.
Located at 1821 Washington Road, the Velodrome hosts several featured races each season including the Mayor's Cup (Aug. 3), Schulte Junior Points Race (Aug. 10) and the grueling 150-lap Bob Pfarr Classic (Aug. 17).
The inaugural Susan B. Anthony Ladies Race will be held on Aug. 24.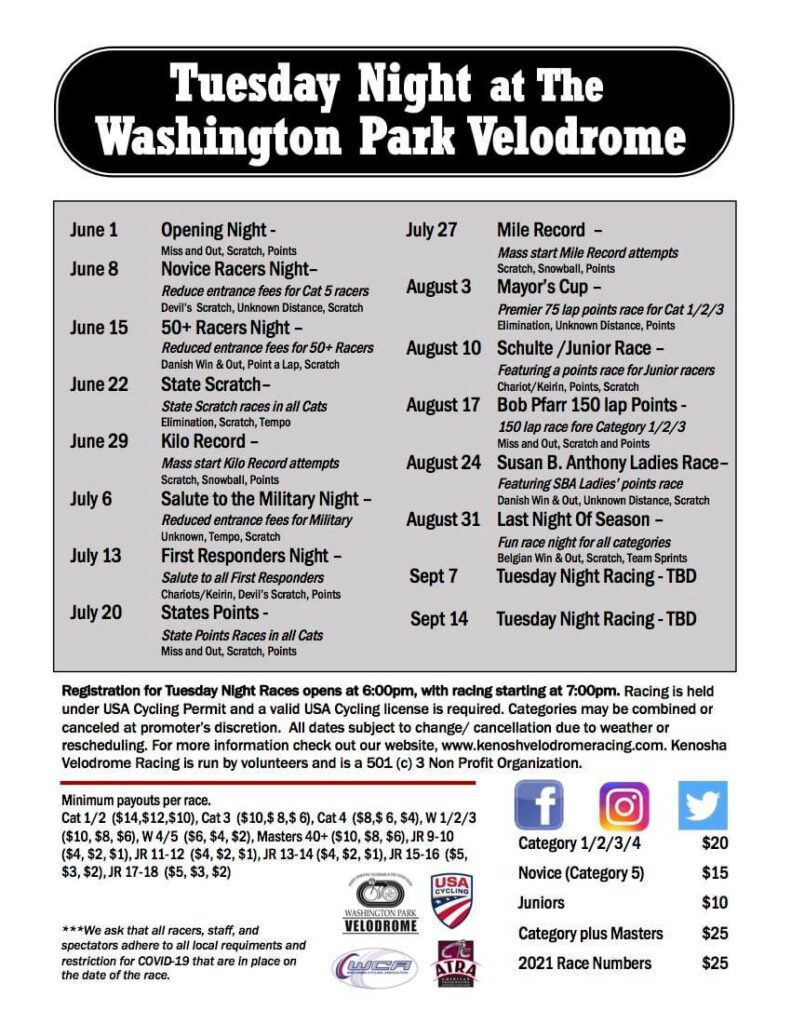 All of the featured races were pushed to August to give riders an opportunity to ease into competition after the 2020 season was cancelled due to the pandemic.
Gauss said he expects 2021 to be one of the most competitive seasons in recent memory.
"Riders are going to be super excited to get back out there," Gauss said. "People who have been sitting on their trainers for a year and a half now are ready to come out and kick some (butt)."
"You're going to see a lot of the high-caliber riders that have been coming here for years and they'll be bringing their friends and teammates."
Kenosha Velosport returns to the Velodrome for its 44th season. The junior development cycling team was named the 2019 Track Cycling Team of the Year by USA Cycling.
The Monday night stock bike program has officially become Moose Night, according to Gauss. The Kenosha Moose Lodge #286 donated registration fees for all riders participating in the Monday night program.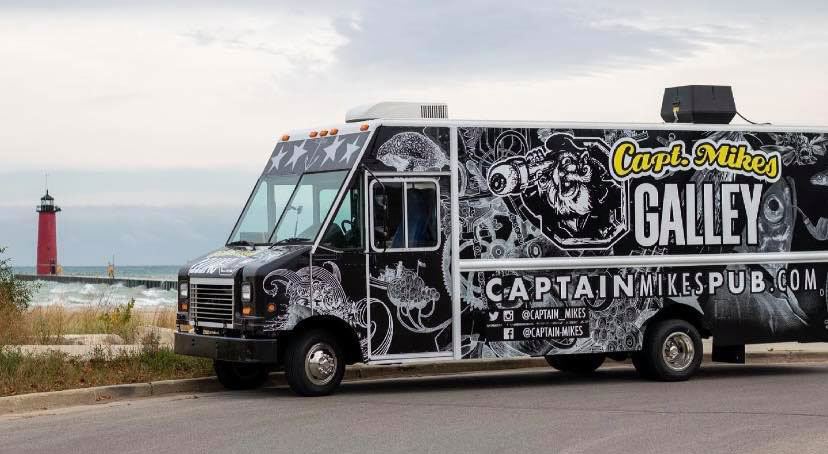 Moose Night is for riders of all ages and abilities.
"Monday night is where it all begins," Gauss said. "As long as you can pedal it, you can ride it.
"All you need is a bike, a helmet and a one-time $5 insurance fee. The rest of your season is covered."
The Velodrome will also feature food trucks this season with Captain Mike's "The Galley" offering food and drinks.
For more information, visit www.kenoshavelodrome.com.