Each Memorial Day, we remember those who gave all for our country. Veterans from Kenosha and throughout Wisconsin have played a significant role in that history, as told in several books devoted to local residents who served.
The books featured in this week's Bookmark not only honor local veterans, most are written by authors who hail from Wisconsin or have local connections.
"Wisconsin's 37: The Lives of Those Missing in Action in the Vietnam War" by Erin Miller and John B. Sharpless honors those whose stories were left unfinished.
When the Vietnam War ended, the dead were counted (including 1,239 from Wisconsin) and the survivors returned, there were 2,646 individuals who did not come home.
Thirty-seven of those missing in action were from Wisconsin. Their stories are told using recollections from each soldier's family, friends and fellow servicemen.
One of those heroes is Staff Sergeant James Lee VanBendegom of Kenosha, who disappeared in action July 12, 1967. VanBendegom was a Kenosha native who attended Tremper, worked at Sunnyside grocery store and sang in the Trinity church choir. He is one of four sons of Virginia and Robert VanBendegom, a decorated WWII veteran who was part of the legendary Flying Tigers.
JIm VanBendegom's story is told by his brother Mike and sister-in-law Darlene. They recalled how he was full of life, and couldn't wait to follow in the footsteps of his father. "Wisconsin's 37" beautifully recounts the tragic, harrowing story of VanBendegom's time in Vietnam, but the most touching and memorable chapter was yet to come.
Through a series of events chronicled in the book, VanBendegom's remains were eventually returned to his family. What started out as a family service was opened to the public at the encouragement of a veteran's group, and the funeral for the fallen hero took on epic proportions as the community welcomed him home.
An excerpt from the book:
"The City of Kenosha embraced VanBendegom's return. As the family drove home, they found the overpasses flooded with people, saluting and waving flags. The (VFW) Riders Group led the escort. The owner of a local Culver's closed the restaurant to come outside with customers to acknowledge Jim and his family. Classmates who had also served in Vietnam carried the flag-draped coffin. Two active-duty military officers from B Company 1st Battalion, 12th regiment, 4th Infantry Division came for the service and a bugler played Taps as Staff Sergeant James VanBendegom was laid to rest with full military honors. His funeral was on Veterans Day 2014. He was buried in Kenosha next to his father."
"Wisconsin 37" co-author John Sharpless, a Milwaukee native, is a history professor emeritus at the University of Wisconsin specializing in military history and state history. Erin Miller is also a University of Wisconsin product, with a Master's degree in Communication Sciences.
Did you know?: The names of Vietnam MIAs from Wisconsin appear on the largest object – a motorcycle (now part of the Vietnam Veterans Memorial Collection) – ever left at the Vietnam Veterans Memorial.
"Mettle and Honor: Wisconsin Stories from the Battlefield" by Milwaukee journalist Mark Concannon (2018) is a touching collection of personal histories compiled through the Veterans Story Project.
The book includes veterans who served in WWII, Korea and Vietnam. A sense of urgency permeates the WWII tales, as there are so few left to tell them.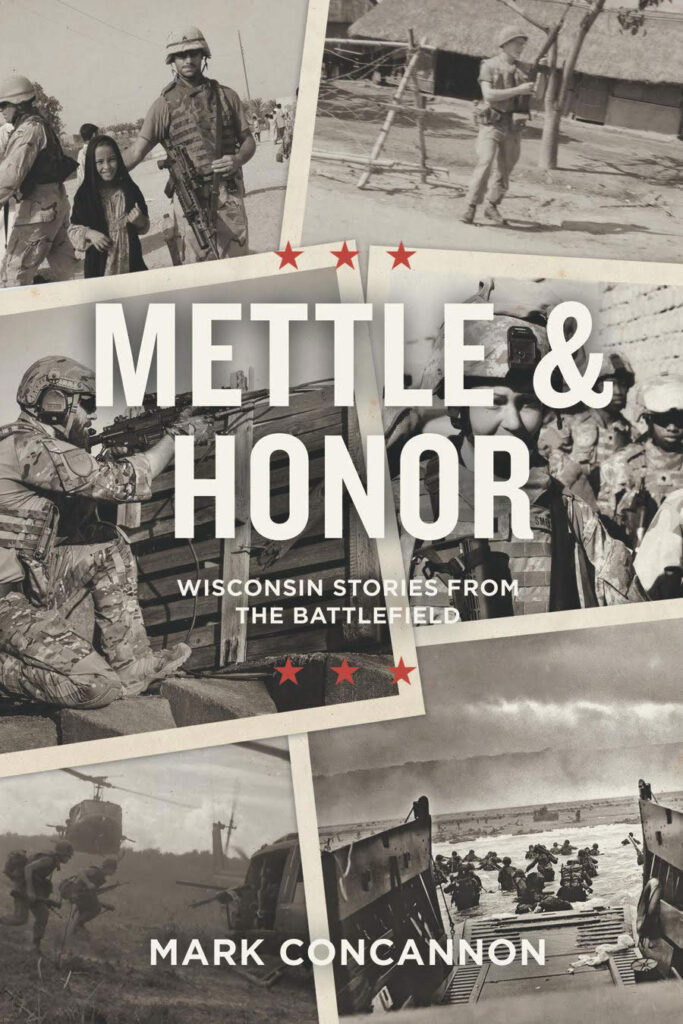 When his book was published in 2018, Concannon told WUMW public radio that doing the interviews was an emotional experience, especially with the oldest veterans as they knew their time for recounting their experiences and recalling the fallen was growing short.
Did you know?: A Wisconsin sailor, Roy Marin of South Milwaukee, was one of 84 crew members killed when the USS Bullmore became the last ship sunk by the Japanese in WWII? The tragedy occurred the same day that the U.S. dropped the atomic bomb on Hiroshima.
"The 11th Wisconsin in the Civil War" details the volunteers who trekked more than 9,000 miles in the service of their country. Nearly 75 percent of the regiment's men were farmers who were willing to leave their livelihood in the hands of their families so that they could join the Union cause.
The author uses letters and diaries from the regiment to reconstruct the experiences of the soldiers. The 11th Wisconsin suffered losses, not only in battle, but more often to disease.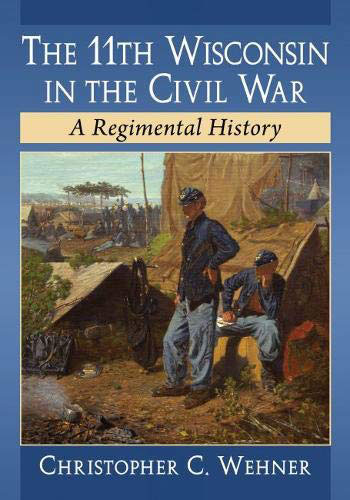 For hardcore history buffs, the book includes appendices detailing soldier's occupations, dates of service, and other details that can fill in family histories.
Did you know?: Wisconsinites volunteered in droves, making the state one of the highest soldiers-per-capita contributors to the Union cause. The Civil War was the bloodiest conflict fought on American soil, and Wisconsinites suffered disproportionate casualties
"Frontlines: World War II – Personal Accounts of Wisconsin Veterans" is told by the survivors, honoring their fallen brethren.
What makes this book stand out is that Green Bay author John Maino weaves state history, including the Packers, into the tales from the front as a cultural and chronological reference.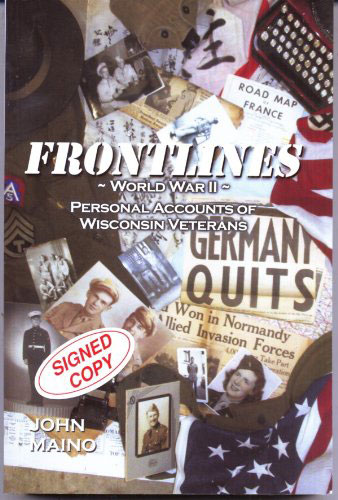 Said one review," A truly personal account from the lucky ones who came home."
Did you know?: More than 300,000 Wisconsinites were among the 16 million Americans who served in WWII, and of the 435,000 U.S. casualties, 8,390 were from Wisconsin.
"Wisconsin Vietnam War Stories: Our Veterans Remember" by Sarah Larsen and Jennifer M. Miller is a companion book to the documentary produced by Wisconsin Public Television. Both showcase first-person stories from those who fought in America's longest war.
The stories told in "Wisconsin Vietnam War Stories" are diverse and engaging. Tales include: a Hmong refugee who fought in the Laotian Civil War, also known as the "Secret War," at age 12 in the jungles of Laos and later made his home in Milwaukee,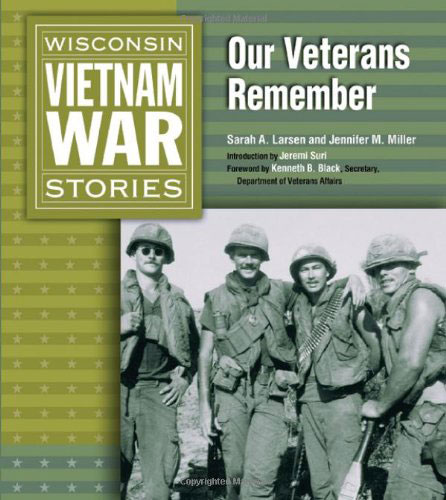 Photographs from the veterans' personal collections, detailed biographies and an honor roll of Wisconsin-born soldiers who died or remain missing make "Wisconsin Vietnam War Stories" a local and lasting tribute to our veterans, and a fitting memorial to those whose who gave their lives in service to our nation.