It is said that pictures paint a thousand words, but in this case they only need to paint one.
Entrants in KUSD's "It All Starts With Hello" poster contest used art to convey the power of a simple greeting. Winners were announced this week, and their work now will be used to promote this positive initiative throughout the community.
"We wanted to give students a chance to showcase the importance of saying hello in a visual format. Students are so creative and have a voice to share even if that is through their own artwork," said Harborside Academy Assistant Principal Trent Barnhart. "Students can take great pride in their work and also be proud that there was also a great purpose behind the work as well."
The winners, selected from a large field thanks to overwhelming student response, are: Barbara Velazquez, fifth grade, Whittier Elementary; Jazzlyn G. Cruz Salina, sixth grade, Lincoln Middle School; Ashley Osorio, junior, Tremper High School.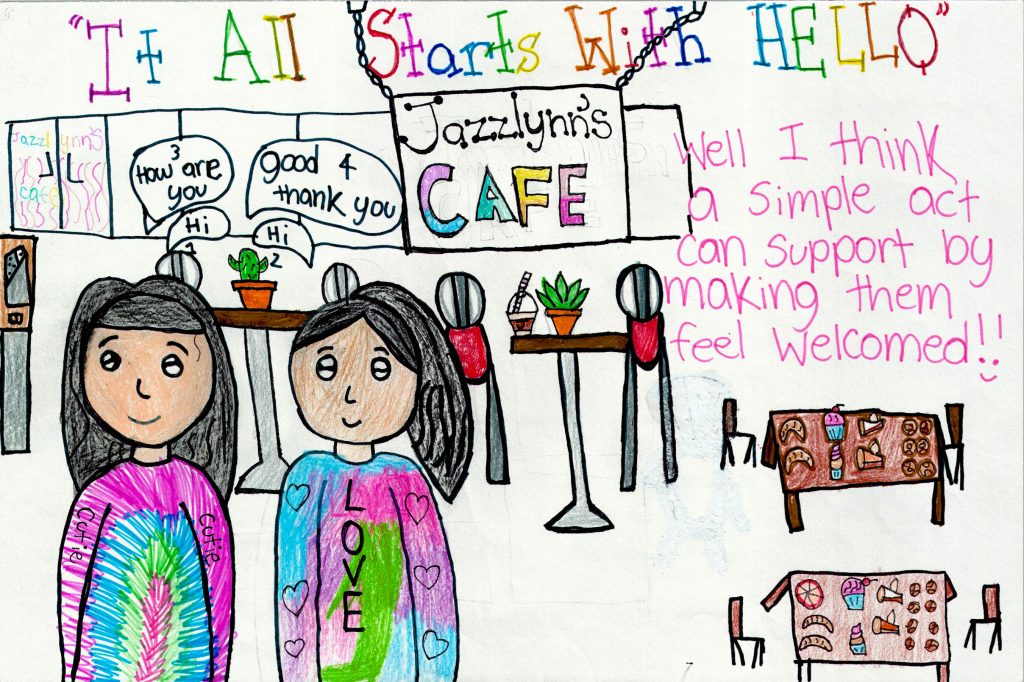 The contest was open to the entire district, with 20 schools submitting their top three entries. Student artists were tasked with answering the question "How can the simple act of saying 'hello' support building relationships and strengthening our community? What does this look like to you?"
The judging panel included school leaders from the five EL Education schools: Frank, Vernon, Wilson, Jefferson Elementaries and Harborside Academy. Judges selected the top three finalists from each age division, which were then submitted to national EL Education leaders who selected the top choice for elementary, middle and high schools based on the not only the craftsmanship but also how well the poster conveyed the intended message.
That message will be delivered in a big way, thanks to donated billboards and innovative ideas of spreading the good news through local businesses. Three digital billboards went up last weekend, donated by Adams Billboards. Look for the larger-than-life artwork on the corner of Green Bay Road and 60th Street, 75th Street east of Green Bay Road, and another near I-94. The artwork scrolls throughout the day along with other ads, and will be featured until the end of June.
Organizers are also in the process of printing posters and possibly placemats that will be distributed to business owners and restaurants to display as well, Barnhart said.
"Hopefully people will be able to see them all over the city of Kenosha," he said. "For students to see their work displayed in a public setting is meaningful and authentic."
The pandemic put the district's traditional art shows at Anderson Arts Center and Lincoln Park on hold. That loss of opportunity not only impacted budding artists, it also meant the community missed out on sharing tangible, positive examples of the good things happening in our schools. Organizers hope the "It All Starts With Hello" initiative showcase that creativity.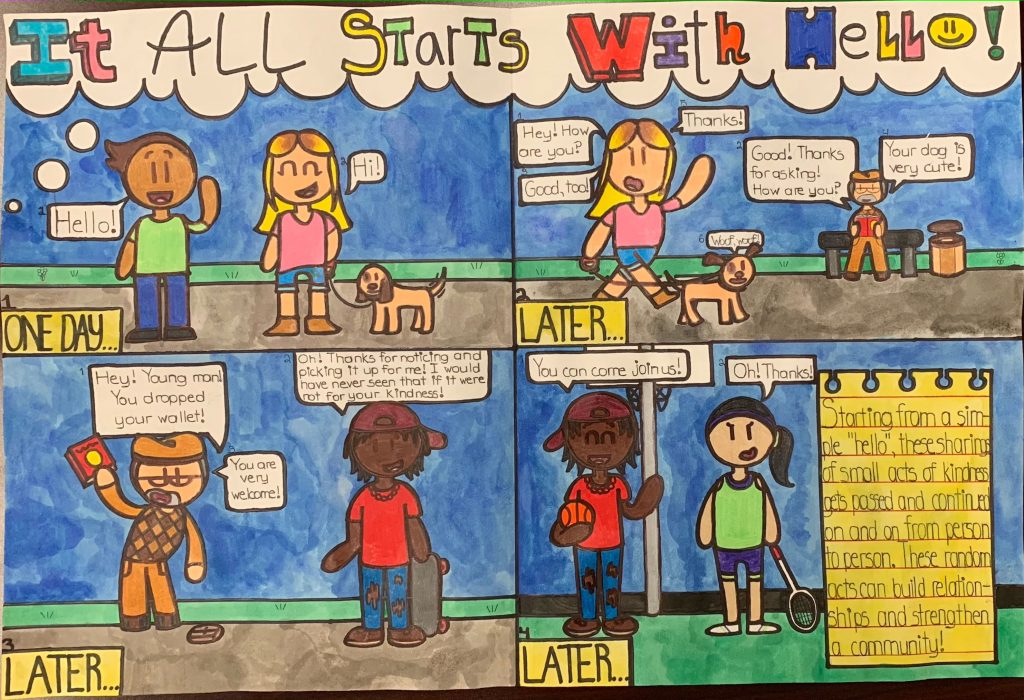 "It is one thing to see your artwork on display on the Anderson Art Center and Lincoln Park, but to also see your artwork displayed on posters hung in businesses, or on placemats and table tents at restaurants, or also on a billboard as you are driving down the road is a pretty cool thing to see," Barnhart said. "We have amazing students that are also amazing artists in KUSD and for their gifts and talents to be shared among the community showcasing their high quality work, while also sharing an important message seems like a worthwhile thing to do."
The "It All Starts With Hello" campaign started three years ago with the EL schools as a way to bring our community together. Saying "hello" to the people we encounter as we make our way through the day, whether in the grocery store, working in the yard, or walking down the street, is the first step to building connections.
It's even better when people make that small gesture to people who come from different backgrounds, Barnhart said.
"Unfortunately, we live in a society where there are still people who are oppressed because of the language they speak, or their race, or even how much money they make or don't make," Barnhart said. "The goal of the 'It All Starts With Hello' campaign is to provide context and understanding to systems of oppression and how we must learn and grow together as a society to tackle these systems to make our world a better place."
"In order for this to happen, people must listen to each other and try and understand their perspective, even if we don't always agree with them," Barnhart said. "So, to tackle this difficult task, which is not easy, saying hello is easy, and can be the simple first step. A 'hello' can turn into a 'how are you?' which can turn into a conversation that can lead to understanding of one's perspective."
The EL school leaders involved in the mission are Jefferson principal Kathy Walsh, Wilson principal Rhonda Lopez, Jane Vernon principal Christine Geyer, Frank principal Heather Connolly and Harborside Academy principal/interim William Haithcock, who will become the interim chief of school leadership effective July 1.
KUSD Communications Specialist Jessica Tuttle created a video for the campaign to introduce schools to the initiative and encourage participation, available here and on the district's social media pages.