St. Joseph Catholic Academy President and High School Principal Robert Freund will be retiring at the end of this school year.
The longest-serving president in the Archdiocese of Milwaukee, Freund began his career in Catholic school education in 1978 as a teacher and coach at St. Patrick's school in Fond du Lac. A two-year varsity letterwinner in football at UW-La Crosse, Freund moved to Kenosha in 1981 to become the physical education teacher, track coach and head football coach at St. Joseph High School, where he made his mark, both in the classroom and on the field. Freund led St. Joseph to its first ever football playoff appearance in 1984, was named Metro Conference Coach of the Year and also brought home a runner-up finish in 1985 at the WISAA boys state track and field meet.
In 1985, Freund left St. Joseph to pursue a master's degree in sports administration at Western Michigan University and to serve as a graduate assistant football coach for coaching great Jack Harbaugh. With his advanced degree and even more coaching experience, Freund began a very successful six-year stint at Assumption High School in Wisconsin Rapids in 1987, serving as head football coach and athletic director. During his years at Assumption, Freund was named the Central Wisconsin Catholic Conference Coach of the Year in 1990 and 1992, leading his team to the WISAA Division 3 state championship game in 1992.

Back by popular demand, Freund returned to St. Joseph in 1993 as a physical education teacher, head football coach, girls athletic director and freshman boys basketball coach. Over the next decade, Freund not only became a coaching legend in the state of Wisconsin, but he continued to grow as an educator and administrator. Earning a second master's degree in educational policy and leadership from Marquette University, Freund moved up the administrative ladder at St. Joseph, becoming the dean of students in 1995, the assistant principal in 1996 and the high school principal in 1999.
Freund's leadership was evident both as an educator and a coach. As St. Joseph's head football coach from 1993 to 2004, the Lancers captured the 1994 WISAA Division 2 state championship, finished as the 2001 WIAA Division 5 state runner-up, and qualified for the playoffs 11 consecutive seasons. The Lancers were crowned Lakeshore Conference champions in 1997, 2002 and 2003. Freund was recognized as the 2001 UW-La Crosse Alumni Coach of the Year, the 2002 Lakeshore Conference Coach of the Year and the 2003 WFCA District XVII Coach of the Year. He was inducted into the 2006 St. Joseph Lancer Athletic Hall of Fame and the 2009 Wisconsin Football Coaches Association Hall of Fame.
While Freund had great success on the gridiron, his greatest triumphs were as an administrator. As Catholic school enrollment declined nationwide and many Catholic schools in the area closed, Freund's collaborative, steady leadership kept St. Joseph thriving and vibrant. Knowing that Catholic education had to be accessible, affordable and sustainable to survive, Freund worked closely with local pastors, educators, the St. Joseph Board of Trustees, the Archdiocese and local leaders to make a school that would be around for generations to come.
After two years of research and planning, Freund was instrumental in creating St. Joseph Catholic Academy, an innovative preschool through high school model of Catholic education. Freund was named its first President in 2010. Recognized as a local, state and national leader in Catholic education, Freund presented the SJCA preschool through high school educational model as the prototype of Catholic education for the future at the National Catholic Educational Association Annual Meeting in 2011. Often called upon by other Diocese to share his wisdom and expertise, Freund humbly assists all those who are seeking this sustainable model of education.
Under Freund's leadership, SJCA has grown to be the largest private school in the area, serving over 800 students with a staff of over 100 employees. After 32 years as a highly respected educational leader in Kenosha, in the Archdiocese and around the state, Freund is retiring from St. Joseph Catholic Academy, closing out his stellar career while holding the dual role of SJCA President and Principal from 2017 until 2021.
Married for 40 years, Bob and his wife Lynn are the proud parents of three St. Joseph alumni, Andy (2001), Daniel (2004) and Bethany (2007). A true credit to his faith, fortitude and dedication, Freund is the longest serving president in the Archdiocese of Milwaukee.
Dr. Kathleen Cepelka, Superintendent of Schools for the Archdiocese of Milwaukee, reflected on Freund's long career.
"Bob is a faith-filled, loyal, and dedicated Catholic educational leader who is also, in every sense, a gentleman," she said. "I've actually known him since he was in the fifth grade at St. Mary's Catholic School in Fond du Lac, while I was his student teacher for a short period of time. Then I hired him for his first job as a junior high teacher and football coach at Saints Louis and Patrick School in Fond du Lac during my time as principal there.
"We worked together as colleagues while he was principal of St. Joe's and I was principal at Catholic Memorial. Our paths crossed again when I taught him as a graduate student at Marquette — and yet again, often, during these 11 years of my work with the Archdiocese.
"There's no other Catholic educator I've known for as long or in as many ways as Bob Freund. His sense of humor, professionalism, patience and respect are qualities that have, I believe, contributed to his resilience over the years, through the countless challenges he has faced. Bob's departure from St. Joe's marks the end of an era, but his legacy of solid commitment and genuine goodness will endure."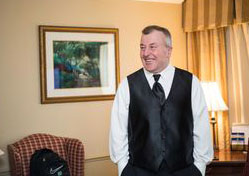 Freund's legacy lives on, not just at St. Joseph Catholic Academy, but in the city of Kenosha where he has left Catholic education in a strong position for many years to come. Equally as important, Freund's quiet, steady example has inspired the thousands of students he has taught, the hundreds of teachers he has mentored, the countless administrators he has guided, and the multitude of athletes he has coached. His humble leadership will be missed, but he is leaving SJCA in good hands, well prepared for the future.
When asked about his long, distinguished career in Catholic education, Freund smiled and referred to his favorite Bible quote, 2 Timothy 4:7.
"I have fought the good fight, I have finished the race, I have kept the faith," he said.