Law enforcement officers throughout Kenosha County gathered at the Public Safety Monument in HarborPark Wednesday to honor the men and women who died protecting their communities.
Hundreds of police officers, sheriff's deputies, area residents and elected officials paid their respects during the ceremony.
Pleasant Prairie Police Department Chaplain Charlie Hansen offered opening remarks.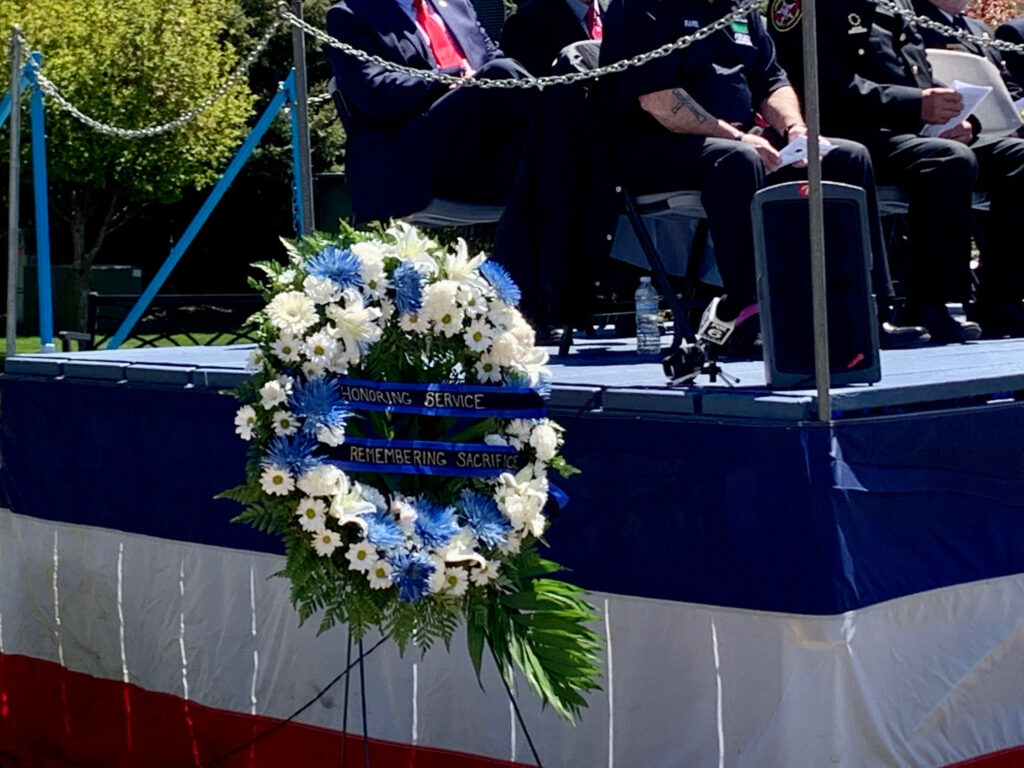 "How can we, the people you protect help all of you?" Hansen said. "There's a lot of noise out there right now that's not positive. But let me share this with you. I spend the vast majority of my time in the community and not once, let me repeat, not once have I heard anything negative about our law enforcement. Please know that you are supported by far more people than you realize, and maybe this is the time for our voices to be heard."
Hansen said every time he's notified a law enforcement official has died "I stop and pray for their family."
"I pray that it's the last one I ever get notified about, but we all know sadly that's not the case," he added. "All of you have a job that gets little affirmation from the very ones you protect. … Today, I want to speak for the cities and the counties you serve, and I want to say thank you. We truly could not survive for all the things that you do for us. May God bless you all."
Interim Kenosha Police Chief Eric Larsen said officers sign up for a career in law enforcement because of a calling. 
"The life of a police officer is service and sacrifice," he said. "I say life because the sacrifice extends beyond their shift."
Larsen said such work is highly stressful and difficult because "the majority of police calls are spontaneous events and it's unlikely any two are the same. Could you imagine waking up and going to work and not knowing at all what your day is going to be like? You start each day with nothing on your calendar. You may get sent to a call to assist an 85-year-old get a bat out of their house or you could be sent to a weapons complaint."
Larsen said the majority of Kenosha Police officers struggle to balance their work and home lives because they must be ready to serve the community at a moment's notice. He said some struggle with sleep deprivation and mental health.
"And finally, there's the ultimate sacrifice, which brings us here today – the giving of one's life for another," he said. "So, when you look at these officers today and in the future – and when I look at you officers – you must remember not one of you officers is forced to take this job. Each of you made a choice to serve. Policing is a proud profession. Standing there as you are, every day, takes a significant amount of character. I want to thank you for your service and sacrifice."
Sheriff David Beth added similar sentiments to the officers.
"I think most of you know that the majority of the people of our community love you," he said.
Beth said the community looked very different two years ago when the last memorial service was held. Because of the COVID-19 pandemic, the event was held virtually last year.
"Thankfully, this obelisk has not," he said, referring to the law enforcement monument.
Beth said the names of the men and women who adorn the monument are superheroes to many. 
"You're not invincible," he said. "Know that many in our communities still look at us as superman and superwoman. But remember, kryptonite is closer than we want to admit. The names who adorn this monument can attest to that."
Memorial service
Members of the Kenosha Police Department, Pleasant Prairie Police Department, Kenosha County Sheriff's Department and Wisconsin State Patrol posted the colors. The event began with the singing of the National Anthem, which was performed by Valerie Henderson.
A rifle salute and performance of taps closed the event. It was performed by an honor guard consisting of officers from the Kenosha Police Department, Pleasant Prairie Police Department, Kenosha County Sheriff's Department and University of Wisconsin-Parkside Police Department.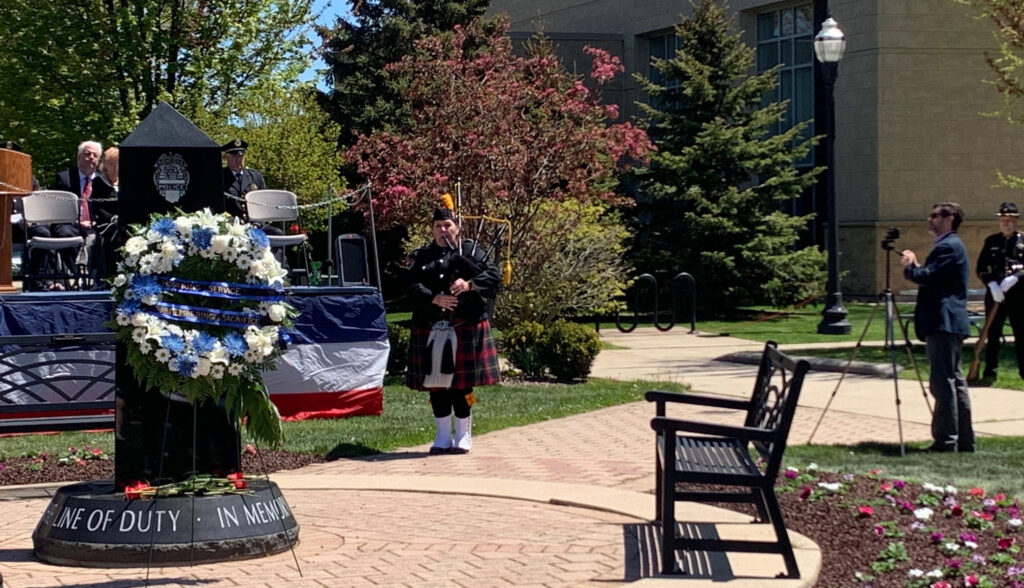 "Loving God, giver of peace and healer of souls, we ask for your blessing upon all law enforcement officers," offered Kenosha Sheriff's Department Chaplain Karen Metallo. "Keep them safe and watch over them with your powerful angels. Comfort and cover them with your healing love. Bless them with your spirit and strength."
Remembering law enforcement officials
The Sheriff's Department honored Blanco Aquino, James C. Rieschl, Frank Fabiano Jr. and Jacob Keul. The Kenosha Police Department honored Antonio Pingitore, Gary W. Fraid, Donald Murphy and Dreux Beaulier.
Each received a rose that was placed on the Public Safety Monument.
After the event, Larsen told Kenosha.com he was heartened by the local support.
"I think it's a very respectful thing to have done and it's important we memorialize those who gave their lives," Larsen said. "I think it's a great event."