The Rotary Safety Center has received some major upgrades to help Kenosha police officers connect with children and keep them safe from danger.
The center, 5716 14th Ave., offers an array of new tools to help the department provide meaningful child safety education. Safety Officer Tyler Cochran helps run it.
Cochran works to ensure kids understand how to call the police in emergencies, cross city streets, ride their bikes safely and avoid strangers, among other things.
The center boasts a bright new interior space called "Safety City" designed to look like an average city neighborhood complete with flashing stop lights, roadways, homes with addresses and mailboxes, telephones and even a pretend squad car.
It's designed for children ages 5-14.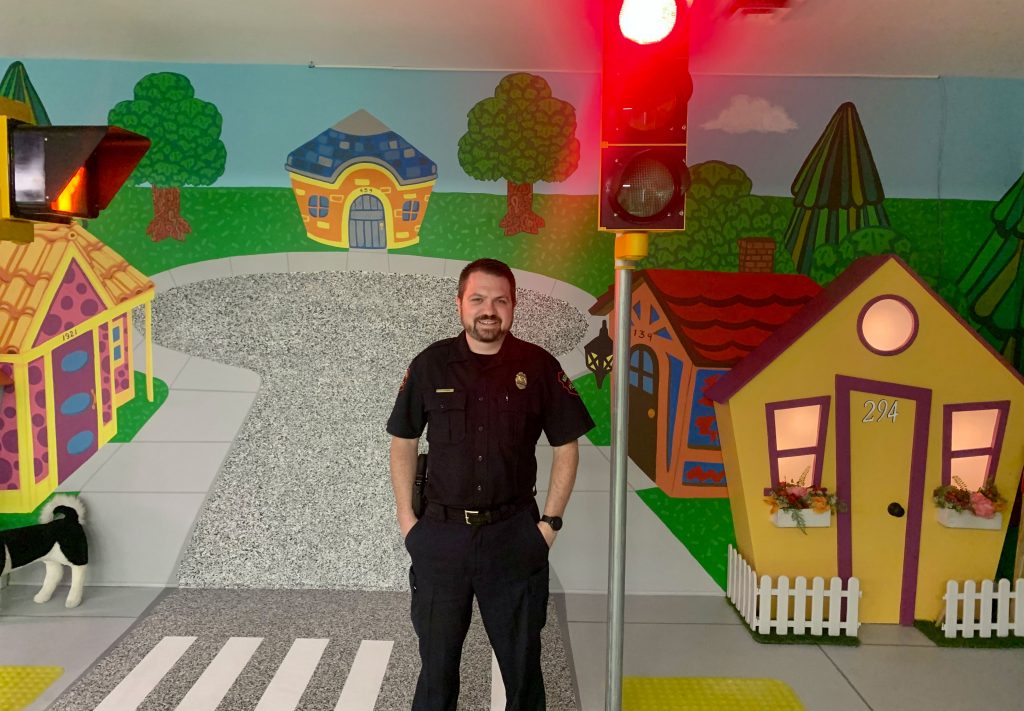 "We wanted to make it more interactive, more realistic," Cochran said. "We're teaching kids how to cross roadways. Before we had just tape on the ground and we're like 'imagine this is a sidewalk and you're crossing from one crosswalk to the other.' We wanted to make something that looks like a legitimate city and we can teach these kids and have them feel like they're there. We were able to make it very realistic for the kids."
And the details matter. Each home in the "Safety City" has an address so Cochran can teach children the importance of knowing their surroundings.
"We talk about looking to figure out where you're at if you call 911," Cochran said, adding most first graders don't know their own address. 
One portion of the space is painted to resemble the lakeshore and it will be used for vital water safety education.
"It's real big in the summertime," Cochran said. "That's one thing we wanted to include so every kid who comes through here gets some sort of water safety. We live by this huge lakefront and it's not really taught to the kids. Everyone is playing down there and we never really say there's dangers."
The facility's renovation was completed in early 2020. Unfortunately, children were unable to visit the center because of the COVID-19 pandemic. Cochran's been connecting with kids over the last year virtually.
Still, Cochran expects thousands of students will visit the center this year as schools reopen and restrictions are eased.
"We estimate between 8,000 to 10,000 kids will come through here each year," he said. "It's starting to get back to a little bit of normal so we're excited to roll this out in the fall and have these programs."
First Student, Inc., a local bus company, allows the safety center to use their vehicles at no cost during the school year. The department helped pay for the center with support from the Mary Frost Ashley Charitable Trust and support from the Kenosha Rotary Club. 
Cochran also hopes to forge relationships with young people during such polarizing times. He said some children may only interact with police in negative situations and become fearful of them.
"I talk about as police officers we get sent to all different kinds of calls and half the time we don't even know what it is before we get there," he said. "I open it for questions on anything they have. I say, 'I know you've probably seen things online or in the news or on YouTube, or whatever it might be. Let's talk about it.' Any question is fair game."
Cochran said some participants are "mind blown" when they learn officers "are just like everyone else."