News, notes and nuggets on NFL prospect and Indian Trail graduate Daviyon Nixon heading into the 86th annual NFL Draft, which begins Thursday and runs through Saturday.
*THE SKINNY: Nixon is a 6-foot-3, 304-pound defensive tackle out of the University of Iowa who is generally projected to go early in the NFL Draft.
"I thought maybe at one point he could jump into the first, but that's not going to happen the way it looks right now," ESPN draft maven Mel Kiper Jr., said last month. "I'd say at worst a third-rounder, and he could maybe be a (second-rounder)."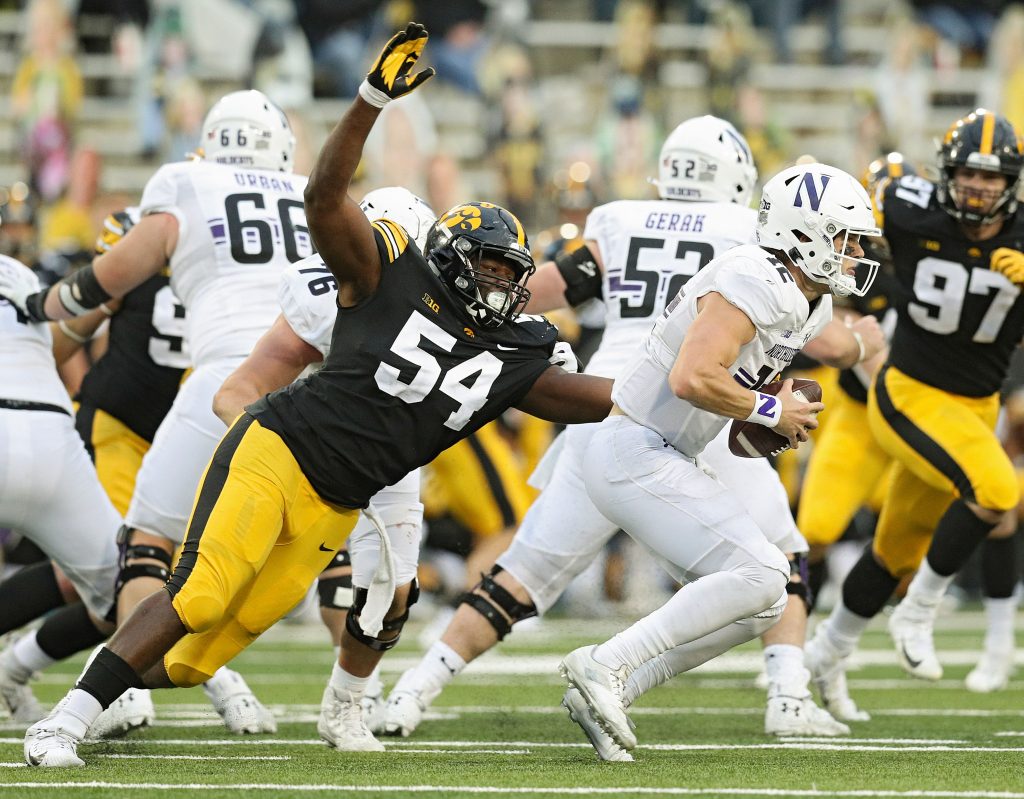 *ON THE AIR: Thursday's first round starts at 7 p.m. and will be televised by ABC, ESPN and the NFL Network. … Rounds 2 and 3 will start at 6 p.m. Friday and rounds 4 through 7 will start at 11 a.m. Saturday and will be carried by the same three networks.
*WHERE'S DAVIYON: Nixon will spend the first night of the draft in Iowa and the second night in Kenosha with family, according to a FOX6 Milwaukee story.
*RATING: The Athletic had Nixon listed as the 81st-best prospect in the draft in a recent article.
"Nixon has a basketball background and plays with the quickness/control to shoot gaps and the power/leverage to defeat blocks," wrote The Athletic, which had Nixon going at No. 29 overall in a March mock draft. "He has an unimpressive sample size with single-digit career starts, but his improved focus over the last two seasons is something his coaches have told to NFL scouts. Overall, Nixon is still maturing in areas, but he creates disruption with his explosive traits, play violence and ball-tracking skills. He projects as a one-gap penetrator with starting ability."
*MOCK REPORT: In the lead-up to the draft, Nixon was predicted to go as high as No. 10 to the Dallas Cowboys while a recent article had him going 44th to the New York Giants.
Here's a look at where some recent mock drafts have Nixon going:
Chad Reuter, nfl.com analyst: Second round (64th overall) to Tampa Bay
Walterfootball.com: Second round (50th overall) to Miami
Yardbarker.com: Second round (59th overall) to Cleveland
Jack Borowsky, si.com: Third round (103rd overall) to the LA Rams
AJ Schulte, pro football network.com: Second round (60th overall) to New Orleans
Tab Ramford, Elite Sports NY: Third round (74th overall) to Dallas
Chris Trapasso, cbssports.com: Second round (44th overall) to Dallas
The Sporting News: Third round (71st overall) to Detroit
It should be noted some mock drafts don't have Nixon going on the first three rounds.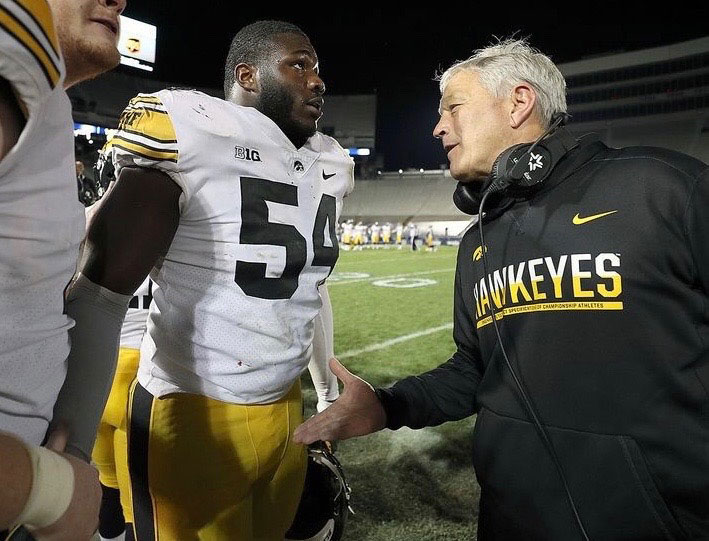 *THE STATS: Nixon played 21 games over two seasons at Iowa for legendary coach Kirk Ferentz following a stint at Iowa Western Community College.
In his breakout redshirt junior season, Nixon started all eight games at defensive tackle and recorded 45 tackles (22 solo). He also posted 13.5 tackles for loss, 5.5 sacks, one forced fumble, one pass break-up and one interception.
The pick was an athletically spectacular 71-yard return for a touchdown at Penn State that really raised his profile. You can watch a highlight of the play here.
*THE HONORS: Nixon totes a briefcase full of honors to the draft.
His resume:
Consensus All-American
Nagurski-Woodson Big Ten Conference Defensive Player of the Year
Big Ten Conference Defensive Player of the Year by Associated Press
First-team All-America by Associated Press, Sporting News, FWAA, AFCA, Walter Camp, ESPN, The Athletic and Phil Steele
First-team All-Big Ten by league coaches and media
Finalist for the Outland Trophy, and the Bronko Nagurski Award and a semifinalist for Bednarik Award
Smith-Brown Big Ten Conference Defensive Lineman of the Year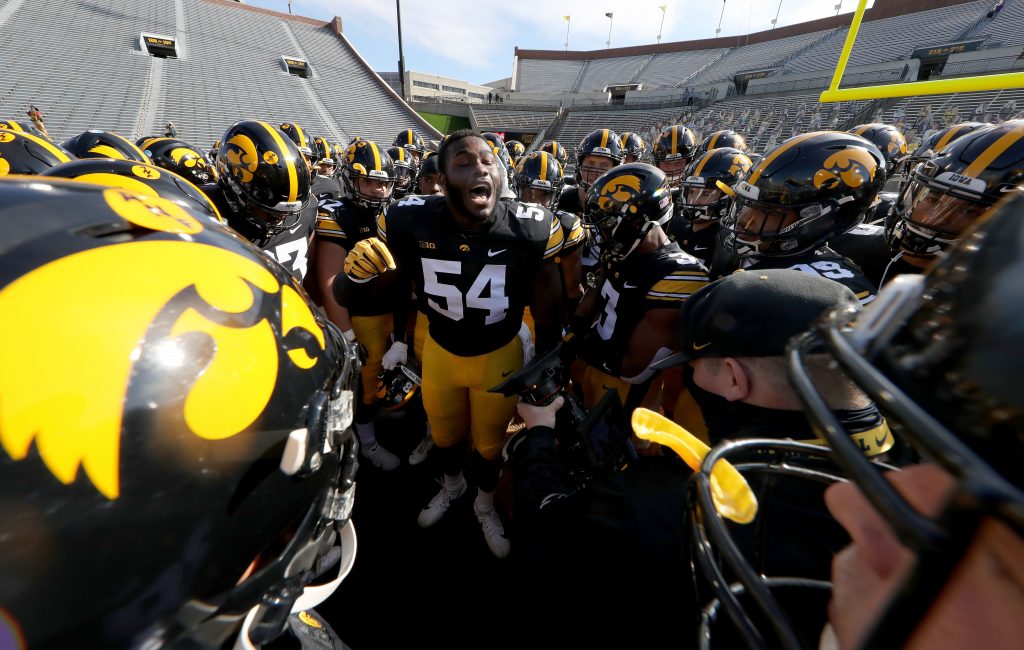 *THE HISTORY: The last Kenoshan selected in the NFL Draft was Bradford's Melvin Gordon, a running back at out of Wisconsin, at No. 15 by the Chargers in 2015. Harborside's Trae Waynes, Gordon's Bradford teammate, was the 11th pick in that draft by the Vikings as a cornerback out of Michigan State.
Others with local ties who have been picked in the NFL draft are Bradford's Tom Bienmann (11th round in 1951 by the Chicago Cardinals as an end out of Drake), Bradford's Ken Huxhold (27th round in 1951 by the Chicago Cardinals as a guard out of Wisconsin), Bradford's Alan Ameche (1st round in 1955 as a running back out of Wisconsin), Bradford's Tom Braatz (14th round in 1955 by Washington as an end out of Marquette), Bradford's Joe Cerne (second round in 1965 by the San Francisco 49ers and in the ninth round as a center out of Northwestern), St. Joseph's Tom Regner (first round in 1967 by the Houston Oilers as a guard out of Notre Dame), and Carthage's Jim Jodat (12th round in 1976 by the Los Angeles Rams as a running back).
*SOCIAL MEDIA: Follow Nixon on Twitter (@DaviyonNixon) and Instagram (@daviyonnixon).
Note: This story was updated to add Joe Cerne to the history section