I can remember as a child the unparalleled excitement when CBS would begin advertising for the annual telecast of "The Wizard of Oz." Thus would begin two weeks of anticipation of talking scarecrows, rattling tin men and flying monkeys. Of enchanted forests and translucent green castles.
My childhood imagination would overflow with adventures with Dorothy and Toto and her intrepid crew, as we would battle evil witches and grouchy trees. Then the magical day would come and the movie would begin, and my sister and I would be transported to a world where the only limits were the boundaries of our own imaginations. A world where you rode a tornado, where little people with squeaky voices and giant lollipops sang and danced in the streets, and where beautiful witches arrived in huge soap bubbles and sent you off on a grand and glorious adventure.
For two hours this world became my world, and I loved every second of it. And then, three clicks of the heels and the adventure was over, and with the words, "There's no place like home," the music swelled and "The End" appeared and the great adventure was over. I will never forget the sad, empty sensation knowing that it would be another year before I could re-enter that world.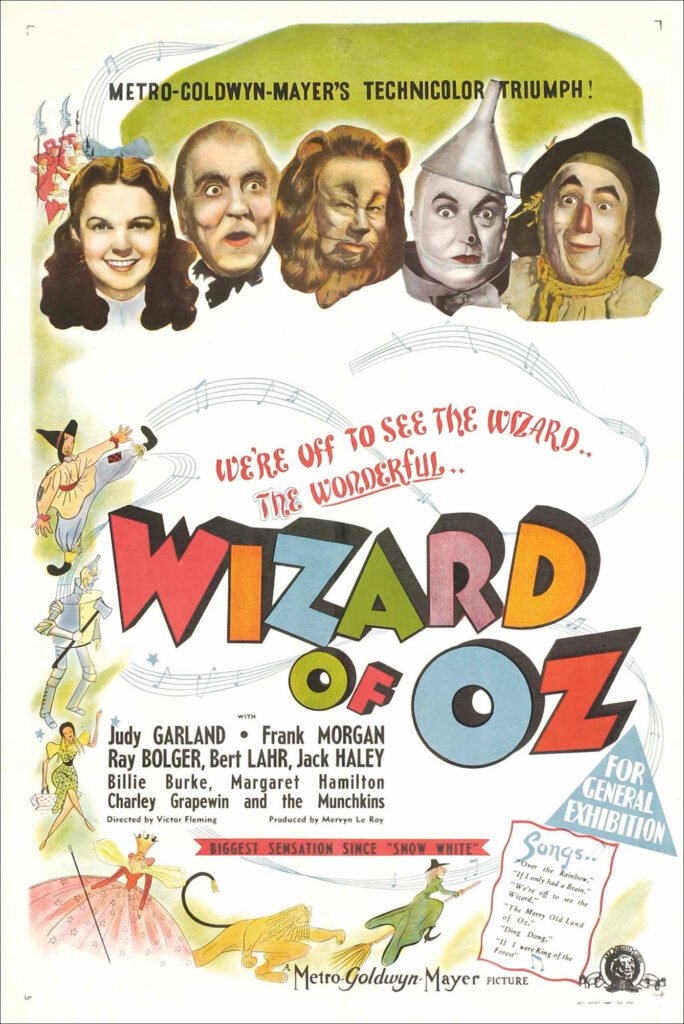 I don't think I would be exaggerating to presume that the earliest movie memory of most people of a certain age is "The Wizard of Oz." It is mine. It began a lifelong love affair with the celluloid art form. Whether it was Julie Andrews singing on top of that mountain or Charlton Heston parting the Red Sea, the movies were a constant wonderment.
Every Sunday, WGN would televise "Family Classics with Frasier Thomas," and they would showcase a stable of movies. As a family, we would watch "Boys Town" with Spencer Tracy and Mickey Rooney, "Lassie Come Home" with Roddy McDowell and Donald Crisp, "The Song of Bernadette" with Jennifer Jones and Vincent Price and other movies from a bygone, more innocent era. These movies, and watching them as a family, cemented movies as a central developmental force in my life.
The 1970s are considered a golden age of auteur filmmaking, but for me those movies would be discovered in later years. My young self was more interested in comedy, action and fantasy, movies like "What's Up Doc?," "The Poseidon Adventure," "Jaws" and "Star Wars."
They appealed to me as they appealed to most people, in much the same way that "The Wizard of Oz" did as a child, in their ability to entertain, and also to convey me to a different world far removed from my fairly sheltered existence. I loved these movies (and mostly still do) but I cannot recall that they touched me at a deeper level than elemental emotions such as fear, excitement or laughter. For me, emotional maturity would come later, and with it, appreciation for movies that were more complicated, less morally certain, and even outrageous.
That dawning of appreciation for more mature films began for me with "Ordinary People." I was 16 years old when it was released, and its depiction of the unraveling of an upper middle class midwestern family struck a chord. At its center was a teenager a year or two older than me, so it was only natural that I identified with him.
As the film begins, he has just returned from a mental hospital where he has received treatment following an attempted suicide. It is clear early on that there is something off in his relationship with his mother, and that there is no apparent connection or even affection between them. His mental issues, and strained relationship with his mother, began following a tragic accident that killed his older brother.
Even if the shattering events in his life were not something I had even remotely experienced, I was beginning to view the world (and the movies) through a prism that extended beyond my own mere entertainment. I empathized with this young man and his mental struggles. And it is interesting to me that as I have aged, my perceptions of this film have changed as well.
Now, I empathize more and more with the father than with the young man, and the scenes of his anguish as his life is falling apart around him are now the most resonant with me. I learned from "Ordinary People" that there is a whole world of movies that I was missing out on that dealt with much deeper human emotions, such as passion, respect, dread, regret, faith, hate, love – ideas that could not simply be expressed in one-liners and explosions.
They need careful introspection, detailed character study, patience and an open mind. These films were dramas, and their scenes of emotional conflict could be as intense and gratifying as the most thrilling chase scene.
Now, well into my sixth decade of life, I still love the feeling of going to the movies. Entering the darkened theater and watching a movie on a big screen with a great sound system, with no distractions from phones or visitors, sitting back and letting the events onscreen wash over me and envelop me, and losing myself in the characters and plot. Trying to guess who the killer is in movies like "Murder on the Orient Express" (see the original with Albert Finney; it's much better). Laughing so hard that it hurts at "Planes, Trains and Automobiles." The inspiration and adrenaline from movies like "Hoosiers" (best sports movie ever). The unmatched grace and beauty of Fred Astaire and Cyd Charisse dancing in the dark in "The Bandwagon." The awe-inspiring spectacle that is the chariot race in "Ben Hur." The devastatingly sad "Sophie's Choice."
There are so many movie memories that each of us harbor; can you imagine how less rich our lives would be without these shared experiences? The movies bind us together culturally and provide great sources of friendly debate (I bet there are any number of people who already disagreeing with me about "Hoosiers"). They are an indispensable feature of our lives – they reflect our aspirations, our desires, our dreams, our failings, our capacity to love, and yes, even our blind hatred. The very best of the movies illuminate what it means to be human in all of its magnificent dimensions.
My 10 favorite movies
Like most people, I struggle in naming my favorite movies simply because there are so many to choose from, and depending on my stage in life or my mood in the moment, the list may change. But the first three are pretty easy for me.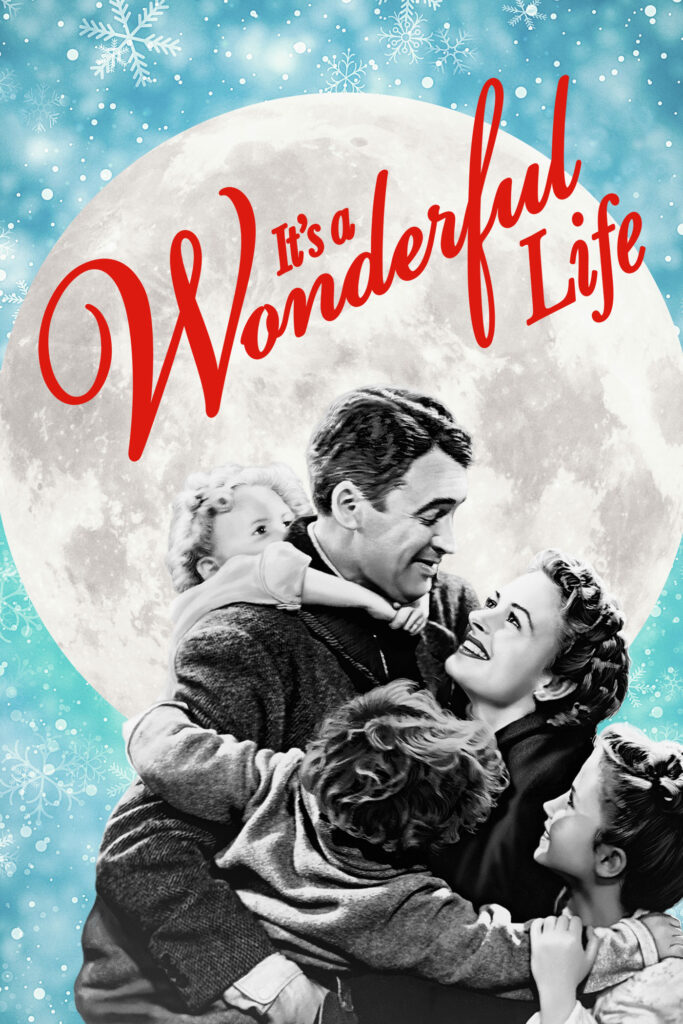 1. It's A Wonderful Life (1946)
Directed by Frank Capra, with James Stewart, Donna Reed, Thomas Michell, Lionel Barrymore, Beulah Bondi, Gloria Grahame and Henry Travers. A celebration of the common man. I would guess that many if not most people have seen it. If you haven't, what are you waiting for? In a nutshell, it is about a man who has sacrificed his whole life for the betterment of his family and community, and one fateful Christmas Eve, when the world seems to be crashing down on him, receives the gift of seeing what the world would be like if he had never been born. If I'm being honest, the second and third films on my list are probably better made films. But the emotional power of this film's climax puts it over the top. One of only two films guaranteed to make me cry on every viewing (the other being Saving Private Ryan, for an entirely different reason).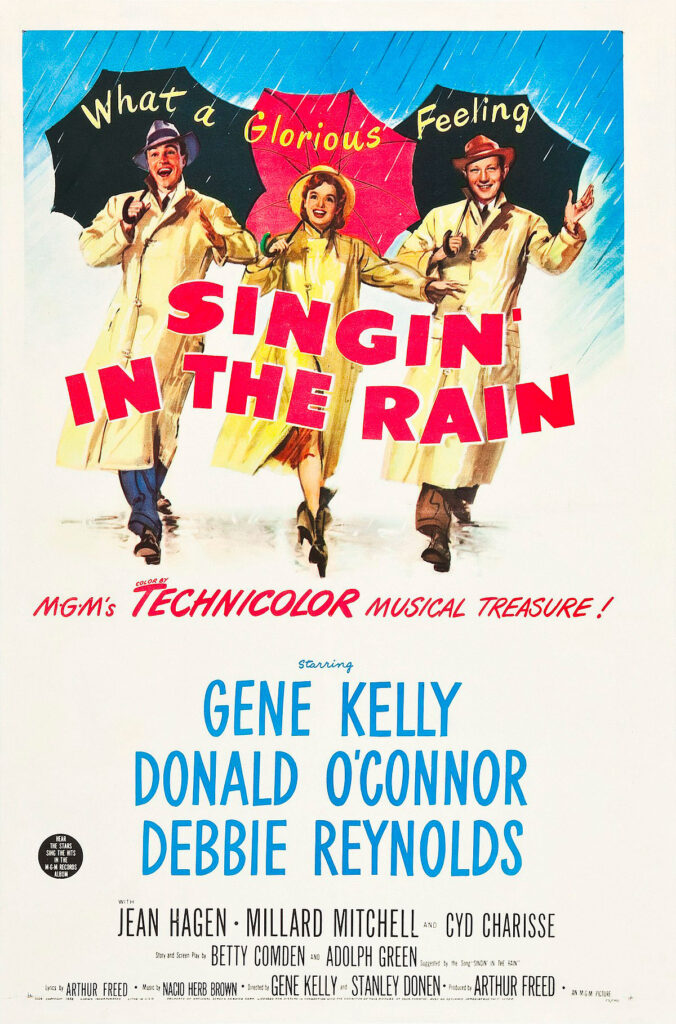 2. Singing in the Rain (1952)
Directed by Gene Kelly and Stanley Donen, with Gene Kelly, Debbie Reynolds, Donald O'Connor and Jean Hagen. The best musical every made. Period. I had heard this mantra from critics for years, and could not imagine it being better than "West Side Story" or "My Fair Lady" or "The Music Man" or any number of musicals that I just loved. My earliest exposure to it was actually in the movie "That's Entertainment" when they showed clips of "Make 'Em Laugh" and the title number. My curiosity piqued, I finally broke down and watched the movie and realized just what I had been missing. "Make 'Em Laugh" is a showcase for the dancing and comedic genius of Donald O'Connor, and simply one of the funniest sequences ever filmed. "Moses Supposes" shows Kelly and O'Connor at their tap dancing best. The title number is justifiably the most famous musical number in all of movie history – it's depiction of the absolute elation of being in love, especially when the music swells and Kelly is swinging his umbrella in a wide circle on that deserted, rain-soaked street, is in my mind the most exhilarating movie sequence of all time. The "Broadway Melody" number near the end is arguably the greatest dance sequence in the movies, combing elements of modern dance and ballet in an exquisitely choreographed feast. And then there is the unforgettable Jean Hagen, who nearly steals the film with her brilliant comic performance as a dimwitted, self-centered, no-talent actress. Whenever I get depressed, I just pop this movie into the DVR player. Pure cinematic joy.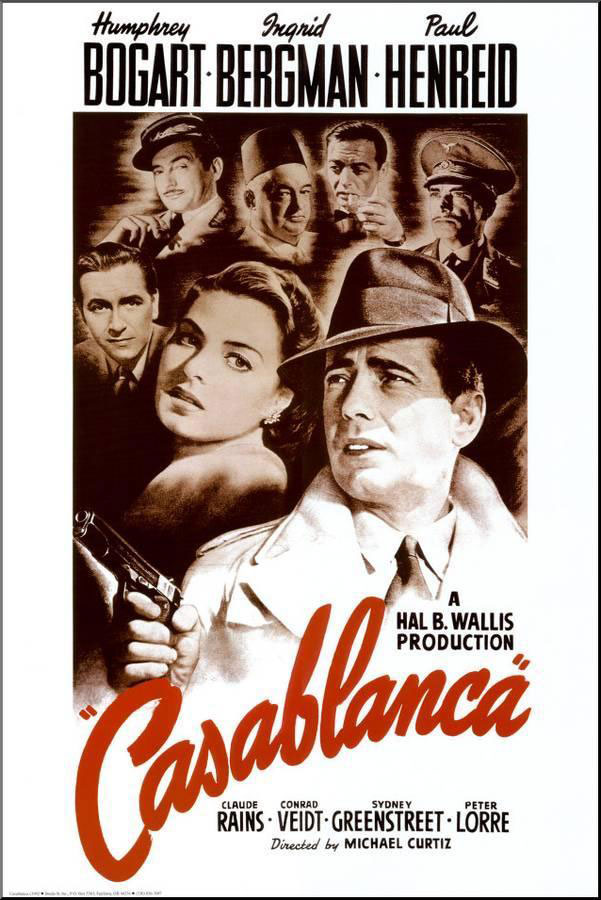 3. Casablanca (1942)
Directed by Michael Curtiz, with Humphrey Bogart, Ingrid Bergman, Paul Henreid, Claude Rains, Sidney Greenstreet, Peter Lorre, Conrad Veidt and S.Z. Sakall. A rich and rewarding experience in every possible way that a movie can entertain. Gloriously romantic, with the three-way love triangle (which is really only two way, sorry Paul Henreid), that also has severe political implications far beyond the fate of two lovers ("Ilsa, I'm no good at being noble …"). One of the most inspirational of films (the La Marseillaise scene, the ending), not surprising considering it was made in the middle of WWII and is clearly meant as propaganda for the allied war effort. And not to be overlooked, a surprisingly witty movie with great one liners ("I'm shocked, shocked to find there is gambling going on here!") and one wonderful scene, that has little to do with the rest of the film, when an elderly Swedish couple are discussing with Carl the head waiter how they are only speaking English in order to better fit in when they get to America. This scene cracks me up every time. This is an amazing movie because it is such a happy accident. It is adapted from a failed play. The original stars were to be Ronald Reagan and Ann Sheridan. Neither Bergman nor Bogart were particularly happy to be in the film, both thinking it was nothing more than a B movie. Jack Warner, the head of Warner Brothers, was so unhappy with the use of "As Time Goes By" that he insisted that it be cut from the movie, only to find out that Bergman had already moved on to her next film "For Whom The Bell Tolls" which required her to cut her hair, so they had to leave it in. Can you imagine Casablanca without "As Time Goes By?!"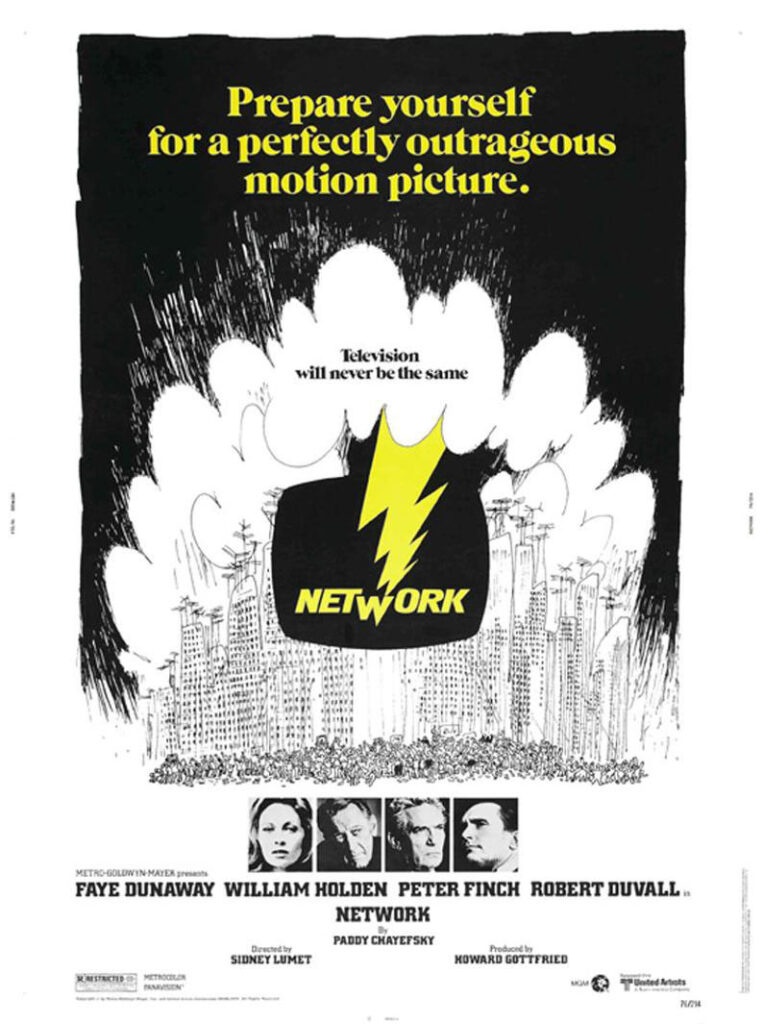 4. Network (1976)
Directed by Sidney Lumet, with William Holden, Peter Finch, Faye Dunaway, Robert Duvall, Ned Beatty and Beatrice Straight. Prescient when it was released in 1976, it is just as urgently alive today. A pitch black satire of you name it that ailed us in the 1970s, but mostly television, both the nightly news and prime time entertainment, the crackling sharp script by Paddy Chayefsky and the masterful direction by Lumet provide some of the most memorable movie scenes, including the famous "I'm as mad as hell, and I'm not going to take it anymore" rant that probably won Finch his Oscar. Oscars for Dunaway and Straight as well.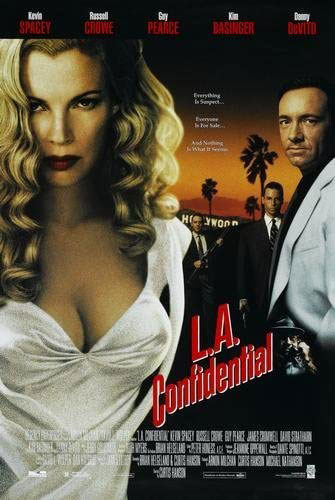 5. L.A. Confidential (1997)
Directed by Curtis Hanson, with Guy Pierce, Russell Crowe, Kevin Spacey, James Cromwell, Kim Basinger (Oscar-winning), Danny DeVito and David Straithairn. A perfectly constructed movie. I have seen it more than 20 times, and I still don't see a single wasted scene in a film with a labyrinthine plot and numerous characters. From its propulsive opening with that DeVito voiceover and the brilliant use of Johnny Mercer's "Accentuate the Positive," you are immediately caught up in this tale of official corruption, Hollywood celebrity, racial discrimination and false narratives in 1950s Los Angeles. The script by Hanson and Brian Helgeland, adapted from the James Ellroy novel, won an Oscar.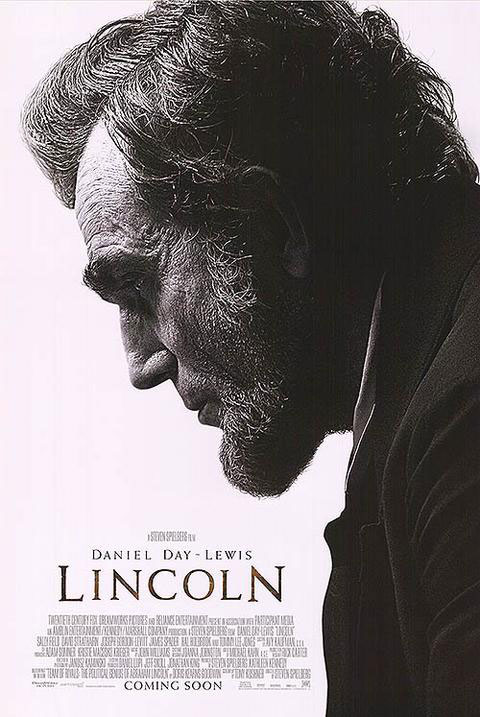 6. Lincoln (2012)
Directed by Steven Spielberg, with Daniel Day Lewis, Sally Field, Tommy Lee Jones, David Straithairn, Jared Harris, Joseph Gordon-Levitt and James Spader. If there was a movie from 2012 that was going to make my list of favorite films, I would bet most people who know me probably would guess it would have been "Les Miserables," which I have seen on stage about a dozen times. While I certainly enjoyed the film version of the venerable musical, the movie from that great year for movies that has most stayed with me is "Lincoln." I have probably watched it a couple dozen times, and enjoy it more each time I watch it. I do love history, and especially the Civil War. I have read several books on the Civil War and a couple biographies of Lincoln. From everything I have read, this movie captures the essence of Lincoln. I love the scenes where Lincoln tells a story, or says something off the cuff, and no one seems to know what he is talking about. Lincoln was an inveterate story and joke teller, and often people thought it evidence of a lesser mind or backward upbringing, when in fact they simply didn't understand the reference. "Lincoln" captures this aspect of the man beautifully. I love the scene where he discusses Euclid's first common notion and draws a direct link between that mathematical principal and our Declaration of Independence, even the shared use of the term self-evident. I love the tortured logic he uses when he discusses the Emancipation Proclamation and how necessary it is now to pass the 13th amendment banning slavery. I love the conversation between Lincoln and Thaddeus Stevens when they discuss strategy for reconstruction. I love the intimate scene between Lincoln and Mrs. Keckley where she tells him her humble expectations of what it would mean to be free. Holding it all together is Day Lewis in an Oscar-winning performance. It is a remarkable transformation for this extraordinary actor, and one of the very best acting performances I have ever seen. He seems to have altered his speaking style, his voice and his walk, all of which align with my understanding of how Lincoln spoke and moved. It is almost as if we are watching the real man on that screen.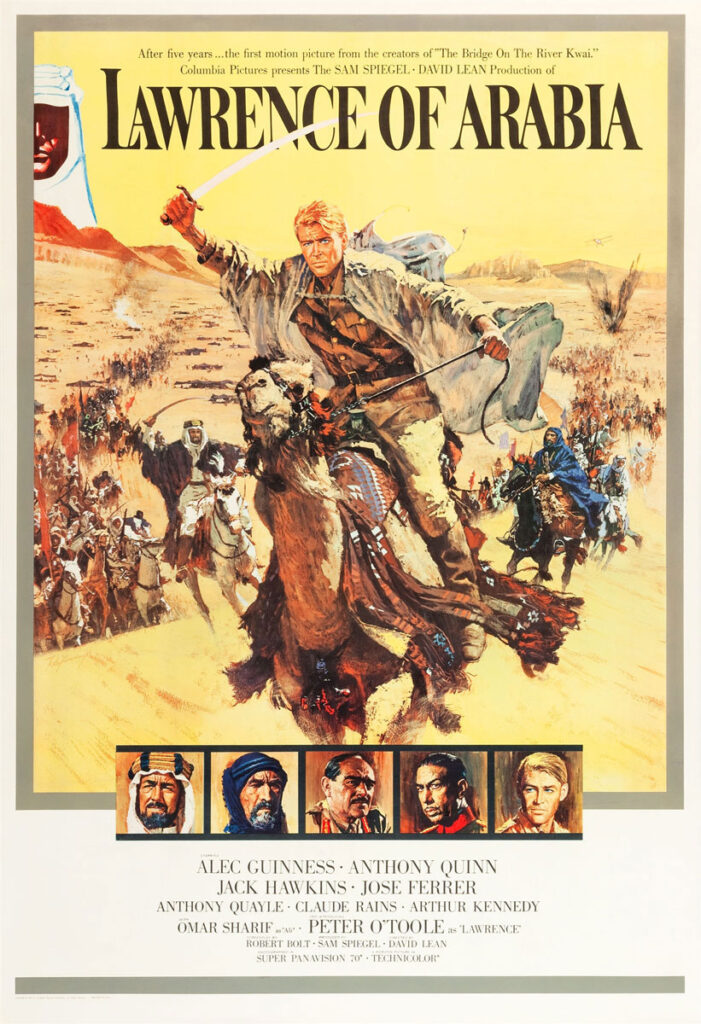 7. Lawrence of Arabia (1962)
Directed by David Lean, with Peter O'Toole, Omar Shariff, Anthony Quinn, Alec Guiness, Jack Hawkins and Jose Ferrer. I hated this movie when I was growing up. We had one television in our house, and if this movie was on, my dad was watching it. Not only was it boring to my young self, but it was four hours of boring. As I got older, of course I noted that most general film criticism included this among the all-time great movies. I finally came to the conclusion that I needed to see it again. I was working in Milwaukee and saw that the Times Theater was showing "Lawrence of Arabia." I talked a co-worker into going with me. Needless to say, my eyes were opened. What a magnificent, glorious film. First and foremost, the movie hangs together on O'Toole's brilliant, charismatic performance as T.E. Lawrence (he lost the Oscar to Gregory Peck for "To Kill a Mockingbird." Yeah, I couldn't have chosen between them.) Then there is Robert Bolt's intelligent, passionate script and Lean's masterful direction. Freddie Young provided the panoramic cinematography (the desert is practically a character in the movie). And kudos to Maurice Jarre for his score, certainly one of the best scores ever written for a movie. I learned a lesson with this movie – never judge a movie based on youthful memory, and don't make someone sit down and watch a movie when they're not mature enough to appreciate it.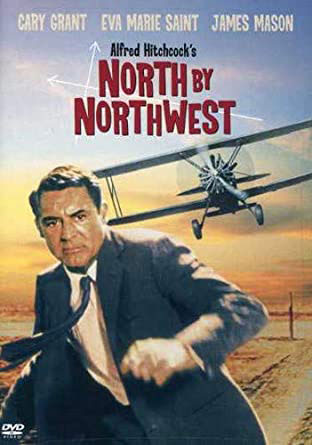 8. North By Northwest (1959)
Directed by Alfred Hitchcock, with Cary Grant, Eva Marie Saint, James Mason and Martin Landau. Oh heavens, how do you pick among the best of Hitchcock? I knew my list needed at least one Hitchcock, but how do I decide? The haunting obsession of "Vertigo" with that brilliant Bernard Herrmann score? The insightful voyeurism of "Rear Window?" The suspenseful and romantic "Notorious," with Claude Rains as the most sympathetic Nazi villain of all time? How about the underrated "Frenzy," which dared us to cheer for the serial killer villain to find that pin amongst the potatoes? I finally settled on "North by Northwest" because I found it the most all around entertaining – funny, romantic, exciting. Plus, it ends with the protagonists scrambling for their lives on top of Mount Rushmore. Honestly, didn't you find yourself wondering if there really is a house up there?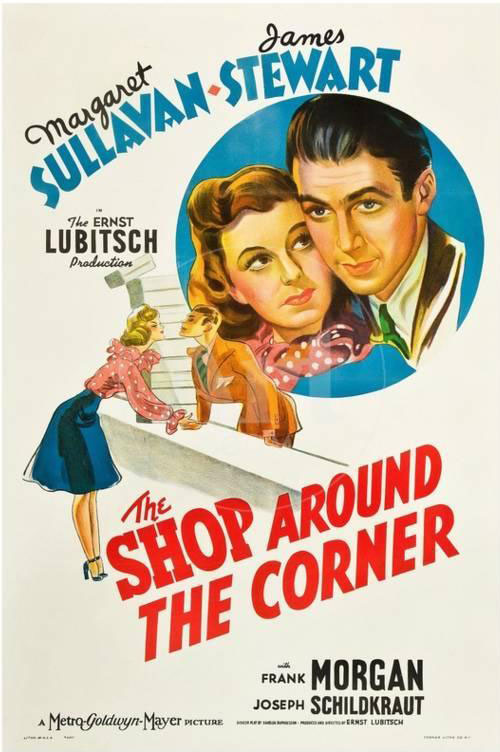 9. The Shop Around the Corner (1940)
Directed by Ernst Lubitsch, with James Stewart, Margaret Sullavan, Frank Morgan and Joseph Schildkraut. Jimmy Stewart is my favorite actor, and I knew I would probably need to include him more than once. Definitely "It's A Wonderful Life," but what else? So many to choose from – "Mr. Smith Goes to Washington," "The Philadelphia Story," "Vertigo," "Rear Window," "The Man Who Shot Liberty Valance" … I finally picked this charmer, a movie most people wouldn't include among the best of all time but I watch it every chance I get. Definitely a feel-good movie, much enhanced by what is called the "Lubitsch touch." I think Ephraim Katz described it best – "The subtle humor and virtuoso visual wit in the films of Ernst Lubitsch. The style was characterized by a parsimonious compression of ideas and situations into single shots or brief scenes that provided an ironic key to the characters and to the meaning of the entire film." For instance, every time Mr. Matuschek says "I want your honest opinion" in the movie, to any character, the focus of the scene switches ever so briefly to Pirovitch who instantly leaves the room, providing a humorous insight into both the characters of Pirovitch and Matuschek. It is just these types of moments that sets this film apart from lesser films. Of course, there is the inherently appealing story of pen pals who fall in love and don't realize that the other is their annoying co-worker, and the fun in the story is watching them move to that eventual recognition. Stewart and Sullavan are both very winning in their roles, and Morgan as always is wonderful (as a one-time wizard should be!).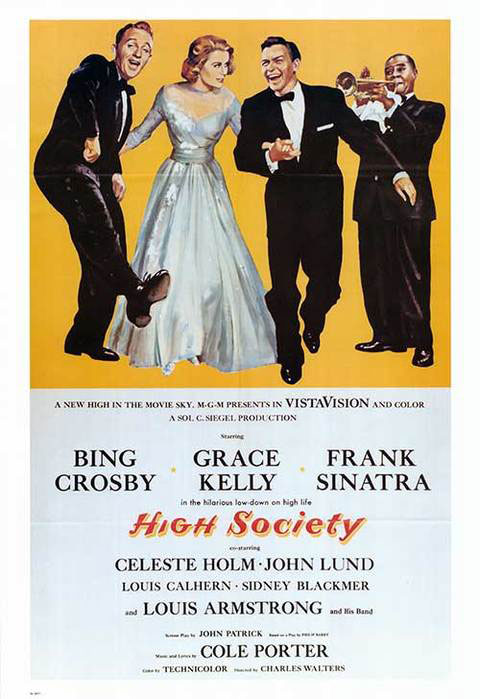 10. High Society (1956)
Directed by Charles Walters, with Bing Crosby, Frank Sinatra, Grace Kelly, Celeste Holm, Louis Calhern and Louis Armstrong. I have recently come to treasure this film. The musical version of "The Philadelphia Story" it has great songs by Cole Porter and a healthy dose of wit and sophistication, qualities I find decidedly lacking in most modern movies. The only film pairing of Crosby and Sinatra. A favorite movie anecdote is that during production of this movie, it occurred to the filmmakers that they had Crosby and Sinatra on film together for the first time, but they didn't have a musical number for them to share, so they reached back to a song called "Well Did You Evah" written over 15 years earlier by Porter for another musical, and retooled it for this movie. And it is simply one of my all-time favorite movie scenes, with Crosby and Sinatra at the height of their talents and obviously enjoying playing off each other. Scenes like this is what the movies are all about.
Honorable mention
Movies I agonized over leaving off my top 10 (in no particular order):  A Man For All Seasons; Patton; The Godfather; The Towering Inferno; Ordinary People; Tootsie; The Verdict; Hoosiers; Moonstruck; Planes, Trains and Automobiles; Glory; A River Runs Through It; Unforgiven; Schindler's List; Quiz Show; Saving Private Ryan; Gosford Park; Inglorious Basterds; War Horse; Silver Linings Playbook; Whiplash; Mr. Smith Goes to Washington; Yankee Doodle Dandy; The Ox Bow Incident; Laura; The Best Years of our Lives; All About Eve; Shane; On the Waterfront; Rear Window; Twelve Angry Men; Vertigo; Ben-Hur; West Side Story; Gigi; The Adventures of Robin Hood; The Sound of Music; Spotlight; Jaws; The Sting; The Exorcist; What's Up Doc?; The Andromeda Strain; My Fair Lady; To Kill a Mockingbird; The Music Man; Sophie's Choice; The Band Wagon; Goodfellas