The Restaurant:
The Apis Hotel & Restaurant, 614 56th St., is Downtown Kenosha's portal to another world. The stunning decor and architecture will instantly make you feel as though you have left our humble city and arrived in a thriving metropolis.
The Featured Dish:
Chef's Table Experience – Interactive seating directly at Chef Danielle Weybright's prep station with a multi-course surprise menu.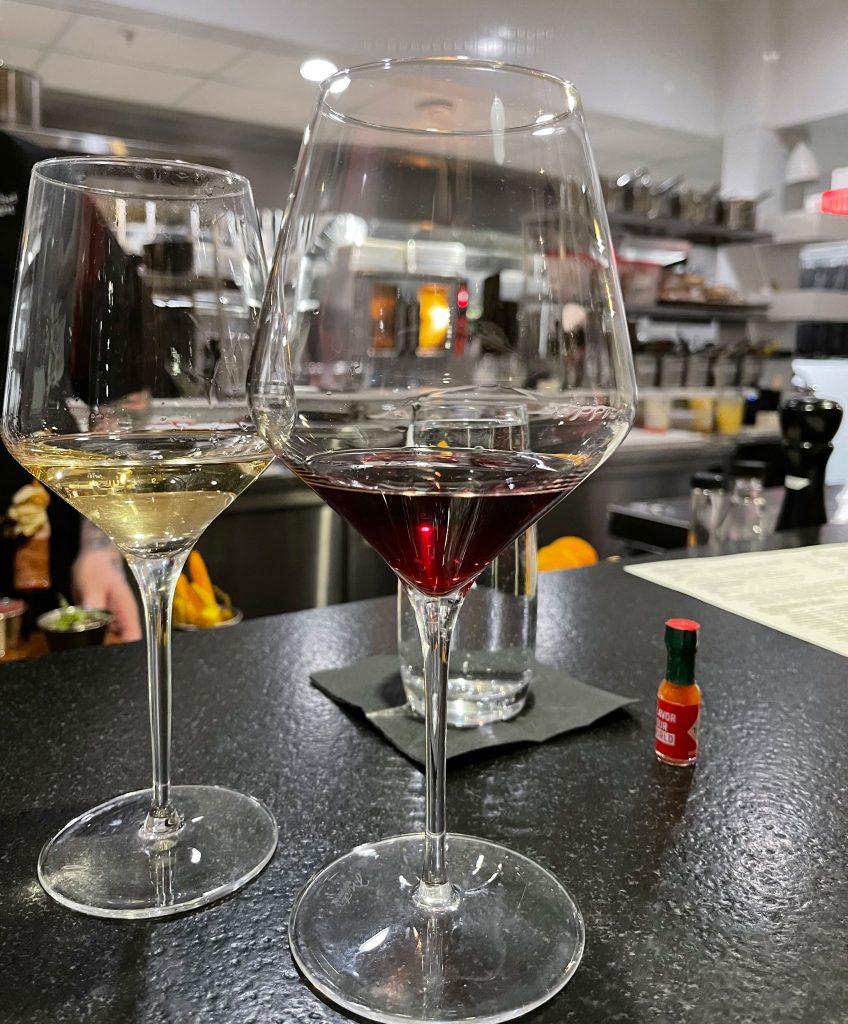 The Flavor and The Story:
The Apis is arguably the most beautiful transformation of a historic building in Kenosha. It is the crown jewel of the Grease & Honey Restaurant Group owned by Victor Stoian and Paul Campagna.

Located in the Isermann Building, formerly the home of the Isermann Brothers Department Store, The Apis is a multi-level restaurant filled with natural light and bright design.
The menu is a new-American take on tapas-style dining. This means there are no appetizers or entrees, simply amazing food that arrives at your table in stages that is meant to be shared with everyone in your group.
The force behind the world-class menu is Executive Chef Danielle Weybright, who has been the lead of all the group's kitchens for the last several years. You may remember her from features in Tripveel Magazine and appearance on Food Network. Her talents truly shine at The Apis where the only limit to what makes the menu is her boundless creativity.

To truly experience all of what Chef Danielle is creating – the most premier dining experience – Chef's Table seating is a dining adventure that will have you and your group talking about your dinner for months to come.

The experience must be booked in advance and consists of 7-8 courses hand selected by Chef Danielle based on what she is currently excited about. Guests are encouraged to list any allergies or aversions before arriving so that a custom menu will fit your personal preferences as much as possible.
The only other preparation you need to make is to come hungry. Extremely hungry. The tasting menu takes guests through many flavors, and they add up to one very large meal.
While every experience is different, you can get a great idea of the level of creativity and experience based on the menu we experienced last week.
Course 1 – Fresh Kumamoto oyster served with house vinegar, lime, hot sauce and aerated shallot. The aerated shallot is the most amazing experience, as a savory whipped cream-like topping that adds incredible depth to the oyster.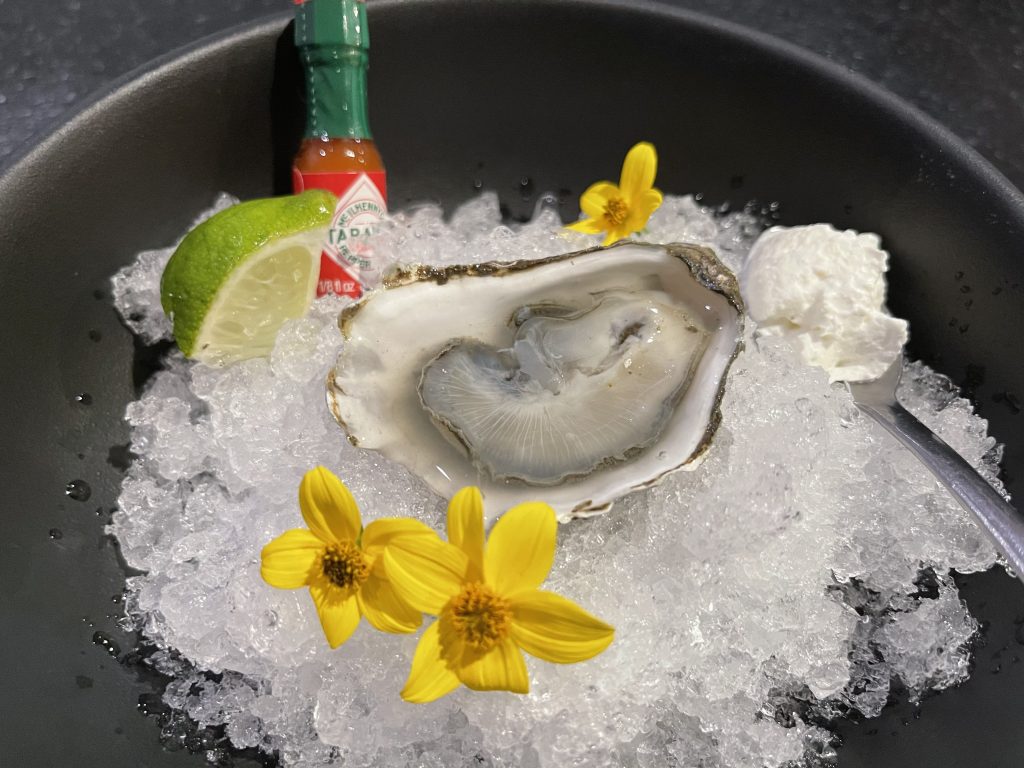 Course 2 – Nuts, pickles and sausage. A sampling of house-ground and smoked kielbasa on a stick with homemade sauerkraut garnish, tamari-glazed cashews and mustard-pickled fresh vegetables. Tamari is similar to soy sauce, but produced without wheat.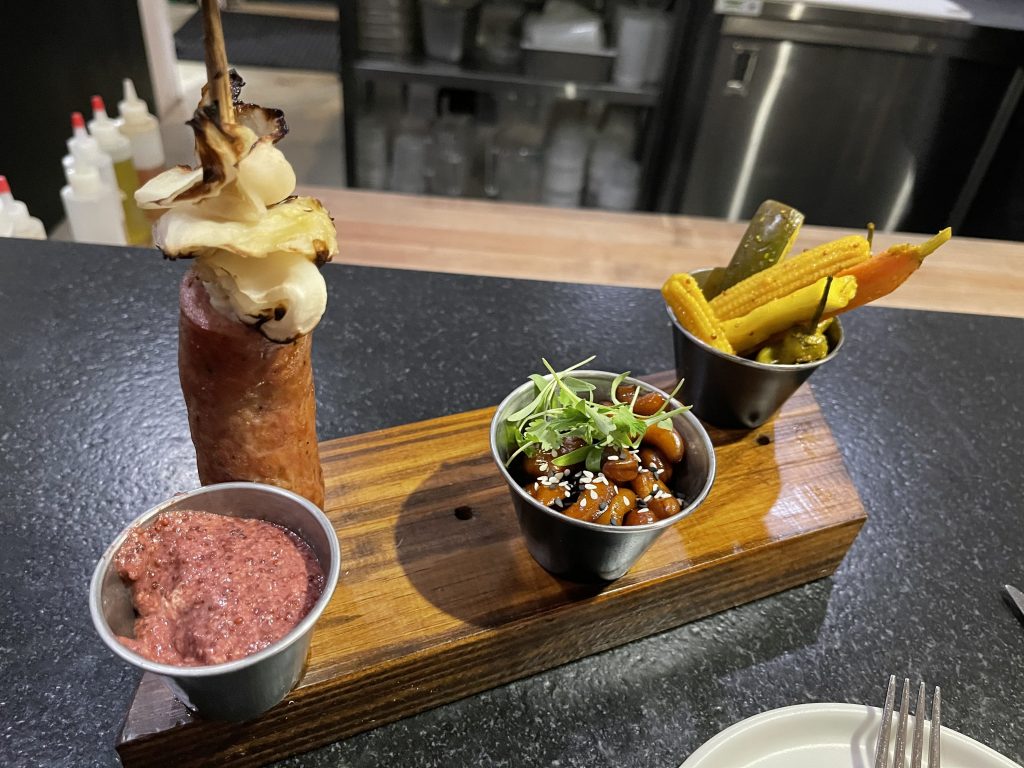 Course 3 – Indian-spiced chicken wing. The most succulent and flavorful chicken wing I've ever tasted. It is grilled and rubbed with Indian spices, including sweet curry, and served with fresh jalapeno and a mango-cilantro crema. Simply a flavor masterpiece.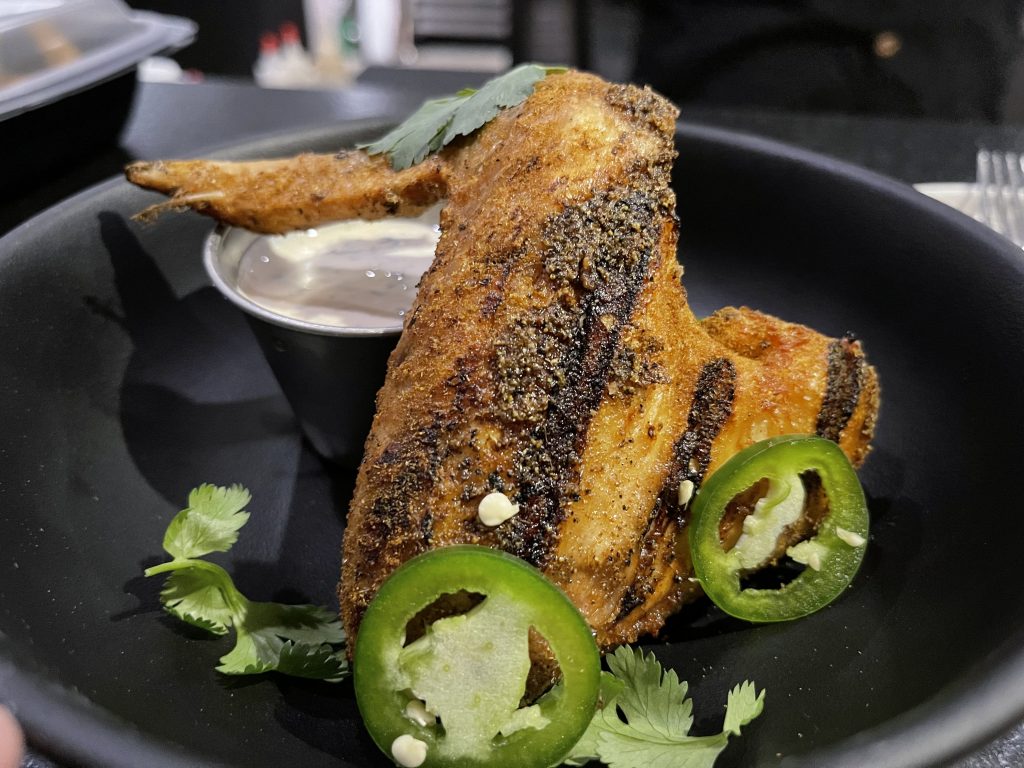 Course 4 – Smoked pork belly panzanella with roasted tomatoes, golden raisins, goat cheese, chives, homemade sourdough croutons and orange white balsamic vinaigrette. This is a creative take on a classic Italian peasant recipe using crunchy bread. Chef Danielle's preparation becomes the perfect balance of sweet, creamy and savory. I will dream of this dish.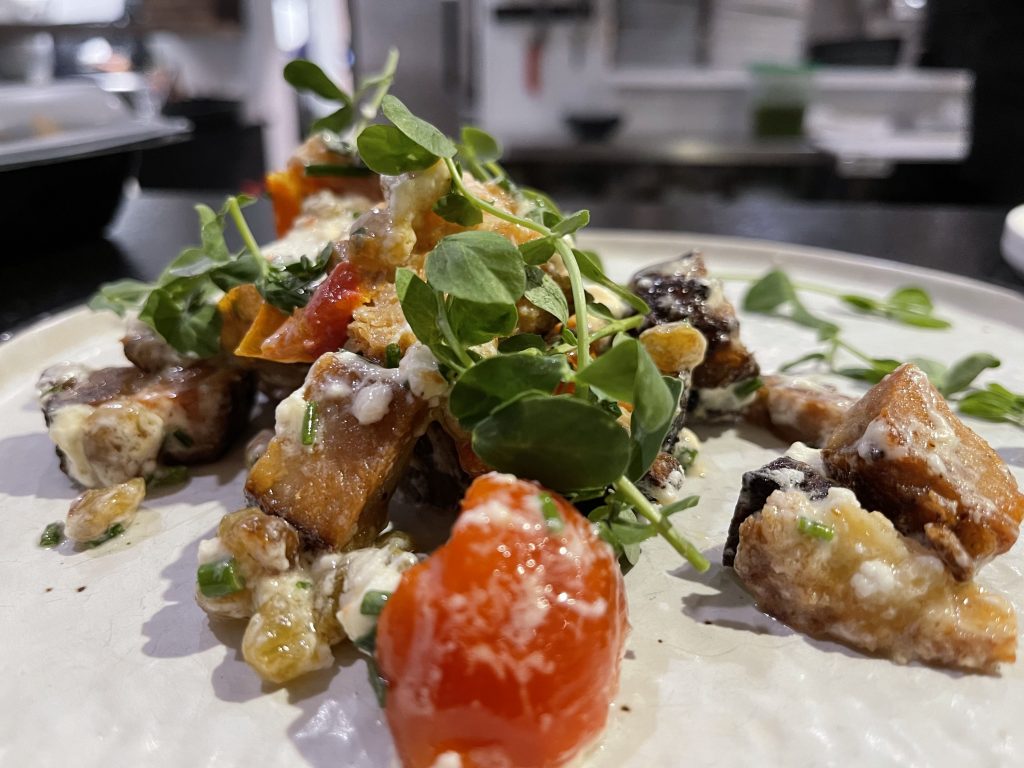 Course 5 – Sliced and flash-fried scallops with sweet Thai chili, shoestring sweet potatoes, cashews, sesame and micro basil. These tender medallions of the largest scallops I've ever seen are flash fried for a slightly crispy edge. They are combined with a slight heat and sweetness and then are accented by the incredibly flavorful micro basil.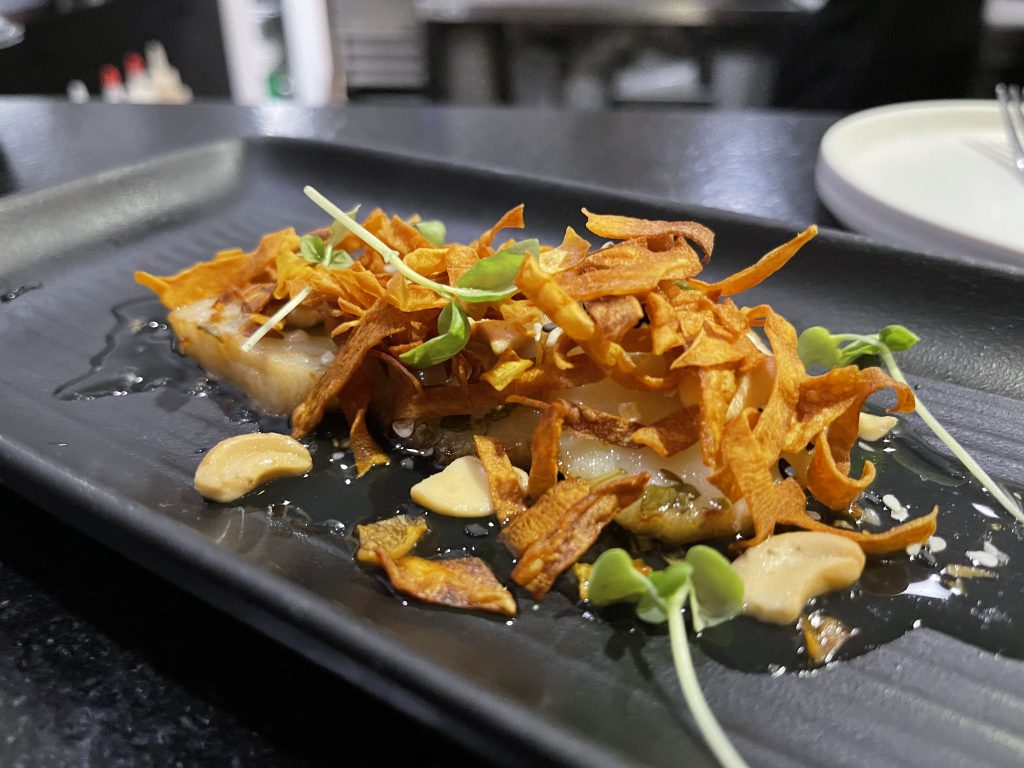 Course 6 – A massive bone-in ribeye cooked to perfection and topped with gremolata, an Italian version of a chimichurri. The perfect marbling and expert presentation make this tomahawk an otherworldly steak experience. We opted for a surf and turf style service and added tempura lobster claws with just a bit of hot honey. Had this course alone been my last meal, I'd go with a smile.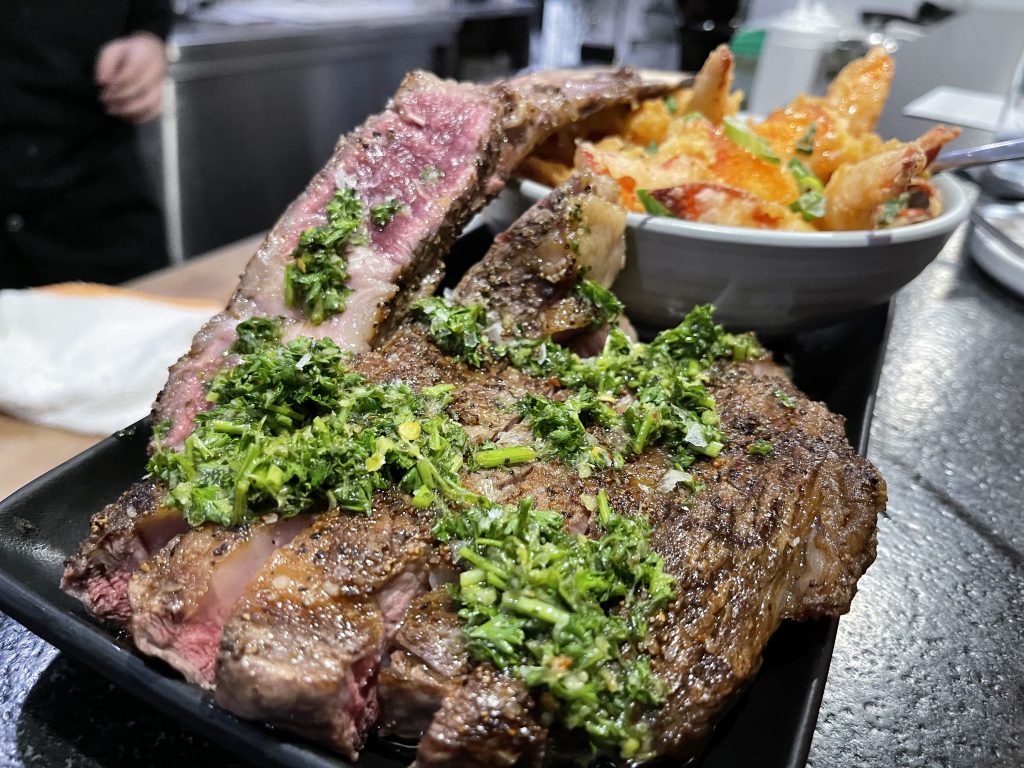 Course 7 – An incredibly creative dessert-take on arancini. A deep-fried ball of mango sticky rice served with a tart and exciting coconut and passion fruit coulis sauce.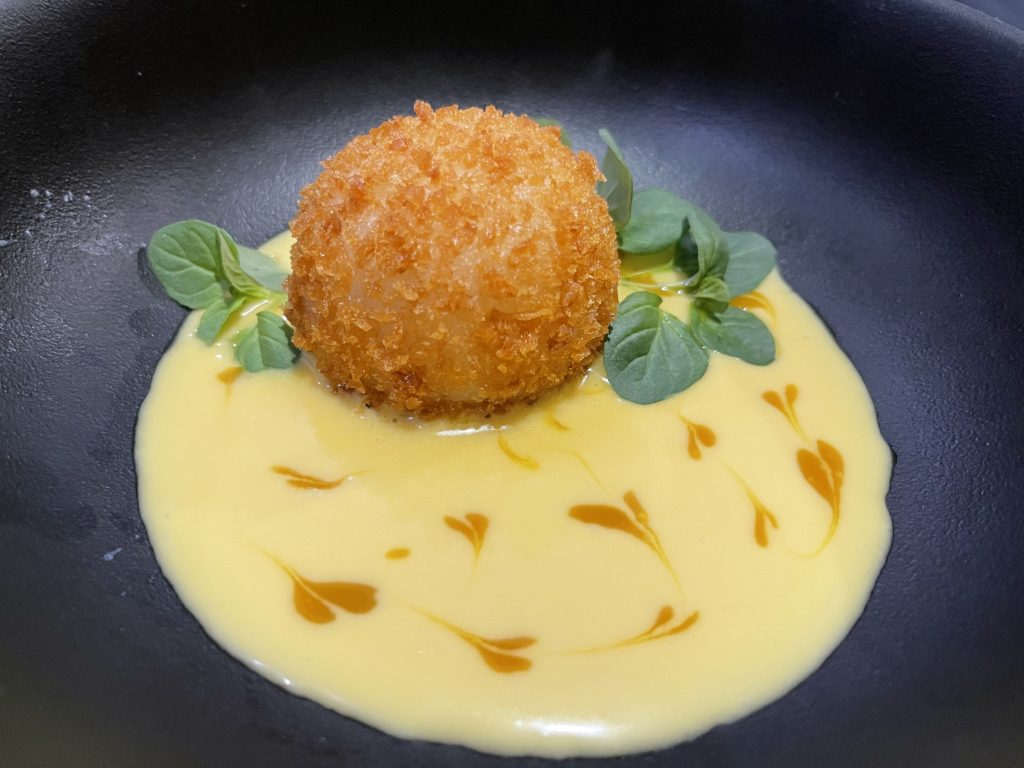 Course 8 – Matcha-dusted lavash, a crispy and flaky Middle Eastern bread with fresh berries, roasted white chocolate and raspberry labneh. The labneh is a strained yogurt that combines with the white chocolate and berry for an incredible sweet bite to finish an amazing experience.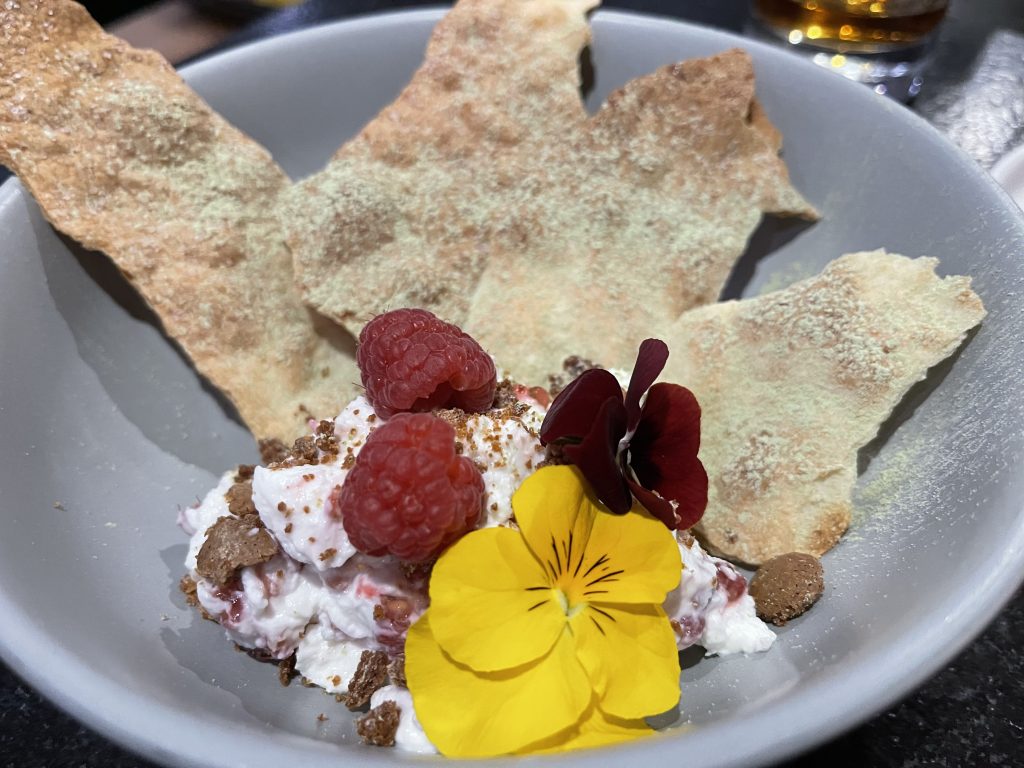 Not only is this experience an incredible journey of flavor and creativity, but it is led personally by Chef Danielle, which leads to walking away full of food and new knowledge about interesting ingredients and preparation.

Chef's Table seating at The Apis is truly a once-in-a-lifetime experience led by a world class chef that our city is lucky to embrace. I highly recommend it for those with a sense of culinary adventure. The experience is available nightly at $100 per person. Wine pairings are also available.
The Apis is currently open for dine-in with socially distant seating and also accepts carryout/curbside orders. You can view the current menu at Dine.AtTheApis.com.