Pierce Vendetta & Rick. Songstress. Tamara V and the Soul Code. Tamara Pierce Band.
That sounds like a great music festival lineup, but instead it's just part of the lengthy résumé of a lifelong Kenosha County performing artist who lives and breathes her craft.
Tamara Vendetta is a vocalist, guitarist and songwriter who has done everything from open mic nights to Summerfest, from the HarborMarket to live television. The journey that has taken her to those divergent stops has also traveled through marriage, motherhood, career changes and health challenges. Vendetta has also navigated her way through incredible changes in the music industry since she started as a solo act two decades ago. Through it all, one thing was certain for this native Kenoshan: The road would always lead her home.
"My philosophy from the time I was in my early 20s on was that I knew I would never be good at being a touring musician, because I am too much of a homebody," said Vendetta, who works for SC Johnson as a global manager/learning solutions. "So I decided very young that I'm going to do the best I can locally. That still stays the same."
She had to work hard to make big things happen while based in a smaller city like Kenosha. From sending out cassette tapes to mailing postcards announcing her schedule to making lists of every local venue hosting live music, Vendetta paved her way using sheer determination and sweat equity. Platforms that musicians flock to now such as YouTube, Facebook and Instagram weren't yet even imaginable.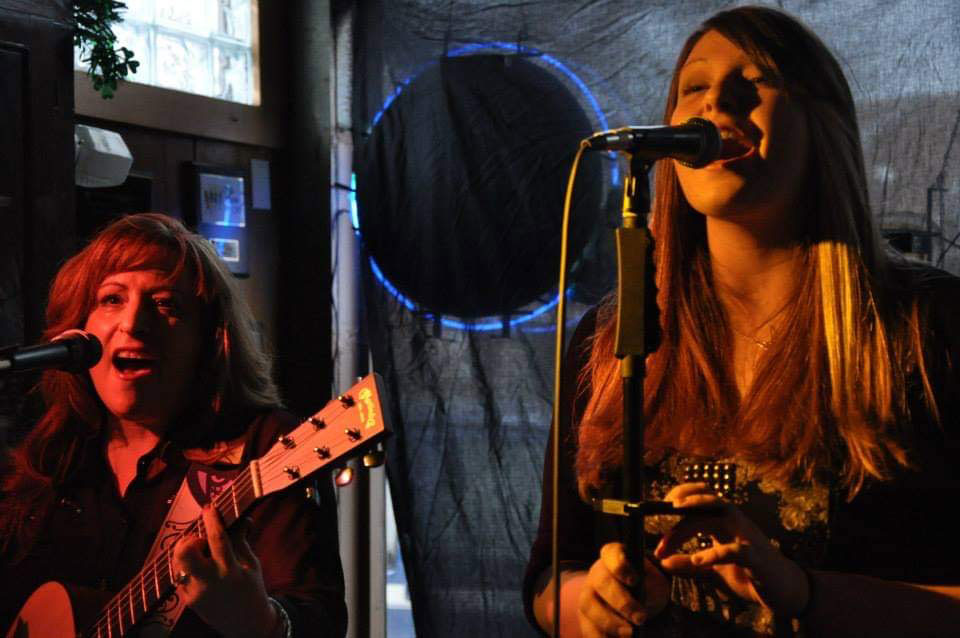 Flash forward to 2021, and Vendetta is definitely using those Internet platforms to get her name out there. This time it's not because she's a novice, but because in the past year live music venues and events that were the backbone of her career have gone dark. COVID-caused shutdowns have been undeniably devastating to the music industry.
"It has been really tough," Vendetta said. "Being a musician is a very social thing, and it's very collaborative. It's been hard to do it from a distance, but I have to be pretty careful and pretty isolated. Singing, unfortunately, is one of the worst things you can do when you're trying to not spread germs."
The current incarnation of her band and the one that has been a mainstay over the past decade is Pierce Vendetta & Rick. PVR features her son Brennan Pierce on percussion, bass and vocals and vocalist Rachel Rick, both accomplished musicians in their own right. While the trio has remained close virtually, they haven't played together in the same room in more than a year.
"Pierce Vendetta & Rick has not been practicing at all, and I'm dying for that, I just can't wait," Vendetta said. "We've been sending each other song ideas, things that we want to learn when we can get together. We've been talking through arrangements and things like that.
"The three of us have been practicing on our own. I actually started writing again, which I hadn't done in a while, but with the isolation that's even been hard. It's difficult to get on FaceTime and show Brennan a riff or talk through things without being together and feeling the music," she said.
Band members are in various stages of their vaccination process, which holds promise for Vendetta. She's hoping that in late spring as vaccinations move forward and the weather warms up, the band can get together outside as a start.
In line with her positive outlook, Vendetta found a silver lining in the pandemic pause. She finally found time to teach herself to use a looper pedal, an electronic device that creates instant recordings of a musical performance and plays those recordings back in a continuous loop.
"COVID has given me an opportunity to mess around with stuff I've had for a long time and never had a chance to play," Vendetta said. "I've had this looper pedal for about three years and I never touched it, so I've had a chance to experiment with that, and just try some new things."
Vendetta took the new equipment out for a spin during a virtual open mic show in March, a live-streamed event hosted by Mark Paffrath in cooperation with the event's pre-pandemic venue Union Park Tavern.
"That was the first time I've ever played in front of anybody with the looper pedal, so that's kind of a milestone," Vendetta said. "It went pretty well, I didn't mess up."
That performance is the most recent in Vendetta's storied career. Her debut performance happened just a few miles away and a few decades ago at Somers Elementary. In a gesture that would have a lifelong impact, the school's music teacher assigned 10-year-old Tamara a solo in "Wells Fargo Wagon" from The Music Man.
"As a kid I was painfully shy. The music brought me out of that shyness," Vendetta said. "I loved my music teacher and I didn't want to disappoint her because I loved her so much. So I did sing that little solo."
That debut led to bigger solos and full song performances, under the guidance of another influential and supportive teacher. Those experiences opened a door for Vendetta which has never closed.
"I don't like being the center of attention, but I found that it's a way of communicating that you can do any other way," she said. "You can talk to people and connect with them, but it's not the same as singing and telling a story that they can relate to and feel the music at the same time."
Vendetta's deep respect for the music has helped her combat stage fright, something she still suffers from despite her years of experience.
"Whenever I get really, really nervous, I talk myself off the ledge by telling myself that the song deserves this, the song deserves me doing my best," she said. "The story deserves this."
Like those first forays into the limelight, Vendetta's professional career started as a solo act as well. But as a naturally social person who loves sharing her music, she soon gathered other musicians until she had her first full ensemble, the Tamara Pierce Band in the early 2000s. That first group played frequently in Kenosha, Racine, Milwaukee and Chicago. During that run they made a bit of history by being in the right place at the right time and doing the right thing.
Late in 2005, the Tamara Pierce band was playing a small venue in Milwaukee, made even smaller due to a Marquette University basketball game that put a dent in the regular crowd. Unbeknownst to the musicians, that miniscule gathering included a Summerfest scout.
"The scout introduced herself, and I thought forget it, there's nobody here. They'll never hire us because they want someone with a big draw," Vendetta recalled. "The following March she called and said 'I'm hiring you because your little band of four played like you were playing in front of 8,000 people instead of eight, and we really want that kind of feel on stage.'"
At Summerfest 2006, the Tamara Pierce Band played the same stage as blues musician Susan Tedeschi (also well-known as part of Grammy-winning Tedeschi Trucks band with husband Derek Trucks), a memory Vendetta will never forget.
"Susan Tedeschi and I were the only originals that were playing that night, so that was cool, so I got to play my stuff," she said.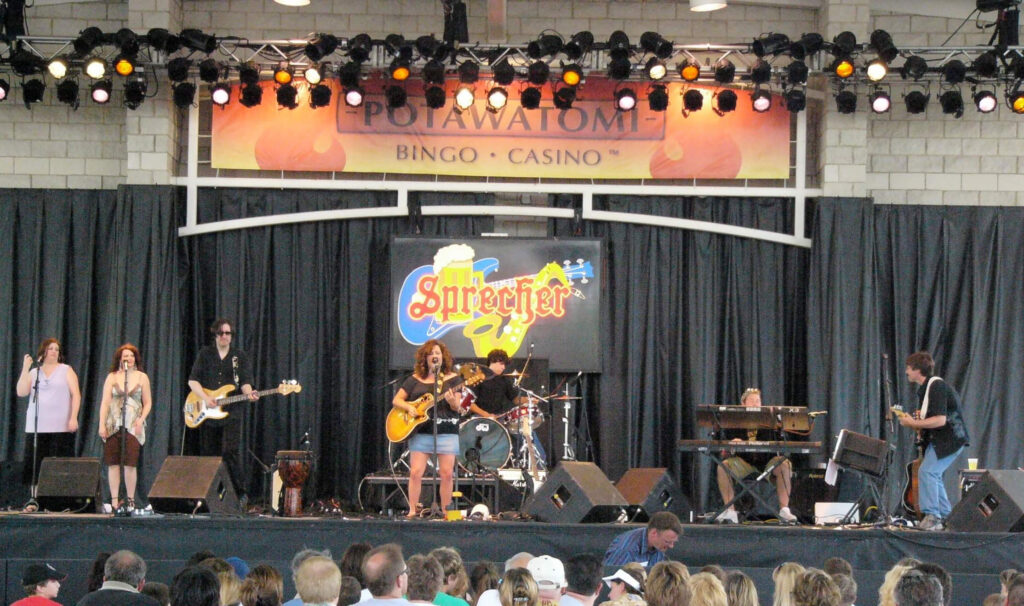 Shortly after making a splash at Summerfest, the band's bass player moved to Florida and other members of the group started to branch off. The remaining members were mother and son, who formed the next incarnation: Pierce Vendetta.
"I got remarried, hence the name Vendetta, and Brennan was still Pierce so kind of like Fleetwood Mac we did Pierce Vendetta," she said. "The two of us continued to play with the intention of adding bandmates."
That they did, mining rich local talent including Michael Gniot of Rude Rooster (Brennan also plays with that band), Jimmy Pendleton on drums and vocalist Rachel Rick. The additions completed their new, full band called Tamara V and the Soul Code, which played originals across southeastern Wisconsin and northern Illinois for a couple of years.
Rick not only gave the band depth with three-part harmonies, she also would become a vital part of Vendetta's artistry going forward.
When Pierce took a short break from performing, the two women continued on as Songstress. Even when the trio reconvenes in the near future, Vendetta said she and Rick plan to keep Songstress going – and growing. In fact, she is currently looking for female musicians to join them in a full band.
Vendetta recalled how her collaboration with Rick began.
"While we were Pierce Vendetta, Rachel used to come up and do guest spots and background vocals. She had such an amazing voice, I kept pushing her to sing more and more and more, to the point where she became a third of the show," Vendetta said.
Pierce Vendetta & Rick was born, circa 2008, and has been performing together ever since. Just as the band is a blend of previous groups and solo efforts, they also blend their original music with covers.
"We do some shows when we just do originals, otherwise we throw original music in between the covers, so to speak," Vendetta said. "When we play covers we strip them down and give them more of an acoustic, earthy sound to them. Brennan plays djembe and cajón and uses more world instrument type of percussion and patterns. We definitely make them our own."
Even when Pierce Vendetta & Rick perform covers, they defy categorization. They don't play any particular genre, giving a nod to everything from Kanye West to the Everly Brothers. They have only one criteria: "It has to be a song that we really, really love," she said.
Some of their standout covers feature Pierce on vocals. He knocks Jack White's "Love Interrupted" out of the park and delivers a tailor-made version of "Folsom Prison Blues." The Johnny Cash number has a special significance for Vendetta, Pierce and family, which now includes toddler granddaughter Amelia.
"It's really cool because I got my love for Johnny Cash from my dad," Vendetta said. "He never played professionally, he just sang around the house, but there was always a lot of music around the house. I thought it was a real kick when Brennan loved Johnny Cash as a little kid, and now his daughter loves Johnny Cash. How's that for generational, from my dad to me to Brennan to Amelia."
Before collaborations with various combinations of musicians, Vendetta's first musical partnership was a duo. Although it would be years before they played an official gig, the pairing stands out above all the rest.
"I've always made music with Brennan," she said. "I didn't want to be in a band because I didn't want to be away from him at night for rehearsal, so until he was 7 years old I just did music with him. I was a keyboard player, and I learned the guitar when he was little. I would sing with him all the time. I wrote music for us, and it was kind of fun."
Vendetta shared her love of music with children not only in her own family, but also in her reading classes during her teaching career. Vendetta taught for Kenosha Unified Schools in both elementary and middle school. From early literacy rhymes to literary analysis of songs, Vendetta knew that music reaches students in an undeniable way.
"I still run into my students, they are all grown and some have kids of their own," Vendetta said. "They'll come up and say 'I remember when we learned the vowel sounds to 'Where is Thumbkin.'"
"We did music Fridays, the kids would have to bring songs with lyrics that were appropriate for school, and we did literary analysis," she said. "They had to explain to the class and one another what the song was about, who the character was in the song telling the story."
One of those students was singer/songwriter Haley Klinkhammer who made a splash on America's Got Talent, and now has more than five million streams on Spotify.
Vendetta has advice for young musicians who have been sucker-punched by the pandemic, as well as anyone struggling to make it in a business that was tough before, during and after the current challenges.
"You have to be true to your craft. It has to be something that's important to you," she said. "You have to go to open mics and be seen, make a list of all the places to play, find out who does the booking, send videos, set up links. You have to go after it like you're trying to get a job.
"Practice, practice, and then practice some more. And then when you are so comfortable that you can step into the song and share it like telling a story, you'll be able to play. If you love it, you'll do it."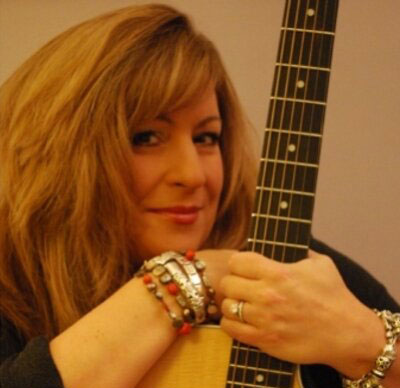 Vendetta leaves no doubt: She loves it. While patiently waiting to perform for live audiences again, she stays involved in the local music community. Recently she joined the board of HarborMarket and booked the bands for 2021. Her efforts not only support a community she's been part of as an artist, but also honors the memory of her longtime friend Ray Forgianni, the founder and director of the HarborMarket who passed away from COVID in 2020.
Pierce Vendetta & Rick is slated to perform at the HarborMarket in September.
"We might be wearing masks, but we are planning to do it," Vendetta said.
Vendetta is also involved with the homegrown live music venue Fusion, which was hit hard by the pandemic but still surviving. Just before the world shut down, she organized and performed in Fusion's wildly successful Fleetwood Mac, Tom Petty and Neil Young theme nights.
Whether she's booking bands, exploring new sounds, or singing and strumming her guitar, Vendetta approaches it all with the same heartfelt dedication and enthusiasm.
"I am really super hopeful and enthusiastic about the future because I think people have missed music," Vendetta said. "I'm hopeful that when this is over and it's safe to gather, there will be even more venues opening up with live music. People have missed socializing around music and hearing and feeling it live."