The Restaurant:
Johnny'Z Pour House, 10936 Sheridan Road, is a casual bar and restaurant with a gigantic backyard space.
The Featured Dish:
Big Soft Long Hard Wrap – Grilled or fried chicken, lettuce, onion, tomato, bacon, shredded cheddar cheese and dynamite sauce.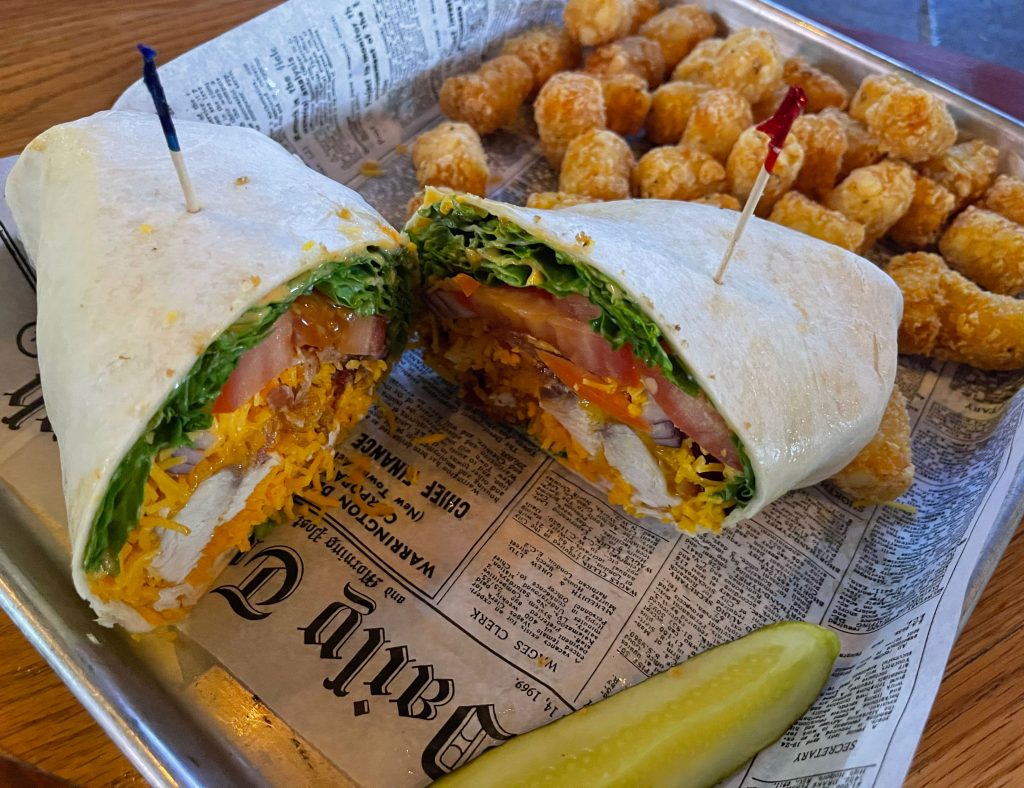 The Flavor and The Story:
The location's proximity to the border makes Johnny'Z Pour House a destination for those on the south side as well as a must stop for those on their way north from Illinois.
The building formerly housed several concepts by the Mike's restaurant group over the years until John Ziemba took over the location in 2017. The building went through a massive clean-up and rebranding that resulted in a comfortable location to watch or play your favorite games.
The interior has a giant wall of TVs and the bar staff is always willing to find your favorite game, but the backyard is the star of the show.
The Pour House has a massive dog-friendly backyard filled with activities to keep you and your party entertained long enough to get hungry. When you're ready to eat, their unique menu is littered with silly-named delicious flavors. It doesn't disappoint, especially the Big Soft Long Hard Wrap.
If you're blushing, you're not the only one. The name is part of the fun at Johnny'z Pour House.
"I encourage the customers to order it by name," Ziemba said. "These days, we could all use a laugh."

The dish was created by a former cook who made it often as a treat for the staff. It was such a hit the crew persuaded Ziemba to add it to the menu. It has been a top seller ever since.
The Big Soft Log Hard Wrap starts with a giant soft flour tortilla, but it's what's inside that counts.

The wrap is absolutely stuffed with your choice of fried or grilled chicken. To get the full experience, I recommend the crispy fried chicken, which provides the justification for the "hard" element of the name.

The chicken is moist and flavorful. Clearly a result of a kitchen crew who takes preparation seriously.
Additionally, they don't skimp on the fixings. I'm not sure I've ever seen more shredded cheese in one wrap in my entire life. By the time the crispy bacon, fresh lettuce, juicy tomato and onion are added in, the wrap is about 3.5 to 4 inches wide.
To add a bit of extra kick and flavor, the wrap is dressed with the house-favorite dynamite sauce. It's a perfect combination of Sriracha-like spice and honey sweetness that will have you asking for more halfway through your meal.
The Big Soft Long Hard is available every day for $9.99.
Johnny'Z Pour House is currently open for dine-in and also accepts carryout/curbside orders. You can view this dish and the entire menu at JohnnyZPourHouse.com.