Since Congress first made Women's History Month official in 1987, March has been a time to celebrate accomplishments and honor history made by women.
During the month-long observance, world changers from Eleanor Roosevelt and Kamala Harris to Amelia Earhart and Mae Jemison are among well-known role models in the spotlight.
But what about lesser-known difference makers like neuroscientist Daniela Schiller, police
officer Rose Fortune, voice actor Niki Yang, activist and singer Miriam Makeba and even pirate Grace O'Malley?
A new book series, "Rebel Girls," sets out to tell the stories of both famous role models and
remarkable women whose names are unfamiliar, but whose stories are just as inspirational.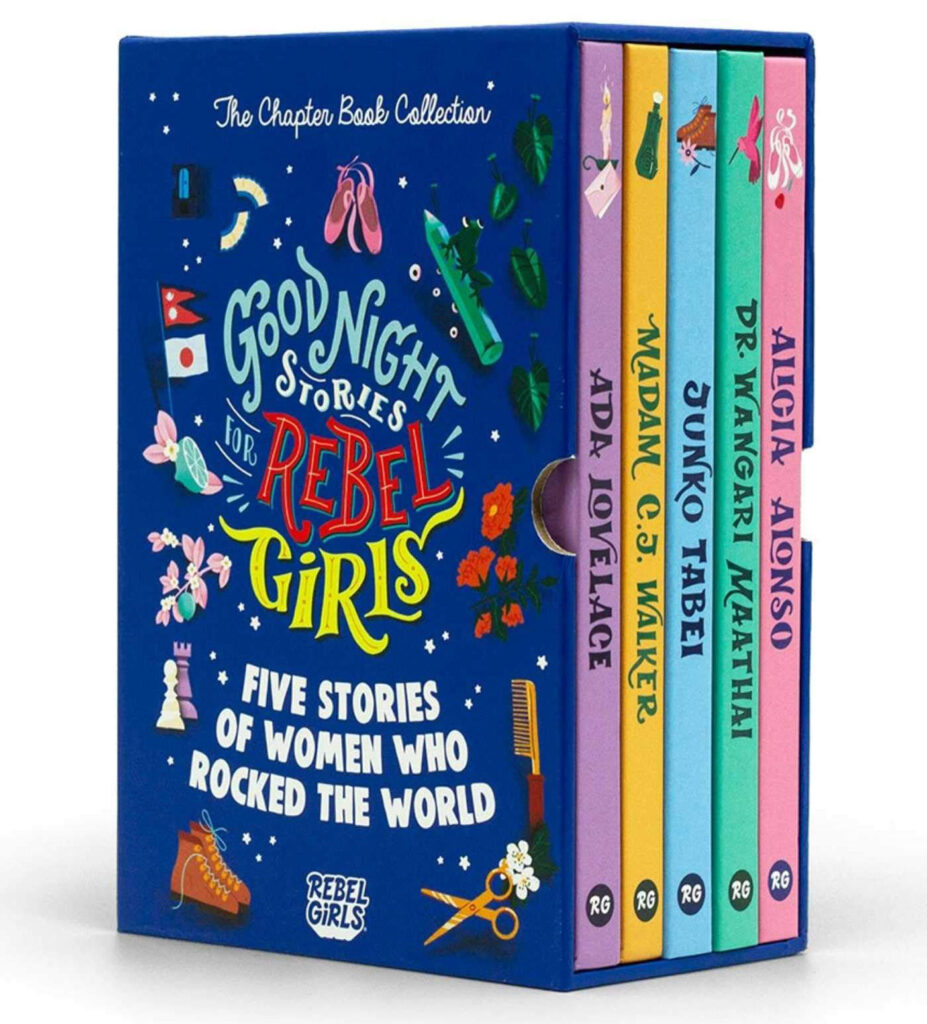 Starting with "Good Night Stories for Rebel Girls" in 2016, authors Elena Favilli and Francesca Cavallo set out to "balance power and create a more inclusive world through bold and inclusive storytelling that allows each girl to see her true worth and her boundless potential," they wrote in that initial volume.
The books offer single-page glimpses of women in fields from astronomy to agriculture to ballet, the perfect length for a goodnight story, as the title suggests. The success of the first book led to two more full volumes thus far: "Good Night Stories for Rebel Girls 2" (2017), "Good Night Stories for Rebel Girls: 100 Immigrants who Changed the World" (2020). Also in 2020, Rebel Girls published a workbook/journal titled "Rebel Girls Lead: 25 Tales of Powerful Women," featuring a collection of stories from the series as well as new entries, and enrichment activities for young readers.
The books are sprinkled with some of the well-known historical figures from Cleopatra to Oprah Winfrey. But the true treasure within "Goodnight Stories for Rebel Girls" is that readers will come away with new stories and role models from around the world. There are literally hundreds of these gems in the series, including:
Jessica Watson, a sailor and adventurer who transformed from a little girl who was afraid of the water into a voyager who made history by sailing around the world solo – at age 16!
Ada Lovelace, a 19th century English mathematician who predicted the invention of computers with uncanny accuracy.
Reyna Duong, an entrepreneur and chef whose family came to the US from Vietnam as
refugees when she was just 3 years old. Duong learned to cook to help care for her younger
brother born with Down Syndrome and later became his legal guardian.
Nadia Murad, an Iraqi who was kidnapped by ISIS but later escaped to Germany, where she became an activist alerting the world to the fate of those who didn't make it out.
Most entries include a quote from the subject. Valentina Tereshkova, a Russian cosmonaut who was one of the first females in space and who saved the lives of her crew by noticing errors in the capsule's settings at takeoff, offered this confident, pithy message:
"Hey Sky, take off your hat, I'm on my way!"
While Rebel Girls is both the concept and subject matter of the series, it's also the name of the fledgling organization dedicated to inspiring and instilling confidence in a new generation of girls. Categorizing itself as "edutainment," Rebel Girls produces a podcast and activity books.
Coming this fall from Rebel Girls is a new book: "100 Real-Life Tales of Black Girl Magic."
A companion publication released in late 2020, "Rebel Girls Lead: 25 Tales of Powerful Women" moves readers even further toward reflecting on their own talents and goals. Containing some reprised stories along with 11 new profiles, mostly about well-known figures such as Ruth Bader Ginsburg, Malala, and Harriet Tubman, "Rebel Girls Lead" is also a journal for reflection and planning.
"The women in this book started out just like you," wrote Jes Wolfe, Rebel Girls CEO. "They
were kids who had dreams and fears, hopes and questions. They were full of curiosity and a desire to make a difference. They faced challenges, and they kept going. And the world will remember them for their leadership."
The illustrations in the Rebel series were all created by female artists from all over the world – 70 in the first book alone, and receive individual credit in each volume.
While the books are aimed at young readers, there is definitely no age limit to the inspiration and education found in all the volumes. Each starts with a powerful quote that is carried throughout the book, and hopefully on into girls' hearts and minds:
Here is just one of those messages:
"To the rebel girls of the world:
You are the promise.
You are the force.
Don't step back,
and everyone
will move forward."
---
The three "GoodNight Stories for Rebel Girls" volumes are available locally at the Kenosha
Public LIbrary catalog, including vols. 1-2 on audio, through Blue House Books (in stock or via order), and on the Rebel Girls website.