The team behind Kenosha Public Library's Big Read faced so many unknowns, they must have felt much like the author of this year's selection "Lab Girl" pouring their hearts into an experiment.
Midway through the month-long celebration of "Lab Girl" by Hope Jahren, the Big Read has not only met expectations, it has succeeded "beyond our wildest dreams," KPL communications specialist Brandi Cummings said.
By nature, the National Endowment for the Arts Big Read is designed to turn a solitary pursuit into a communal event, bringing people into the library and other public spaces. A year into the pandemic, as people weary of screens but must remain vigilant about safety, how would Kenosha respond?
"The response has been absolutely fantastic, even better than anticipated," Cummings said. "On event surveys and in conversations, there has been such an outpouring of support from the community."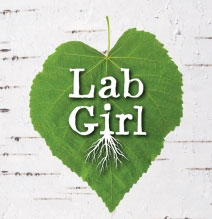 So far the biggest hit has been the keynote/kickoff event, featuring Emily Grasslie, the Chief Curiosity Correspondent for the Field Museum in Chicago, and creator, host and writer of The Brain Scoop on YouTube.
The impressive slate continues with nature-based crafts, kids' and family activities, lectures by UW scientists and traditional book discussions, all under the umbrella of the science and nature theme.
Events are meticulously designed with safety in mind, with both virtual events and in-person outdoor activities. Even the online events involve participants beyond the screen with supplies to-go and extension activities.
Organizers have found a way to create a new focus on an "unplugged Big Read," Cummings said. "We're encouraging everyone to step back and enjoy nature," she said.
A highlight of the remaining schedule is an outdoor walking tour revealing a side of the UW-Parkside campus perhaps unknown to even long-time Kenoshans.
Trees, Seeds and Soil – An Outdoor UW-Parkside Walking Tour is set for 1-3 p.m. March 21 and includes community gardens, maple trees, rivers and solar panels. Parkside scientists Dave Rogers, Julie Kinzelman and alum Jake Rogers will lead the tour, sharing sustainability practices and their own passion for science.
Another outdoor event that immerses participants in both nature and literature is a self-guided walk through Hawthorn Hollow, with stops to read chapters of a story along the way. The recently-launched Storywalk has been a huge hit, Cummings said.
A last-minute opportunity will provide a fitting finale for this year's Big Read.
Carthage Women in STEM: A Live Zoom Discussion is set for March 31 at 4:30 p.m. During the event presented by Carthage College Division of Natural and Social Sciences, scientists will talk about "Lab Girl," and their experiences as women in science careers including their inspirations, joys and challenges.
This venture into the unknown with a pandemic-impacted Big Read wasn't limited to planning events under these unique circumstances. Even the book choice was a bit of a gamble.
Traditionally, the Big Read has featured a fiction title. This year, the choice of a memoir that combines intricate scientific details with a deeply personal story pushed all the right buttons.
"The team took a chance and it was the right thing to do," Cummings said. "Part of the appeal (of "Lab Girl") is that it is about both science and being a human, and how our growth as humans mirrors the growth of a seed and the growth of a plant. People identify with Hope and relate to her story."
Here are some of the events scheduled for the second half of the Big Read. Complete listing and registration information is available in the Kenosha Public Library's website and digital brochure.
Family time (Families with children)
KPL Kids-to-Go Seed Art (ages 0-5): Let's turn seeds into flowers without all the dirt, water and time. We'll use salt-dough to make seed masterpieces. This is a "To-Go" program, which means the box of supplies with instructions will be available for registrants to pick up at Southwest or Northside Libraries. Required registration is open through March 16, material pick up March 20-23.
Virtual Family Story Time: Science theme March 20, 10:30-11:00 a.m. Flowers and Trees theme March 27 10:30-11 a.m. Storytime staff will lead participants through a short science and nature themed storytime aimed at families with children of all ages. We will use books, fingerplays, and songs to help develop early listening and literacy skills. Registration required.
KPL Family Night Enchanted Garden: Escape to an enchanted forest to find and make flower petal fairies and garden gnome planter pals. Create and decorate a light-up toadstool mushroom home for your new forest friends to live in while your family makes magical memories together. This is a "To-Go" program, supplies with instructions will be available for registrants to pick up at Southwest or Northside Libraries. Required registration opens March 20-23, material pickup is March 27-30
Creative Arts
In the Making – Macrame Leaf Wall Hanging: This Making/Fiber Arts Company crossover brings back the classic fiber art of macramé. Learn the basics along with the Zoom class on March 17 from 5:30-6:30 p.m. to create a leaf wall hanging with this take-home grown-up crafting kit. Registration is still open through today, March 14. Pickup is March 15-16.
Zoom Poets – NEA Big Read Edition: In this all-ages event on March 20 from 4-5 p.m., poets perform live on Zoom, delivering"Lab Girl"-themed entertainment and enlightenment. Contact Stephen at skalmar@wi.rr.com for more details, or to sign up to read. Presented by Zoom Poets – Stephen Kalmar II moderator, and Tony G MC.
KPL Teens to Go – Plant Prints: For ages 12-19. Create bold plant prints using simple printmaking techniques. Materials and instructions are provided to plan, carve and finish an eye-catching masterpiece. This can be a messy project so make sure to dress for a mess and cover surfaces. Required registration is open through March 16. Materials pickup is March 20-23.
In the Making – Botanical Recycled Art Shrines: Turn trash into treasure! In this to-go, grown-up crafting kit, KPL supplies everything needed to make a botanical art shrine. Simply follow along with instructors at our Zoom event March 25 from 5-6 p.m. to create, reuse and Recycle. Required registration is March 15-21, material pickup is March 23-24.
In the Making: Leaf Watercoloring: Create a work of art with this take-home, grown-up crafting kit. Follow along with a simple Zoom class on March 31 from 5:30-6:30 p.m. to learn how to use watercolor to immortalize a favorite plant or create an urban jungle without the upkeep. Required registration is March 22-28, material pickup is March 29-30.
Science Talks
The Purpose-Driven Landscape – How to Create Life-Giving Landscapes with Native Plants: Re-introducing native plants into our landscapes is one of the most positively impactful things people can do. Presented by Nan Calvert, program manager at the Root-Pike Watershed Initiative Network on March 18 from 2-3 p.m., this program will guide you toward a path of stewardship and landscape resiliency. Register online to receive an access code.
Climate Changes, Can People? A Virtual Badger Talk with Professor Ankur R. Sesai: Floods, fires, hurricanes, receding snow, crop failures, and heatwaves. Climate change is manifesting itself onto these in a variety of ways both in southeastern Wisconsin and across the globe. How exactly do scientists know that the climate is changing and affecting society? What options do individuals and society have to reduce the risk of the worst impacts? These questions and more will be addressed March 23, 6-7:30 p.m. Register online to receive an access link.
Early Spring Plants Seed Kit and Class: Seed kits containing trays, soil, and seeds will be available to the first 100 families who register. The program is set for March 24, 4:30-5:30 p.m. Join horticulture instructor Ali Schultz for a zoom session discussing early spring plants and how to take care of the plants included in their seed kits. Registration is required, pickup is March 20, 10 a.m.- 3 p.m. at Gateway Technical College Outside Academic Building (3520 30th Ave.).
Grab & Gather Family Trees:. Families come in all shapes and sizes, just like trees! Let's trace roots and share our family history during this program: March 31, 6:45-7:30 p.m. KPL will supply a family tree template and resources to do some family history research. Required registration is open March 24-25, pick up is March 26-28.
Carthage Women in STEM: A Live Zoom Discussion: Join Carthage women scientists March 31 at 4:30 p.m. as they discuss "Lab Girl" and their experiences in the field. Register online for access link.
"Lab Girl" Book Discussions (Adults)
KPL Book Discussion: March 15, 2-3:30 p.m.
Community Library: March 18, 6:30-7:30 p.m. and March 23 1-2 p.m
Gateway Technical College Libraries: March 23, 4:30-5:30 p.m.