The Restaurant:
Ashling on the Lough, 125 56th St., is Kenosha's premier location for Irish fare and lakefront views.
Featured Dish(es):
Colcannon Poppers – Mashed potato whipped with sharp cheddar cheese, cabbage and sautéed onions rolled in panko and fried. Served with Worcestershire caramelized onion gravy.
Curry Chips – Thick-cut pub fries covered in a mild sweet curry sauce.
Shepherd's Pie – Seared lamb simmered with carrots, celery, onions and green peas in a hearty broth topped with homemade mashed potatoes and baked to a golden brown.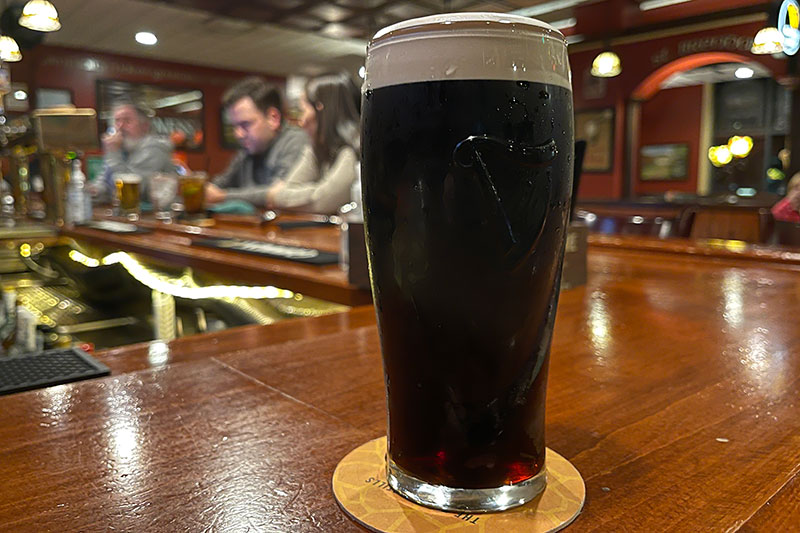 The Flavor and The Story:
This might be cheating, but with St. Patrick's Day just around the corner, I knew I'd be heading to Ashling on the Lough this week. My intention was to order three items and write about my favorite.
The problem is, they were ALL incredible.
Rather than an in-depth review of one dish, I'd like to introduce you to three very different, and very tasty ways you can participate in the upcoming celebration of all things Irish.

Ashling on the Lough is a beautiful bar and restaurant filled with warm wood, stained glass and a welcoming atmosphere that includes an always burning dining room fireplace. The concept of the Irish pub is translated perfectly as the seating and bar area promote gathering and conversation among friends.
The menu is a blend of traditional Irish fare, approachable bar food and new takes on classic flavors.
For this week's feature we're tasting a little bit of all three to help you get the most of your St. Patrick's dining experience.
Traditional Shepherd's Pie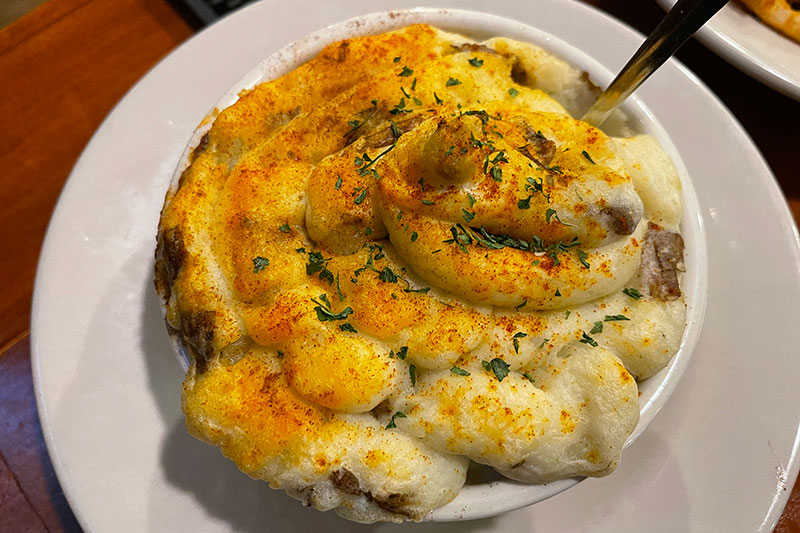 If you're looking for an entree-sized dish full of flavor and tradition, this should be your choice.
Many common iterations of this dish are made to be economical, rather than traditional and are made with ground beef rather than lamb. While that version is delicious as well, nothing can beat the classic recipe made with seared lamb.
According to general manager Paul Ward: "For many people, it kind of goes over their head … the name shepherd's pie and its immediate connection to the word sheep."
To ensure they can meet customer expectations, a ground beef version is available as well, but I highly recommend the classic lamb experience.
While the many ingredients are slow roasted together for a well rounded flavor in every bite, the initial searing of the succulent lamb provides a wonderful layer of texture.
The meat is incredibly tender and the simmered vegetable gravy is full of dynamic flavor.
All of this is then topped with fresh mashed potatoes baked until they form a wonderful golden crust. An addition of paprika further adds depth of flavor to complete the dish.
Colcannon Poppers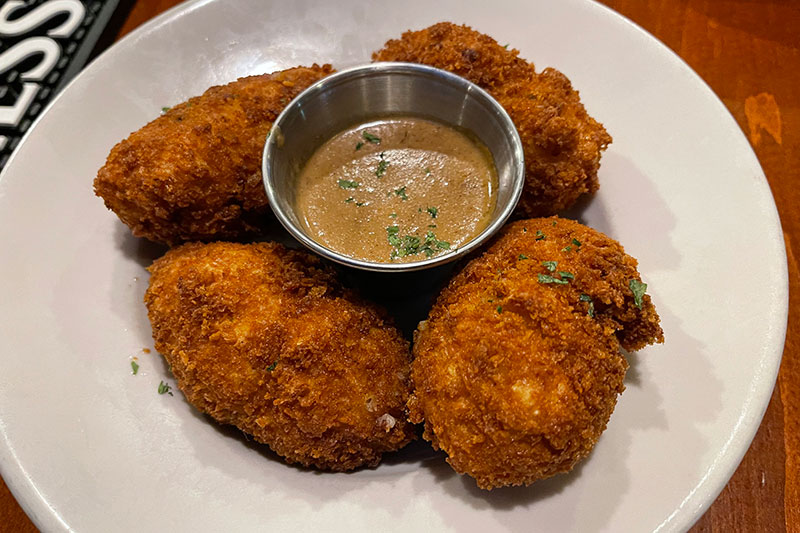 If you're looking for an exciting appetizer or snack, don't miss out on this dish. Food Network Magazine just named it the Most Inventive Potato Dish in this year's Irish Pub Awards.
Colcannon is the name for traditional Irish mashed potatoes that have been loaded with flavorful items, including fresh butter and traditional vegetables.
The poppers are a re-invention of that concept. The house colcannon at Ashling is made with simmered cabbage, cheddar cheese, sautéed onions and scallions. To make the poppers, they roll this decadent concoction in panko breading and fry it.
The result is a crispy shell around what can be best described as the flavors of home. Slight cabbage vinegar rounds out the buttery potato while the sautéed onions deliver a bit of sweet.
This is all finished off with a quick dip in the house gravy that is a fan favorite. More caramelized onion comes together here with Worcestershire sauce for a wonderfully tangy addition to this bite. Be prepared to ask for extra gravy – not because they aren't generous, but because there can never be enough.
Curry Chips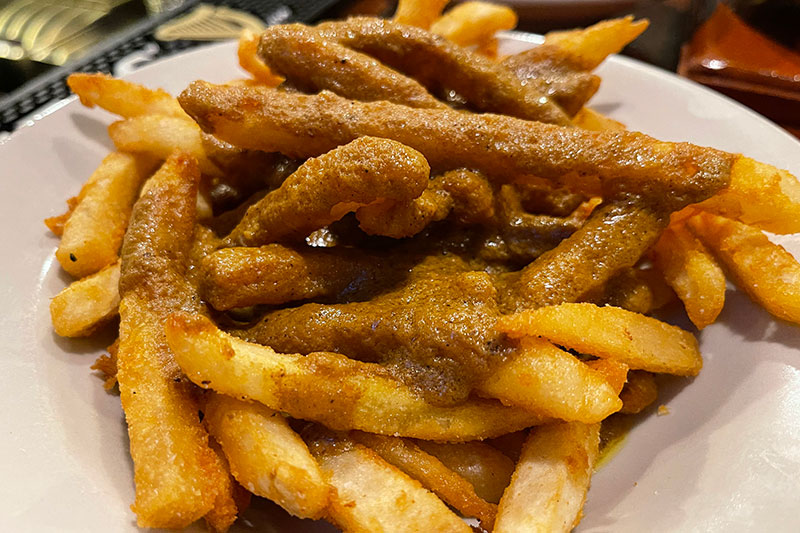 If your celebration is a little bit less dinner-focused, and a lot more about the liquid side of things, save yourself with this snack.
While you might not think of curry as Irish, it is a favorite flavor of the island nation. With the incredibly diverse population and influence from England and India, the Irish have fallen in love with curry and we are the lucky beneficiaries.
This dish is as simple as it gets, and you'll want it at the time once you try it. Crispy golden pub fries – called chips in Ireland – topped with homemade curry sauce. This is not an overwhelming type of curry. It presents depth of spice but leans towards sweet rather than spicy. Combined with the creamy sauce and crispy potatoes, it's the type of flavor that will have you finishing the bowl before you even realize you were close.
Curry chips are also fast, simple and filling, so there is no excuse not to have an order during your celebration.
These items are available every day and priced as follows: Shepherd's pie ($16.95), Colcannon poppers ($9.95) and Curry chips ($8.95).
Ashling on the Lough is currently open for dine-in with socially distant seating and also accepts carryout/curbside orders. You can view this dish and the entire menu at AshlingOnTheLough.com.

Special Note: St. Patrick's Day is by far the busiest day of the year at Ashling. I highly recommend getting your Irish fare fix any other day of the week, if possible. If you would rather be a part of the action, to accommodate social distancing, reservations are being accepted for the first time ever. They are sure to book up fast, so don't delay.