Twenty years ago today (March 10, 2001), St. Joseph and Tremper had the city buzzing over boys basketball.
On a special Saturday for local hoops fans, the Lancers and Trojans both emerged victorious in their respective WIAA sectional finals to advance to the State Tournament at the Kohl Center in Madison.
What made it so unusual? For more than half a century prior, Kenosha County sent a grand total of three teams — boys and girls — to the WIAA State Tournament.
The Wilmot boys brought home two titles. The Panthers won the Class B crown in 1984 with a 25-0 record and claimed the Division 2 championship in 1991 with a 27-0 mark. Also in 1984, the Central girls made it to State, but bowed out in the Class A quarterfinals.
Here is a look back on the day to remember:
St. Joseph
In an afternoon game at the West Bend Fieldhouse, the Lancers outlasted Oostburg, 51-45, in a hard-fought Division 3 sectional final.
Playing in front of a hostile crowd with three times as many Oostburg fans in attendance, St. Joseph let an eight-point fourth-quarter lead slip away and fell behind 42-41 with 4 minutes, 35 seconds remaining. The Flying Dutchmen would score only three points the rest of the way as the Lancers, led by first-year head coach Ray Knight, refused to fold.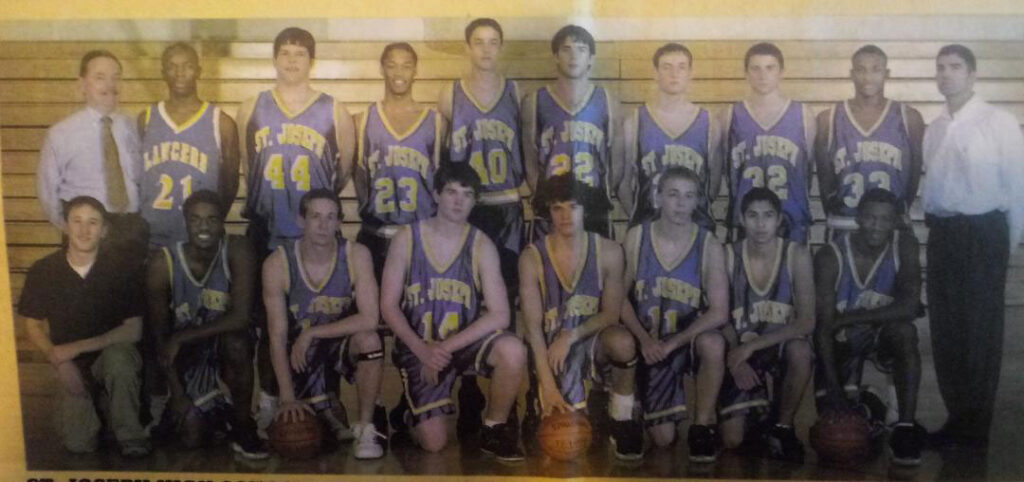 Senior point guard Brandon Morris tied it at 45-45 with two free throws with 2:16 left and gave his team the lead for good with a jumper from the left wing with 1:03 to play.
The defensive play of the game followed when senior forward Ryan Heller blocked a shot with 45 seconds remaining as the Lancers regained possession.
Senior guard Andy Freund then made two free throws with 30 seconds left to make it a two-possession game and Heller added two more from the charity stripe with eight seconds left to seal it. A festive celebration at midcourt ensued when the final buzzer sounded.
"It was an amazing time for us," Morris said recently. "The previous year, we played in the final WISAA State Tournament and lost by one point (in the Division 2 championship). With us having the majority of our team back, our goal was to go to the (WIAA) State Tournament at the Kohl Center.
"That was an amazing, unbelievable feeling. When you set some goals for your team, you look to achieve those goals. That is why we practiced on Thanksgiving morning and Christmas Day, so that we could get to the State Tournament. It was incredible to accomplish that once again."
Senior forward David Tolefree scored a game-high 23 points, while Morris (12) and Heller (10) also scored in double figures. Junior forward Dennis Coleman grabbed 12 rebounds.
Tremper
A few hours later, the Trojans tipped off against Verona on their home floor in a Division 1 sectional final.
Playing in front of a raucous capacity crowd of 1,800, Tremper secured the first State Tournament berth in program history with a 54-50 victory. In the process, the Trojans became the first Kenosha public high school team since 1941 to advance to the State Tournament.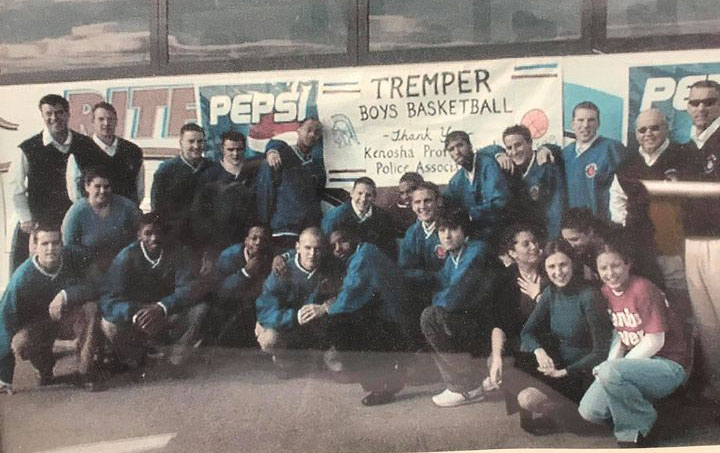 "I remember how awesome our gym looked completely packed and when the horn finally sounded and our fans rushed the floor," former Tremper coach John Wilhelmson said recently. "Our motto was, 'Leave it all on the floor,' and we certainly did. We weren't that big, but we played so well together. Each guy had a role and they played it well. Just a great group of guys and coaches."
Tremper trailed 44-39 with 4 minutes, 45 seconds left, but tied it up on a putback by Keena Johnson and a clutch 3-pointer by Andrew McNairy. With the score tied 46-46, Senior forward Dan Persinger, who led a balanced attack with 11 points, gave the Trojans the lead for good when he scored off an offensive rebound with 2:26 remaining.
The Trojans, playing in their first sectional final in almost 25 years, took a 39-35 lead into the fourth quarter thanks to McNairy. With time running down, the backup point guard banked in a 3-pointer from just inside the midcourt stripe at the buzzer as the home crowd went bananas.
"It was a magical run," Johnson said recently. "No one really expected us to be there, but our team was awesome and our coaches were amazing. I'll always have a special bond with all of those guys."
Aftermath
Five days later at the Kohl Center, St. Joseph and Tremper both had their title hopes dashed.
In a Division 3 semifinal to open the state tourney, the Lancers lost to eventual champion Glenwood City, 70-67, on a 3-pointer in the final seconds.
In a Division 1 quarterfinal to close out the first day, the Trojans lost to eventual champion Milwaukee Vincent, 55-36, in a game that was tied at halftime.
"It's still one of the best memories of my life," Johnson reflected on the state tourney run. "I still remember looking at the postseason brackets before the season with Dave (Tolefree) and Brandon (Morris) and we both talked about our paths to State and we both got there. It was great how we were able to represent Kenosha like that."
In the 20 seasons since then, only three Kenosha County basketball teams have advanced to the State Tournament — the St. Joseph boys (2003), the St. Joseph girls (2016) and the Central boys (2018).
St. Joseph roster
Kyle Clark, freshman; Dennis Coleman, sophomore; Andy Freund, senior; Jose Garcia, sophomore; Andy Heller, freshman; Ryan Heller, senior; Daryiel Hill, senior; Tim Howard, freshman; J.P. Knight, junior; Joe Malsack, senior; Anthony Matteucci, junior; Mike McKinney, junior; Brandon Morris, senior; Joe Skora, junior; David Tolefree, senior
Tremper roster
Mark Blaziewske, senior; Ben Chamness, junior; Travis Clark, junior; Vince Clark, senior; Kevin Deaton, senior; J.R. Gaston, junior; Keena Johnson, senior; Andrew McNairy, senior; Dan Owens, junior; Dan Persinger, senior; Greg Powell, senior; Jeremiah Randle, junior; Nick Rezny, junior; Trevek Sengbusch, junior; Mike Umscheid, junior