The Restaurant:
Siebert's Pub, 8403 Antioch Road, is well known as a gathering place in Salem for its unique atmosphere, friendly service and incredible flavors.
The Featured Dish:
Reuben Sandwich – Slow-cooked, pulled corned beef topped with sauerkraut, Thousand Island dressing and Wisconsin baby Swiss cheese on fresh marble rye.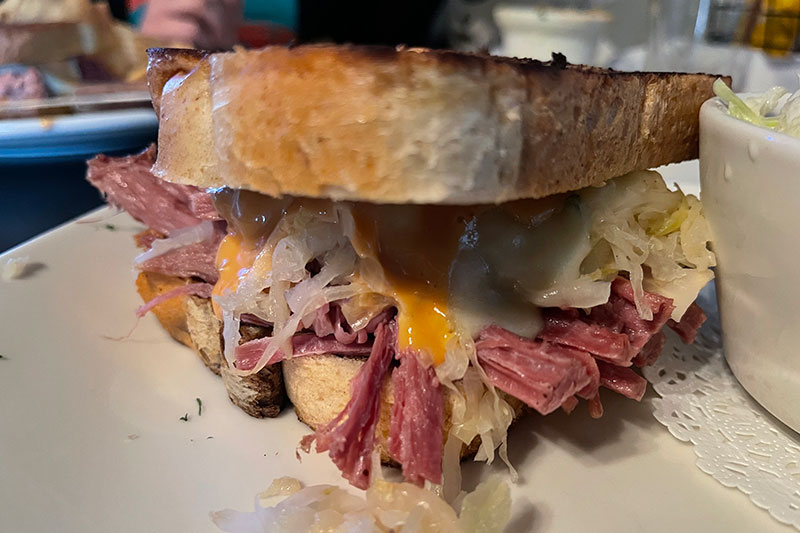 The Flavor and The Story:
Full disclosure: Before someone submitted this location and dish, I had no idea what I was missing out on. I love food and have had at least 1,000 different versions of the always delicious Reuben sandwich. When someone submitted a Reuben to be reviewed, I was honestly confused.
This dish isn't unique to a particular restaurant or to our area. Why was this the dish that I just had to write about?
Every time I mentioned the submission, someone in the room would light up with joy and say, "You HAVE to try that Reuben. It's incredible."
Needless to say, I was convinced, and I am so glad I made the trip.

Siebert's Pub is the definition of community-based hospitality. Their emphasis on the idea of a "gathering place" is evident from the moment you approach the front door on the porch of what appears to be a large home.

The interior drives this idea home with warm wood, stained glass lamps, comfortable chairs and really cool wallpaper. Every moment spent in Siebert's Pub feels like home, or at the very least, visiting an old friend.
The food conveys this same message. Especially the Reuben. This incredible experience starts with the absolute most tender corned beef I have ever tasted. The slow roasting of a whole brisket and then hand pulling the meat is evident in every bite. The meat is incredibly savory and surprisingly lean despite it's melt-in-your-mouth texture.

Atop this masterpiece of meat is a flavorful, but not overwhelming sauerkraut that adds to the complexity of flavor without overpowering the rest of the bite. Many Reubens rely on their toppings to mask a drier, less interesting corned beef, but this subtle kraut serves to complement the true star of the show.

To further round out the flavor profile, Siebert's has chosen a Wisconsin-produced baby Swiss cheese rather than the traditional Swiss. This again is a much more subtle and complementary flavor that blends into the sandwich rather than taking it over.

You'd think this was enough to rocket this sandwich to world-class status, but they have also somehow found the best Thousand Island dressing possible. It's sweet and tangy flavor combines with the acidic sauerkraut, the creamy baby Swiss and the savory corned beef for an otherworldly experience. The dressing is so good that it has visible pickle chunks that give it the taste and texture of something homemade.

All of this flavor is sandwiched between two pieces of thick, fresh-toasted marble rye that offers a bit of crunch and, like other ingredients, a complementary rye flavor.
Siebert's Pub has done an excellent job of combining all of these usually strong-flavored ingredients into an extraordinary example of what balance is meant to be. I can't wait to enjoy it again.
The Reuben Sandwich is available every day and priced at $11 with your choice of side.
Siebert's Pub is currently open for dine-in with socially distant seating and also accepts carryout/curbside orders. You can view this dish and the entire menu at SiebertsPubofSalem.com.
CLICK HERE TO SUBMIT YOUR RESTAURANT.

.