Brian Hansen, a three-time United States Olympian, has traveled the world to pursue his love of speed skating.
His most recent destination: Kenosha.
Hansen became the focal point — and source of contention — of a jaw-dropping sunrise photo that featured a group of speed skaters rocketing through the Kenosha Harbor early Saturday morning.
Local nature photographer Thomas Corrao captured the stunning image. It received over 77,000 views and was shared nearly 500 times on Kenosha.com's Facebook page.
While the photo was one-of-a-kind, a video documenting the experience was almost surreal. Hansen posted the video — complete with drone footage — to social media late Sunday.
"Wisconsin is so beautiful," Hansen said. "Doing a sunrise skate on the (Kenosha) harbor … I'd rather do that than be anywhere."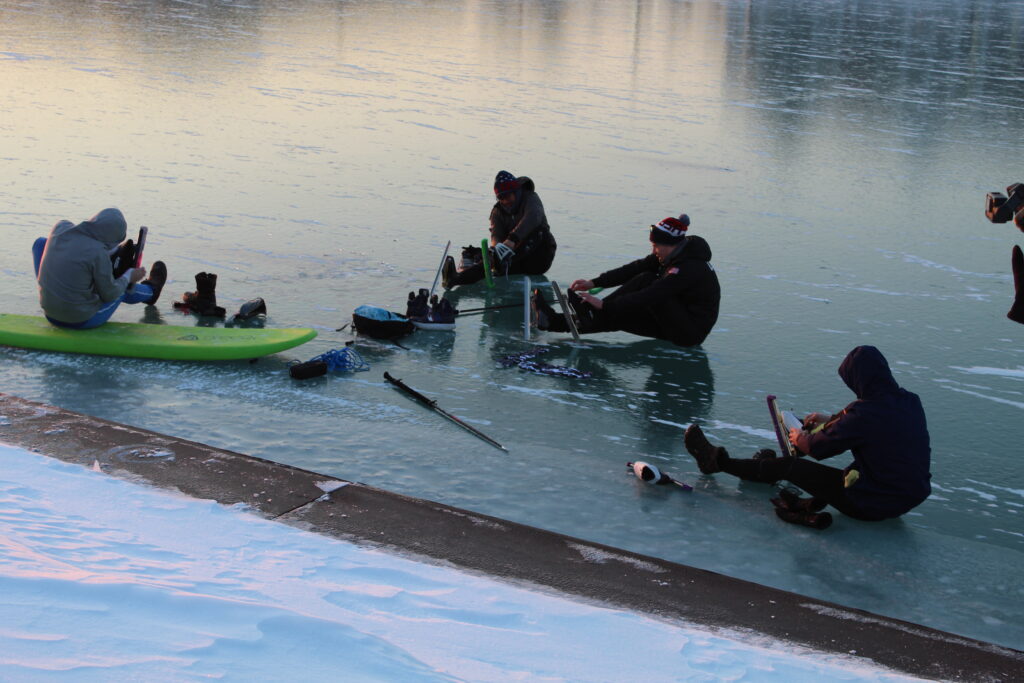 The photo and video, of course, did not sit well with a number of local residents.
"The harbor channel is a dangerous area," wrote former alderman John Fox in a social media post. "Professional or non-professional, the harbor channel is not an ice rink. It is a dangerous area and should be treated as so."
Alderman Dominic Ruffalo, a Kenosha native, said he's never seen anyone skate on the Kenosha harbor.
"Only on the Pike (River)," Ruffalo said.
Hansen, 30, lived briefly in Pleasant Prairie before relocating to the Milwaukee area.
The Glen View, Ill., native qualified for the Olympics in 2010 (Vancouver), 2014 (Sochi, Russia) and 2018 (PeyongChang, South Korea). Hansen brought home the silver medal in the team pursuit in Vancouver and finished seventh in the 1,500 meters in Sochi.
After retiring from competitive skating Hansen swapped his typical training site — a 400-meter oval at Milwaukee's Pettit National Ice Center — for nature's finest rinks.
Hansen's Instagram page is populated with skating trips to frozen lakes, ponds, lagoons and creeks throughout the country. He once paddle-boarded to a floating island off the shore of Wind Lake and skated a frozen slab in Lake Michigan.
"It's a beautiful outdoor sport," Hansen said. "Living in Wisconsin, we go through these really long cold fronts. It's a great way to be outside and stay active. I think it can be healthy."
Hansen, a skating coach at the Pettit National Ice Center, also understands the dangers of the sport.
Local authorities immediately issued a statement on Saturday warning local residents of the many risks of venturing onto the Kenosha Harbor.
"Please use extreme caution anytime you are on the ice, especially the ice that is part of Lake Michigan," said Ben Anderson, Kenosha County Dive Team Leader. "These ice conditions can change in seconds when lake currents, surface winds, or boat wakes from large shipping vessels pass the harbor.
"And currents in the harbor and Lake Michigan will cause undertows, so if someone were to fall in, remember don't jump in after them. Reach with something like a pole or throw them a rope."
Hansen said his group took extreme precautions to assure their safety. Skaters wore wetsuits and life vests and were equipped with throw ropes and ice awls, used to escape from frozen waters.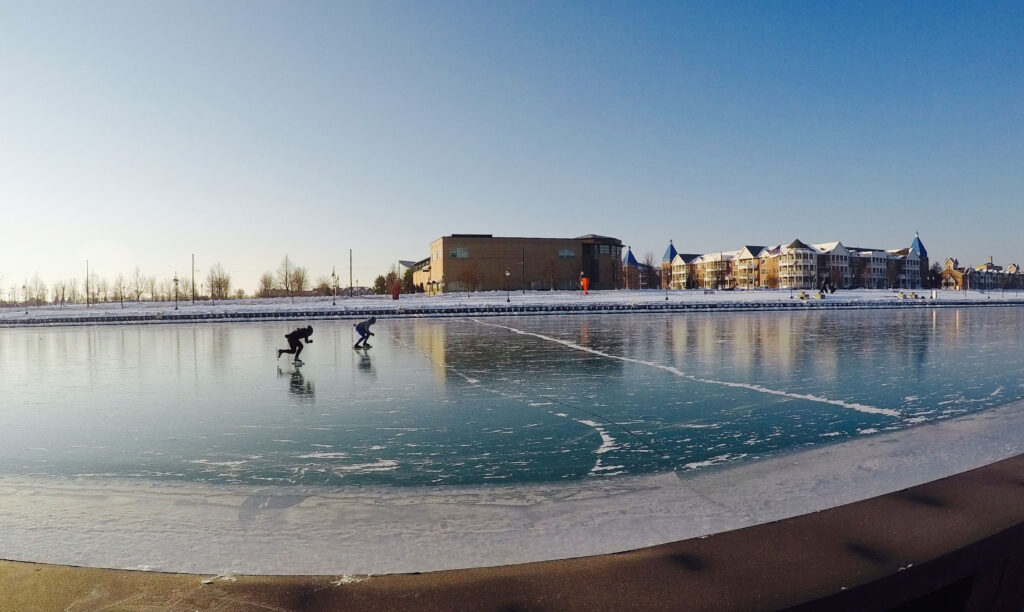 The video shows open water near the end of the North Pier. Hansen said he estimated the ice to be around four inches thick.
"I had no concerns about the ice," Hansen said. "Normally, I can punch through it. It was around four inches, which is considered safe. There were hardly any cracks in it.
"I checked the weather that day. I checked the wind and waves forecast. There were light off-shore winds. There was no swell coming in to break up the ice. It was absolutely safe."
Hansen said there's a stigma in the United States with outdoor skating. In other countries, it's widely acceptable and considered a large part of their culture.
"You should see the people skating on all of the canals in the Netherlands," Hansen said. "Speed skating is their national sport. It's a big deal. People go and skate on the harbor, lakes and canals. It's a pastime in their country."
Regardless, Hansen said he understands why people might have concerns about his favorite sport. Even his own mother wasn't supportive.
"She is still a little skeptical," Hansen said. "But she's warming up to it."