The Restaurant:
Franks Diner, 508 58th St., is the definition of a local landmark. The Downtown staple is as famous for its sass as it is for its flavor.
The Featured Dish:
The Ave Maria — Fried eggs, hand-pattied sausage and American cheese on a toasted  English muffin.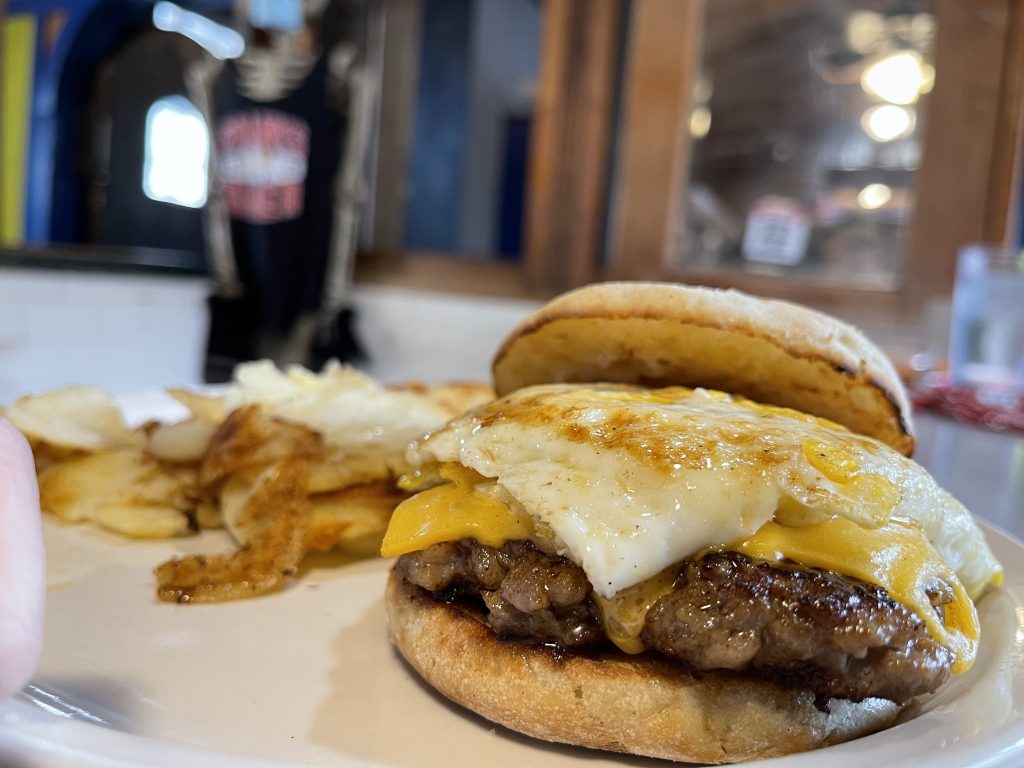 The Flavor and The Story:
Franks Diner is the quintessential landmark Kenosha restaurant. If this is your first time hearing about Franks, you must be new here. They have been a local legend since 1926 and captured the national spotlight time and time again. If you'd like to learn more about the well known history of the diner, it is available HERE.
There are so many stories to be told about Franks, but perhaps their most defining narrative will be the one being written today. Despite existing through The Great Depression, World War II, The Cold War and countless other world changes, 2020 has been the biggest challenge and survival story to date.
If you're a Kenoshan, you know Franks has a long line of people crammed together waiting for their opportunity to indulge in the famous Garbage Plate, while being hilariously ordered to comply with the local rules like, "Don't block the doorway!" or "Move toward the skeleton!"

This year is much different, but for those of us less inclined to wait amongst the tourists eagerly hoping to check in on Instagram and tag Guy Fieri, it can be a blessing. Now when you arrive at Franks, you are checked in and given a place in a digital line and sent a text when your seats are ready. Rather than shoulder-to-shoulder behind the counter, I spent my weekend wait time enjoying a mimosa down the street until It was finally time to indulge in my favorite breakfast.
That breakfast was, and always is, The Ave Maria.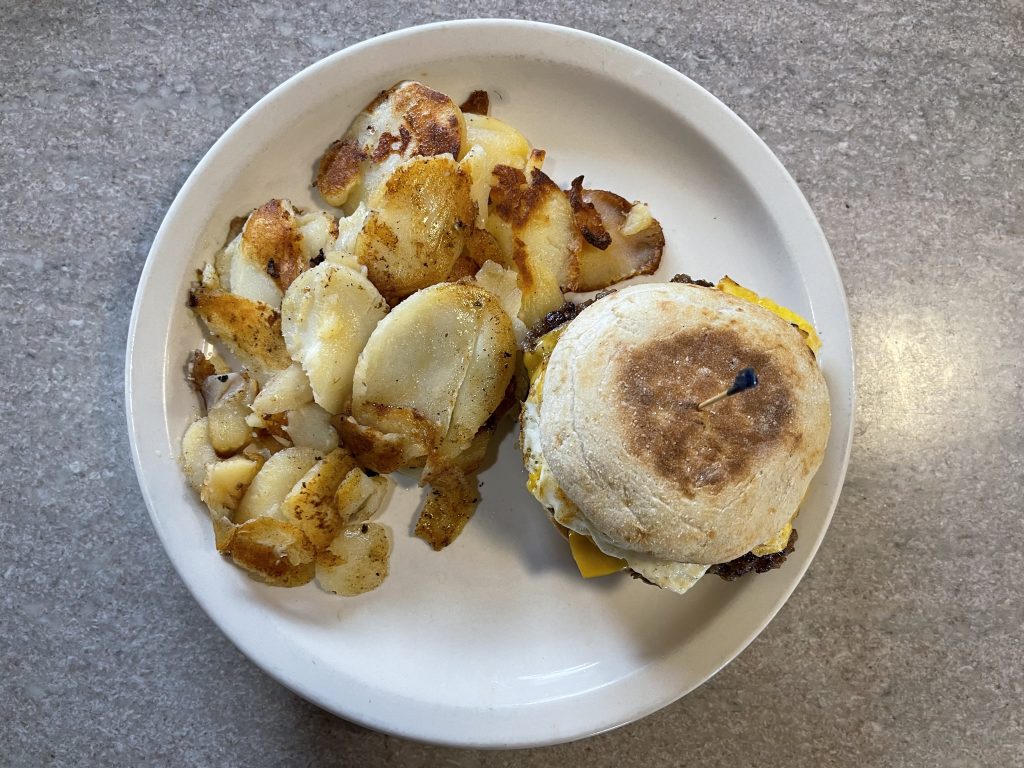 Simple in description, but heavenly in flavor, The Ave Maria is a classic breakfast sandwich done incredibly well. It starts with a hand-pattied Usinger's breakfast sausage that eats like a burger. The thick, juicy patty has such incredible flavor that it would be a masterpiece on it's own.
Lucky for us, Franks has placed it atop a fresh grilled and buttered English muffin with a chewy center and crispy edges. This provides the perfect platform and textural complement to the sausage.
To make this a complete and balanced breakfast, the sausage patty is topped with melty American cheese and a generous portion of hard fried egg. This is no ordinary fried egg, however, as it has been flat-top grilled in butter for a homestyle flavor that is never the shape of a perfect, confusing circle.

For the ultimate enjoyment, I personally recommend removing the English muffin top and eating The Ave Maria open-faced with a knife and fork. This not only saves your shirt from your breakfast decisions, but provides a great balance of all the ingredients while leaving you the opportunity for a jellied English muffin as a bit of sweet to finish your meal.

Despite having eaten this exceptional meal hundreds of times, until researching this story, I had never asked why it was named as it is. It turns out, no one has.
Owners Kevin Ervin and Julie Rittmiller were almost baffled by the question. The three of us then set out to ask the members of the staff that had been there the longest. Still, no one knew.
How could it be that one of the most popular items on the menu had no origin story?
I reached out to former owner Chris Schwartz at her home in Oregon to solve the mystery. Like many of the Items on the menu at Franks, it is named for a customer who ordered it often.

"The Ave Maria was named for Maria Caravati of Equinox Boutique," Schwartz said. "It was her special order that we finally put on the menu."
The inspiration was Maria's Italian-American heritage and its close association to Catholicism as well as an opportunity for a joke. The next item on the menu is The Virgin Maria, which is the same as The Ave Maria … but without sausage.
The Ave Maria is available every day and priced at $8 with a side of hashbrowns or American fries.
Franks Diner is currently open for dine-in with socially distant seating and also accepts carryout/curbside orders. You can view this dish and the entire menu at FranksDiner.com.