The Restaurant:
75th Street Inn, 26229 75th St., is a cozy, casual restaurant filled with character and friendly faces and an absolute must-stop for Hwy 50 travel.
The Featured Dish:
Nashville Hot Chicken Sandwich – Nashville-style spicy fried chicken topped with sweet & spicy pickles, house-made coleslaw and mayonnaise.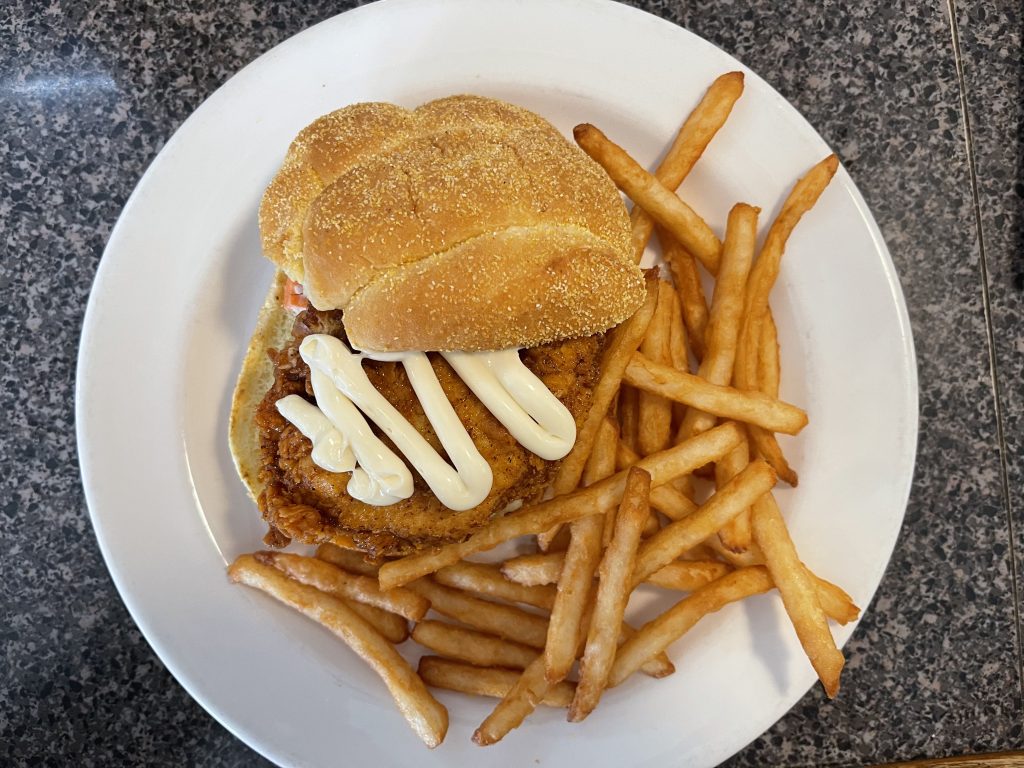 The Flavor and The Story:
Located halfway between Downtown Kenosha and Downtown Lake Geneva, 75th Street Inn feels like the gateway between the cities. The location, comfortable atmosphere and friendly service attracts guests from around the area and place it on many travelers' must-stop lists.
The building itself was built in 1940 and has always been a gathering place serving food and drink. MaryBeth Van Every purchased the location and opened 75th Street Inn in May 1997. Twenty-four years later, the restaurant is still evolving and adapting, especially during the last year.
Part of that adaptation is always adding new, exciting menu items to complement the traditional pub fare and comfort food to engage new diners as well as keep the regulars coming back.
One such item is the newly added Nashville Hot Chicken Sandwich that has quickly become a top seller.
The sandwich starts with tender chicken breast that has been breaded to perfection for a crispy and flaky bite without being crunchy. The breading is also seasoned and provides a bit of a kick as a foundation for the Nashville hot sauce.
If you're not familiar, Nashville-style hot sauce is a spice-lover's dream, highlighting cayenne pepper and a bit of brown sugar. The style lends itself to interpretation with every restaurant adding their own signature spices. This particular sauce is conservative with its heat and brings great depth of flavor to every bite.
To further tone down the spicy breading and sauce, the chicken breast is placed atop creamy homemade coleslaw as well as thick cut sweet and spicy pickles. The addition of vinegar from both of these ingredients, the sweetness of the pickles and the cream in the coleslaw creates a wonderful flavor balance.
The whole joyride of heat and sweet comes together in a fresh and soft kaiser roll that stands up to all the wet items and never even gets close to falling apart.
The Nashville Hot Chicken Sandwich is available every day and priced at $11.99 with a side.
75th Street Inn is currently open for dine-in with socially distant seating and also accepts carryout/curbside orders. You can view this dish and the entire menu, as well as order online, at 75thstreetinn.com.