Some Kenosha businesses are preparing for possible unrest when a charging decision comes in the controversial police-involved shooting of Jacob Blake.
City officials said Kenosha County District Attorney Michael Graveley will make public his decision before the middle of the month. Mayor John Antaramian and Police Chief Daniel Miskinis vowed in a media release to take "planned precautionary efforts to ensure the safety of the public, neighborhoods, businesses and protestors."
Still, some business owners and managers are anxious, despite reassurances from the mayor and police that what happened over the summer will not be repeated.
Kevin Postuchow, owner of A Summer's Garden Florist, 5617 Sixth Ave., said he's deeply concerned. His storefront windows were smashed in August and were just recently replaced. He put up plywood Monday morning.
"It's the element of the unknown, and we don't know what's going to happen. When you don't know what's going to happen, you pull from your past experience — which wasn't a pleasant one," he said.
Postuchow said it's difficult to plan for possible unrest in part because city officials are "being vague."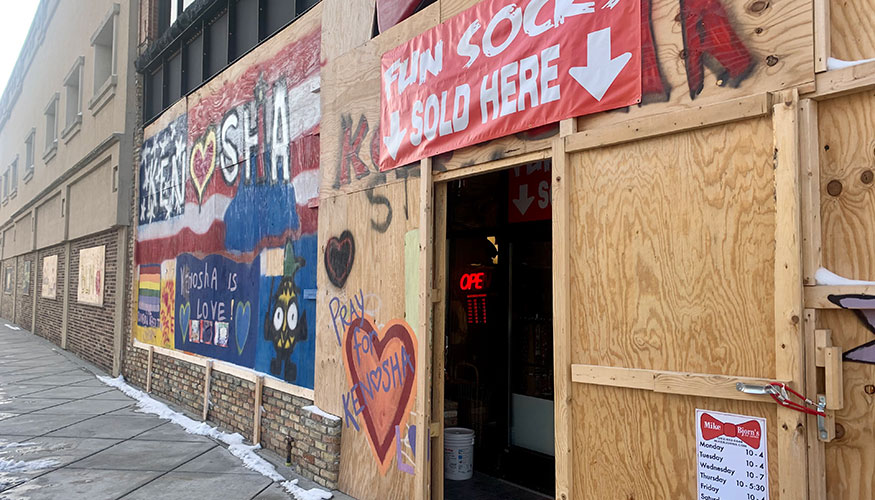 Brett Bjorn, owner of Mike Bjorn's Clothing, 5614 Sixth Ave., said he hopes for peace no matter the outcome.
"I am worried about tomorrow," Bjorn said, adding that he never took his plywood boards down because his storefront is so large. "The biggest takeaway I would say is I just hope people realize not to hurt their fellow man. … We're all in this together."
Mike Lampos, manager of Fec's Place, 5523 Sixth Ave., was busy putting up colorful plywood boards Monday afternoon. He recycled them from the summer.
"There's only so much you can do," he said, adding that he'll be sorely disappointed if the city is unable to stem any burning and looting that might occur. He said bar patrons need to feel "comfortable and safe" downtown.
Francisco Loyola, executive director of Kenosha Creative Space, spent most of Monday gathering volunteers to help prepare businesses and buildings for worst case scenarios. Still, he's hopeful.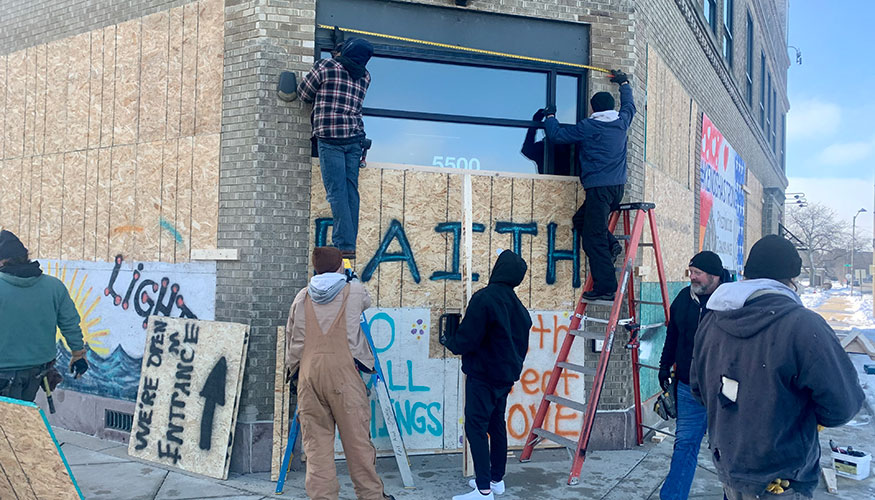 "I think the community is more prepared now than last time," he said. "I think it's good (to board up) just in case. We don't know what's going to happen, but my expectation is it will be more peaceful than last time."
Employees of Imperial Service Systems Inc., 611 56th St., also boarded up their establishment as a precaution Monday.
"We'll keep them up however long it takes," said manager Ron Dubrock, adding that the business got "trashed" over the summer.
In Uptown, longtime barber who wished to be known as A.B. The Barber said he's not worried about locals messing with Sir Claude's Barber & Beauty Hair, 2327 63rd St.
"Everybody knows us in the neighborhood," he said. He said he believes people from out of town were responsible for the vast majority of the destruction.
"People don't want to destroy the businesses they shop at," he said. Still, he said Uptown residents will keep an eye out.