Peterson's Pumpkin Patch Illuminates Golden Meadows
Annual event raising funds for Kindred Kitties
Peterson's Pumpkin Patch Illuminates Golden Meadows
Annual event raising funds for Kindred Kitties
BY DOMENIC SAVAGLIO
KENOSHA.COM
Savaglio is a second-generation Kenosha native, whose grandparents immigrated from Cosenza, Italy. The Bradford High School graduate shares his cultural knowledge and human-interest stories, highlighting Kenosha's many stops and untapped potential as a travel destination.
This year has been full of real-life scares for some, but that didn't stop Dr. Kris Peterson, a local chiropractor, from hosting his annual pumpkin carving event. 
At his Kenosha home, located in the Golden Meadows Subdivision at 9210 63rd St., dozens of lighted carved pumpkins will adorn the front lawn in a spectacular Halloween display beginning on Friday (Oct. 30) and running through Monday night.
"Peterson's Pumpkin Patch" has been an annual event for the past 15 years. For the past 10 years, it has been a fundraiser for local causes. The causes normally alternate between people-based and animal-based causes. 
This year's donations will be given to Kindred Kitties. In 2019, money was raised for the Stars and Stripes Honor Flight.
Between 3,000 to 5,000 people come to visit the display each year.
The pumpkins, most of which were donated by Kenosha's own Jerry Smith Pumpkin Farm, feature images created by Peterson. It takes two weeks to draw the designs on each pumpkin, and they sit on a large rack in the garage until they are ready for carving. 
From the classic jack-o-lantern to the Addams Family, everyone is sure to find a pumpkin to enjoy. Peterson refers to the designs as "Spooky, but family-friendly." 
The Milwaukee School of Engineering women's volleyball team kickstarted the carving on Sunday. Friends and neighbors of Peterson continue the tradition throughout the week.
This weekend, the pumpkins will light up Peterson's front yard. This year, there will be signs displayed at two neighborhood entrances, and the street is now colloquially referred to as "Halloween Avenue."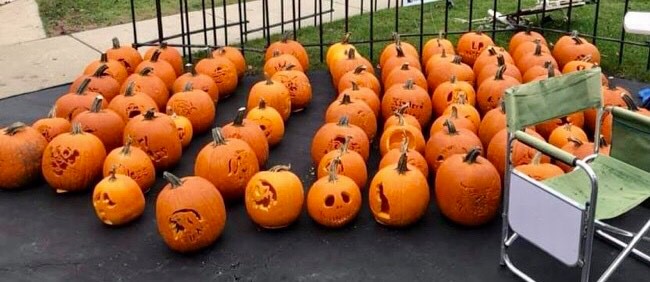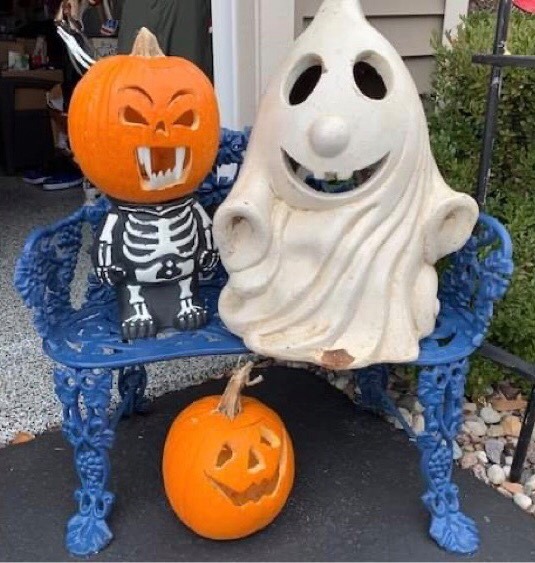 "In a year where so many things have been cancelled or taken away, I refuse to give up on this event."
Some pumpkins showcase the names of local sponsors. Dooley & Associates, Cordeck, TPC Painting, Midwest Graphic Services Inc.(MGSI) and LP Chiropractic (where Peterson practices) are among the sponsors of this year's event. 
One may wonder where all the pumpkin "guts" go. The insides are given to farmers to feed livestock and chickens. The animals love it and so do the people, as no parts of the pumpkins go to waste. 
Peterson said due to favorable climate, the crop this year is the best it has been in at least eight years. As a result, the pumpkins were larger and easier to carve.
When asked what his favorite part of this event, Peterson said it's the sense of community. People come to see the pumpkins, the donations go to a local charity, and local businesses offer sponsorship. At its core, the "Peterson Pumpkin Patch" is a local, community event.
While the coronavirus pandemic changed the course of our lives, Peterson said he was happy to continue a safe, annual event.
Given the pandemic and unrest in Kenosha, he felt the sense of community was more important now more than ever.
"In a year where so many things have been cancelled or taken away, I refuse to give up on this event," Peterson said 
If you would like to donate to Dr. Peterson's Pumpkin Patch, visit the event on its Facebook Page. There will also be an on-site donation box.
All donations will be made to Kindred Kitties, 614 59th St. in Kenosha. Peterson said an anonymous donor has offered to match this year's donations.