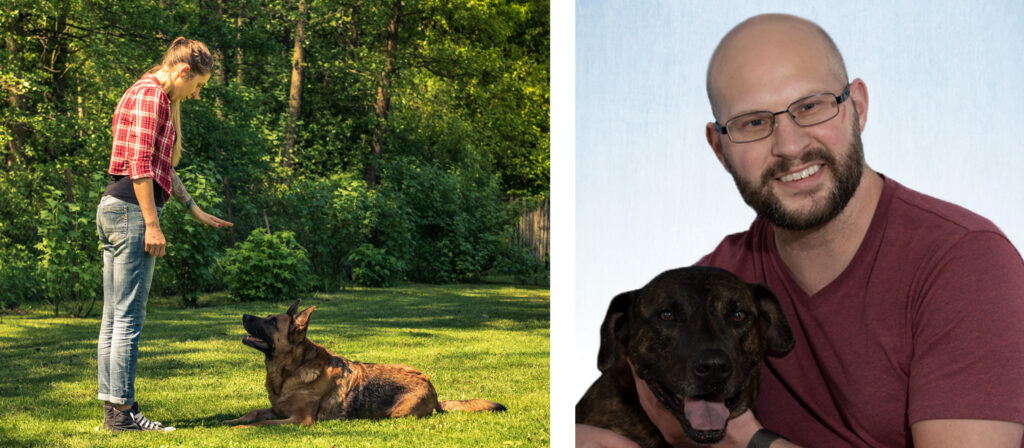 How to Prevent Dog Jumping
Local pet professional explains simple solution to common problem
Are you embarrassed to wear shorts because your legs are bruised?
Are you afraid to wear short-sleeved shirts because your arms are sliced up?
Do you need a SWAT team to clear your path each time you enter your home?
If this describes you, you are either a character in a Danny Trejo movie or you have a dog that loves to jump.
"This issue can range from a minor nuisance to being downright dangerous. Fortunately, with the right technique, a little time, and a lot of consistency, this problem is actually very easy to fix."
Jumping (especially when someone is entering the home) is one of the most common problem behaviors that dog owners express. This issue can range from a minor nuisance to being downright dangerous. Fortunately, with the right technique, a little time, and a lot of consistency, this problem is actually very easy to fix.
I will walk you step-by-step through this process. However, it is first important to recognize why the traditionally-used methods of stopping dog jumping tend to be ineffective.
When my wife and I had our first puppy, we had a friend come over while we were still working on the jumping behavior. Our dog was doing well with us, but was still excited and jumpy when new people came by.
We told our friend to follow the steps I have laid out below. However, our friend dismissed it, insisting he knew how to handle the situation. As he entered, he kneed our dog in the stomach as our pooch came off the ground. Our dog then promptly vomited his recently eaten dinner all over our friend's shoes and pants.
While our dog did stop jumping, this was not the desired outcome.
Another common method of trying to break a dog's habit of jumping is by frantically waving one's hands and saying "Down" or "Off" repeatedly.
For some reason, people immediately resort to looking like an air traffic controller getting attacked by bees when a dog jumps on them. If you take the dog's point of view, it is very easy to see why this is exactly the opposite of what you want to do.
When you wave or flap your hands, and say "off" or "down" in this typically frantic manner common to many people in this situation, your dog gets the opposite message. Your pet might know the word "Off", but because you are saying it in an excited tone, the message you are sending is, "I am so excited to see you! I have missed you so much! Please jump on me!"
The reason a dog jumps up is that they want your attention and they are in an excited state. By reacting in this way, you are giving the dog an unhealthy dose of excited attention. In fact, this is precisely what you should do if you WANT your dog to jump on you.
Now, that we have discussed what not to do, let's discuss an easy approach what you should do to resolve this common issue.
As a pet sitter/dog walker, the two most common issues I face are dogs jumping when I enter a home and dogs that pull on leash (I will save that discussion for another time).
Just last week, I used the following techniques on a pup that had left some of my staff members looking like a watermelon in a game of Fruit Ninja. So, I took a couple minutes out of my walk with him to teach him not to jump.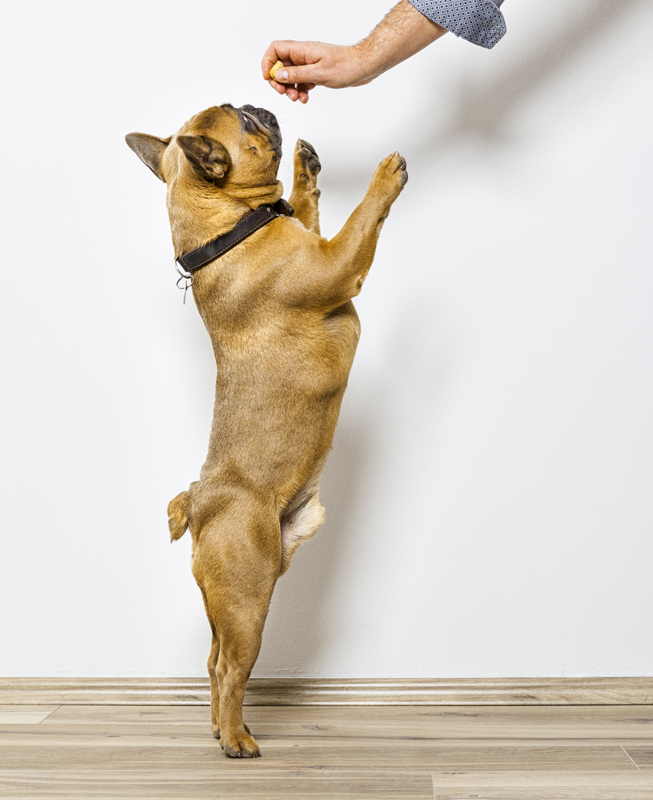 Here is the process I followed:
The most important element to this process is to remain calm and relaxed. In fact, you do not even have to speak to the dog (the less you say, the better). When first training this behavior, it is very helpful to have a way to physically separate yourself from the dog.
You can start in another room or even enter from an exterior door. You will use that door to make it impossible for the dog to physically get to you and jump on you.
Next, carefully open the door and begin entering. As soon as the dog's front paws leave the ground (and they will the first few times you do this), simply go back out and close the door.
"Most people do not hear the excitement present in their voice, and that excitement will lead to excitement in your pup, which you don't want at this time."
You will likely not even get a foot in the first time or two. Wait about 20-30 seconds, and try opening and going through the door again. Again, the moment the front paws leave the ground, go back out.
Do this multiple times until you can enter the room without the dog jumping off the floor. If you are able to enter the room and close the door behind you fully, you can very calmly pet your dog and allow them to sniff you. If their paws come off the floor, walk right back out the door and start over again.
If your dog is jumping at the door when you close it, wait until that behavior stops. If they are whining a bit, this is normal, and you can still enter.
Throughout the process, it is important to remain as calm as possible. I recommend not speaking at all, especially when you are first going through this process. Most people do not hear the excitement present in their voice, and that excitement will lead to excitement in your pup, which you don't want at this time.
There is also no need to make a correction or scold your dog for jumping. This, again, adds to the excitement, which is the opposite of what you want to do. Trust me, your dog jumps to get attention. By leaving the room when they jump, you are removing what they cherish most in life: Your love and attention.
Your dog will learn quickly that if they want your attention, they need to stay on the ground.
Additionally, when your pup lets you enter without jumping, resist the temptation to yell "Good job!" This will completely undermine your attempts to create calm, and will put you right back to square numero uno.
Calm, quiet praise and perhaps some gentle petting (and maybe a couple treats) is all that is needed to reinforce calm behavior and give your pup the desired attention.
As you work through this process with your pup, please keep some of the following suggestions in mind.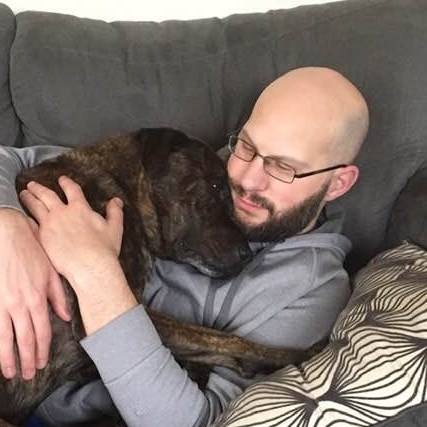 I know I have said this numerous times already, but it bears repeating to remain calm throughout the entire exercise. Once your dog can greet you in a four-on-the-floor (all 4 paws on the ground) fashion with only 1 or 2 tries, work on the behavior at different doors or rooms in the house. You may get to a point where you only need to turn your back and your pup will go back down (although when starting out, simply doing this will lead to your dog scratching your back).
It is also important to get other family members and friends involved. Be super consistent. Ask anyone who comes to your house to reinforce this behavior, and do it every single time. If you do it correctly 99 times in a row, and then let your dog jump on you or someone else, you will be back to square one.
It is also important to know that dogs are not good at making generalizations. This means that while they may be perfect with one person or with one door, they may jump all over someone else coming in, or may jump all over you when entering through a different door.
By practicing with your dog in different rooms/environments, and by having everyone your dog meets use the same approach, your pup will be able to apply this calm greeting to everyone she meets.
The best feature of this method is that, when done correctly and consistently, the whole process takes a very short amount of time. With the client's dog I worked with last week, it took only five tries before he let me come in and put on his harness and leash on without jumping. The total elapsed time was less than two minutes.
Of course, younger puppies will generally take a little longer to catch on than adolescent and adult dogs.
Hopefully this method and these suggestions help your furry friend to approach people with good manners. Your dog will be proud to display good greeting manners, and your family and friends will thank you for being able to have a pleasant experience when walking through your front door.