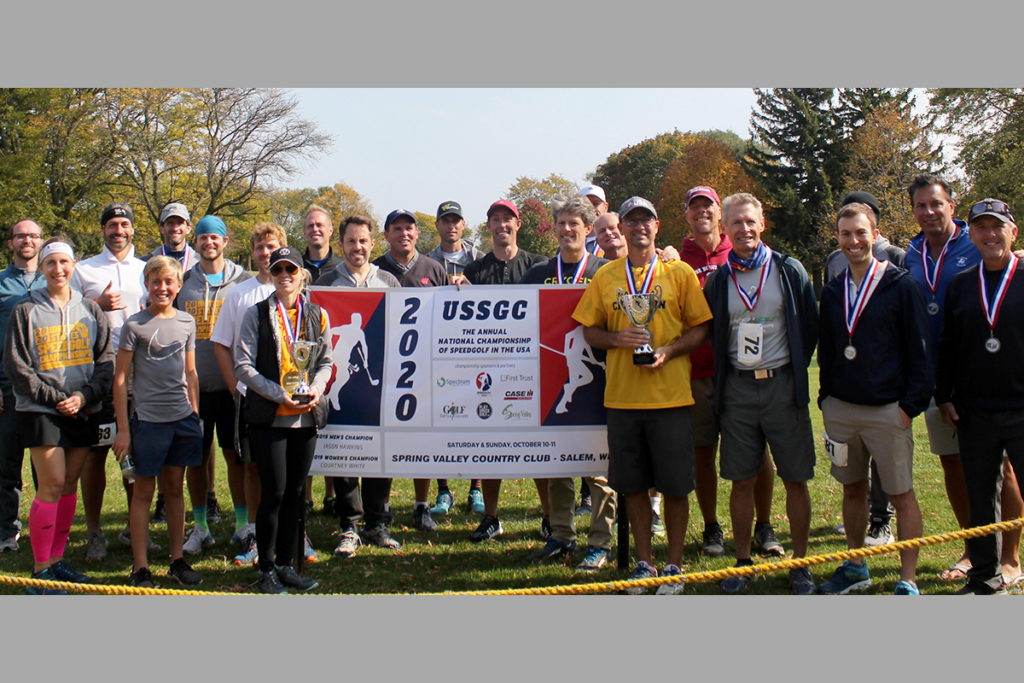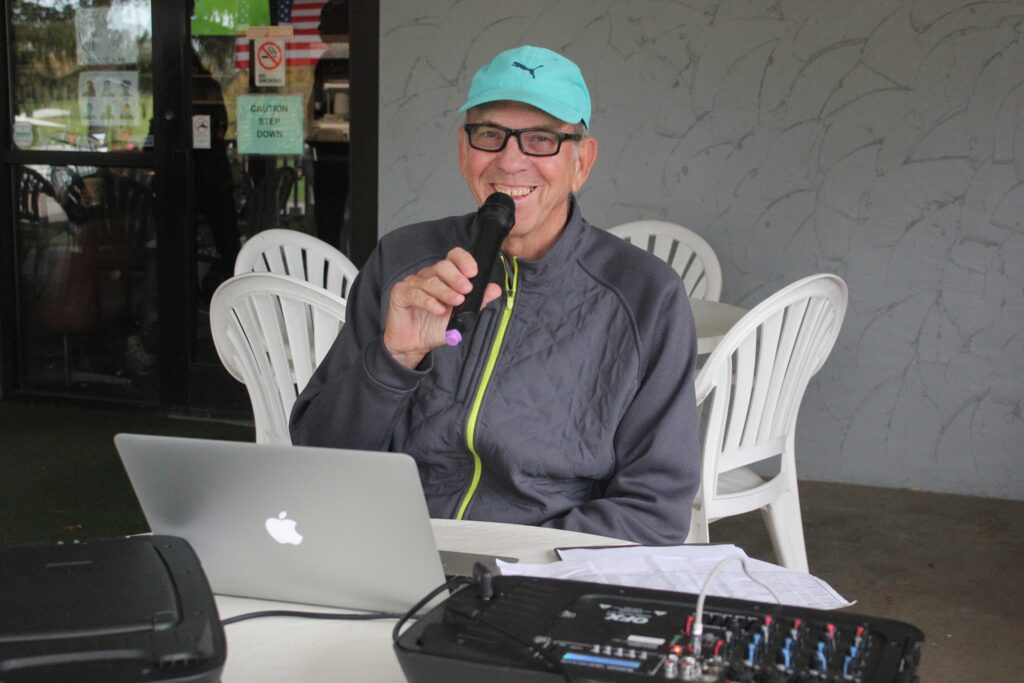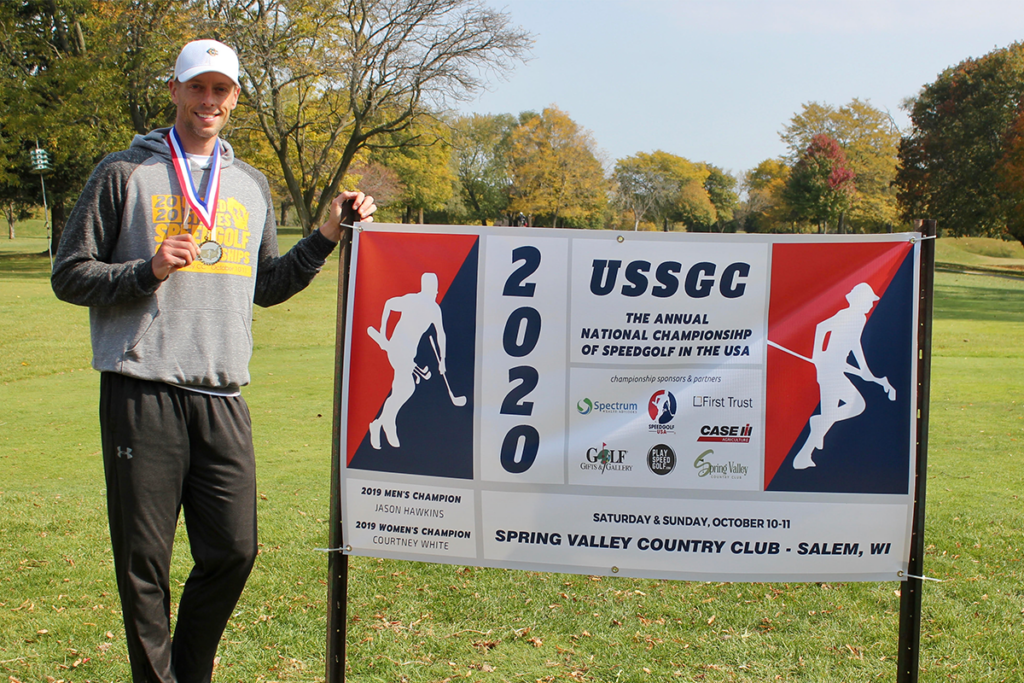 Ready, Set, Swing!
U.S. Speedgolf Championships invade Spring Valley
"It was a real, happy experience as opposed to golfers who typically walk off the course mad about those two or three shots that spoiled their round."

Mark Olsen
SALEM — As someone who's been around golf his entire life, Mark Olsen noticed something peculiarly different as players sprinted off the 18th green this weekend at Spring Valley Country Club.
And it had little to do with their unorthodox finish.
"I couldn't believe the smiles," said Olsen, who spent 18 seasons as the University of Wisconsin-Parkside men's golf coach. "It was a real, happy experience as opposed to golfers who typically walk off the course mad about those two or three shots that spoiled their round."
Equipped with a Macbook, microphone and a list of "walk-up" songs, Olsen served as the official starter and emcee at the fourth annual 2020 U.S. Speedgolf Championships.
Scott Dawley, the founder of U.S. Speedgolf, won the 36-hole event with a final-round 5-over-75 in an unthinkable 43 minutes, 21 seconds. Dawley finished with a two-round score of 243:23.
In Speedgolf, golfers (carrying a maximum of seven clubs) combine the total number of strokes and elapsed time from start to finish. One stroke is equivalent to one minute. The player with the lowest combined score wins.
Kenosha's Adam Mannetter carded a 79 in 47:27 on Sunday (Oct. 11) to capture the tournament's amateur crown with a 262:19. The 41-year-old opened with an 86 in 49:52 on Saturday.
Mannetter, who works in the financial industry, became a competitive runner after graduating from the University of Wisconsin and started golfing regularly when he moved into the Strawberry Creek subdivision about 10 years ago.
Speedgolf offered a way to combine the two sports.
"My wife is an athlete and once we got out of college we started living a healthier lifestyle," Mannetter said. "We'd do half marathons. I did one marathon. I enjoyed the atmosphere of all the different people doing it and having something to train for. Running became a pretty big commitment."
That's when Mannetter met Strawberry Creek member Jamie Young, a former Speedgolf champion and one of the sport's original members. Mannetter spotted Young sprinting through the course and wondered what on earth he was doing.
Young blazed from hole-to-hole as if maybe he chugged one too many Gatorades at the turn.
"I was curious what he was doing out there," Mannetter said. "He introduced me to the sport. (Young) has done Ironman (races), marathons and is a phenomenal golfer. I started going with him in the mornings and just started doing it more and more."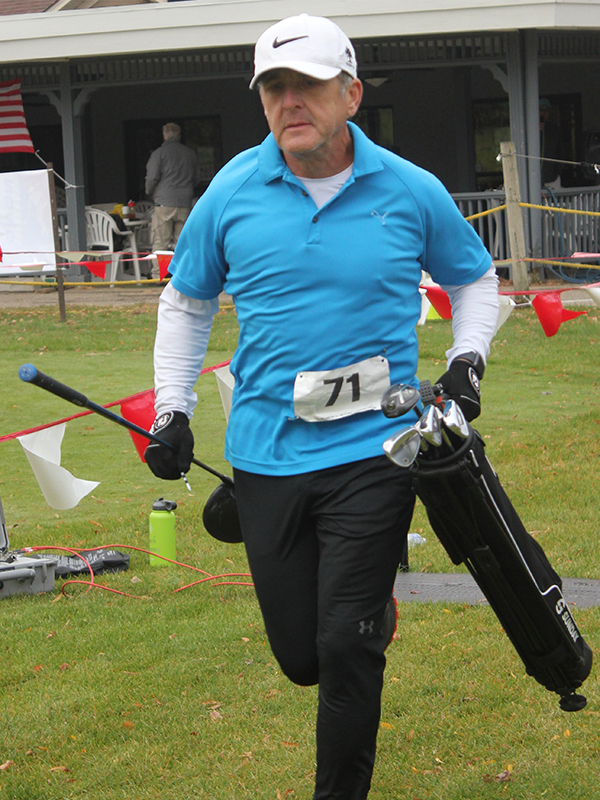 Young, the 2015 world Speedgolf champion, finished fourth in the open division in 252:22. Tremper High School graduate Nicholas Perri was 14th (280:01), Bristol resident David Soper was 18th (316:18) and St. Joseph Catholic Academy cross country runner Thomas Dippel was 20th (317:23).
Golfers took advantage of near-perfect, 75-degree weather on what had to be one of the nicest fall weekends imaginable.
Mannetter said his golf game has never been more enjoyable. As he approached the starting line with only six clubs in his bag (driver, 4-iron, 7-iron, 50-degree wedge, sand wedge and putter), Olsen cued up "Godzilla" by Eminem.
After a quick introduction, it was off to the races.
"You feel refreshed and happy when you're done," said Mannetter, who could've easily selected Hall & Oates' hit "Maneater" as his walk-up song. "You feel like you've accomplished something instead of grinding over every shot for 4 1/2 hours. I'm done in under 60 minutes. You hit a shot and immediately you're on to your next one."
Spring Valley is in the Speedgolf Course Network at PlaySpeedgolf.com. The only other Speedgolf course within a 100-mile radius is Jackson Park Golf Course in Chicago.
"It was a pleasure hosting the fourth annual event at Spring Valley," Dawley said. "It's one of the shorter courses we've hosted the U.S. Championships, but whatever gains competitors made in round time were challenged by the difficulty of the course conditions. The greens played firm and fast, demanding crisp iron approaches and a deft putting stroke. Every par was hard-earned, and every score in the 70s was a performance worth celebrating."