SOMERS — In a year we've come to expect the unexpected, Jerry Smith Pumpkin Farm hopes to deliver a sense of normalcy, along with tradition, for the start of its 45th season. For hours and pricing, please visit jerrysmithfarm.com.
Visitors are reminded to follow the state's guidelines for COVID-19 safety with masks and social distancing required at the farm. There will be hand sanitizing stations on the property for the convenience and safety of its employees and guests.
"There are the three key rules for us: Social distance, be kind, be patient," said Amy Smith, owner of Jerry Smith. "There is nothing else."
The season arrives following months of preparation for visitors to enjoy dozens of hand-painted pumpkin displays, acres of fresh produce, homemade frosted cookies, apple cider, hayrides and the popular petting zoo.
Steve Pulera, a former supervisor at the African Safari Wildlife Park in Port Clinton, Ohio, is in charge of bringing in the animals each year at Jerry Smith.
"It's a tradition," Pulera said. "It's a bit nostalgic for me. I've come here with my family since I was very young. If you've never heard of Jerry Smith, you're probably new to the community."
For the first time ever, Jerry Smith welcomes an 11-month old giraffe named Jafari to its upgraded 60-foot by 100-foot wildlife tent.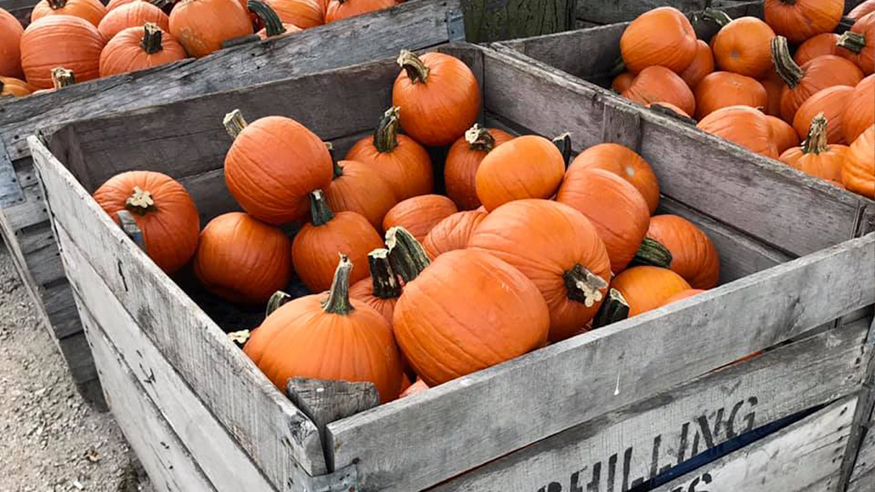 Guests will be able to take pictures and feed Jafari during their visit.
"He's a juvenile, but he's close to nine-feet tall," Pulera said. "He's more of a teenager in terms of a giraffe. If we had to live in the wild, we'd be born crying, hairless and we wouldn't learn how to walk until we're two. These wild animals are up and walking within two hours."
Jerry Smith Pumpkin Farm debuted in 1975 and is still owned and operated by the Smith family. In 2013, Joe and Amy Smith took over the family operation.
The couple has since expanded with Green Acres produce farm (5923 Green Bay Road), Somers Harvest CBD (7150 18th St.) and Feed and Seed Station (7115 38th St.).
The farm models strong family values, a commitment to high-quality produce, protecting the environment, giving back to the community and providing educational opportunities.
The operation grows from 3-4 year-round employees to a staff of nearly 30 in late-summer, early-fall.
"The farm looks beautiful," Smith said. "There is a buzz in the air. People are excited to take family photos again. As long as you're six feet away, take your masks off and get your photos taken. We're excited to have everyone back. It's joy. It's love. It's tradition."
The activities area includes a giant bounce pillow, six-acre corn maze, kids straw maze, hayrides, play area and petting zoo. Other offerings such as pony and camel rides, face painting and a haunted forest are available for an additional fee.
The farm's Country Store is open 8 a.m. to 8 p.m. daily.
Starting earlier this month, Jerry Smith's famous frosted sugar and frosted chocolate chip cookies could be ordered online and shipped anywhere in the world.
"That's been well-receptive," Smith said. "A lot of parents are sending cookies to their kids in college."
For additional information, visit www.jerrysmithfarm.com.