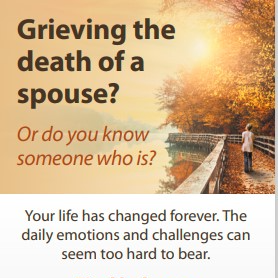 GriefShare – Loss of a Spouse is a support group that offers adults the opportunity for you to talk about the death of your spouse and how you hurt; how you have given your heart to someone who is now gone. Losing a spouse is a lot to deal with. Please register at https://www.griefshare.org/loss/events/5351 and plan to attend Wednesday, August 10th, from 5:30 p.m. to 7:30 p.m. at Holy Spirit Community Church, 5900 11th Avenue. There is a $5 participant guide fee.
Sponsored by Piasecki Funeral Home, it's led by Pastor Charlie Hansen; assisted by Anne Wasilevich and Roger Rodriguez.
Contact Anne with questions at 262-658-4101 or anne@piaseckifuneral.com.