Believe it or not, the first day of spring is less than a month away and that means pool installation season is right around the corner! If you've been contemplating purchasing a new pool, the time has never been better. Hansen's Pool & Spa has reserved a huge inventory of semi-inground and above-ground pools at discounted prices and is passing on that savings to you! Right now you can receive up to $4,200 in savings on your new pool while inventory lasts.
Step 1: Determine the type, size, and shape of your preferred pool.
Hansen's recommends making a visit to their showroom located at 4440 Green Bay Road in Kenosha to put together the ideal pool package for your lifestyle and property. Prior to visiting, though, the most important consideration is determining the type of pool you prefer above ground, semi-inground, or inground. There are three main shapes for pools — round, oval, and rectangle — and determining the best shape mainly comes down to personal preference, what size fits best in your yard, and what your city/town's codes allow.
Taking the time to grab a tape measure and map out the ideal size for your yard prior to visiting Hansen's is always recommended. It's also recommended that you stand inside of the space and even lay in it to get the full effect of what the view from your new pool will be, umbrella drinks are optional! Once you've decided your pool size, it's time to visit Hansen's so their team members can guide you through the process of selecting your perfect pool model and package.
Below is a handy guide for reference of Common Pool Sizes available at Hansen's Pool and Spa:
Round: 15′ | 18′ | 21′ | 24′ | 27′ | 30′ | 33′
Oval: 12'x24′ | 15'x26′ | 15'x30′ |18'x33′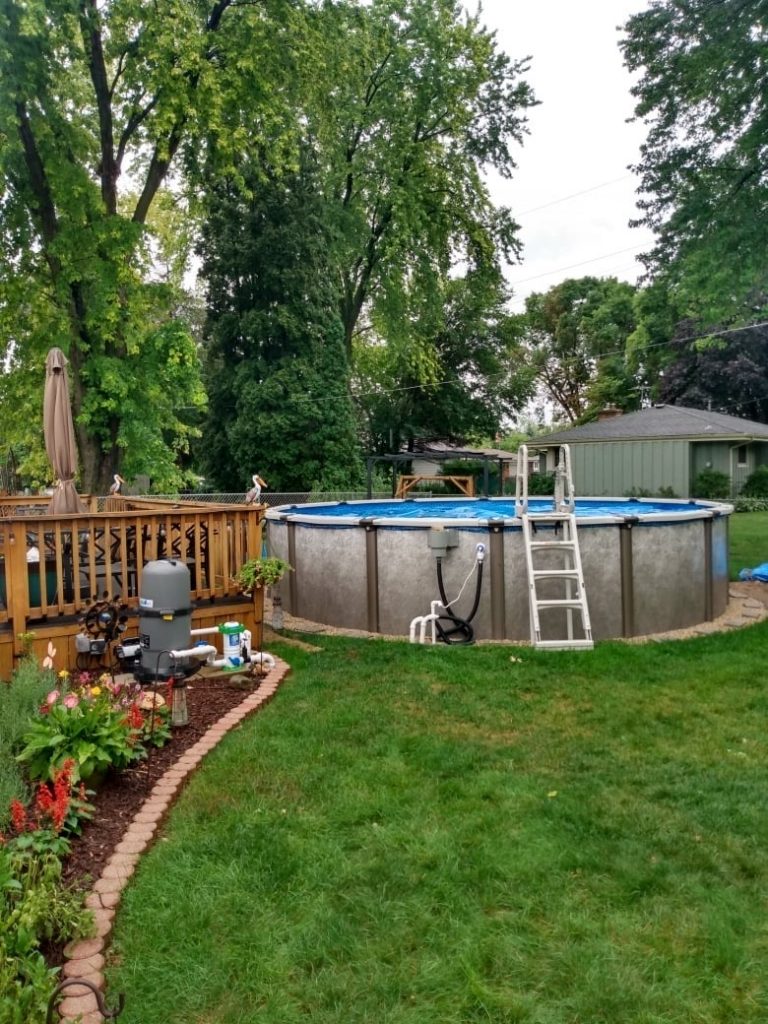 Round: 15′ | 18′ | 21′ | 24′ | 28′ | 30′ | 33′
Oval: 10'x20′ | 12'x24′ | 15'x30′ | 18'x33′ | 21'x41′
Grecian: 12'x24′ | 14'x28′ | 16'x32′ | 18'x36′ (Grecian is like a rectangle with cut corners)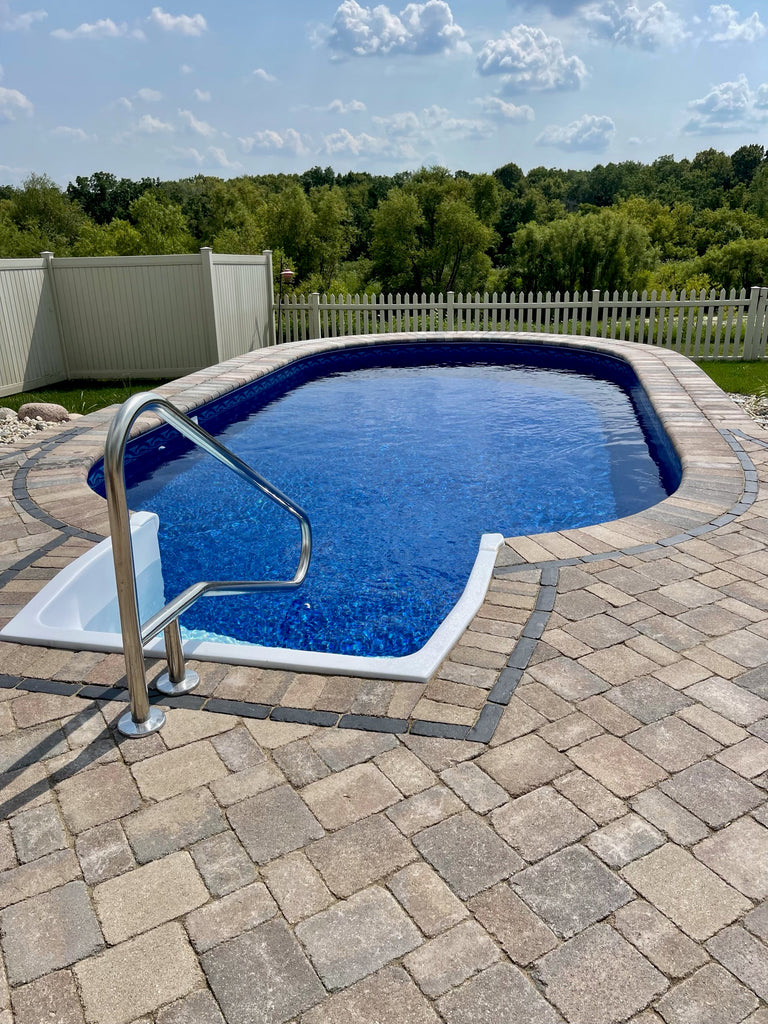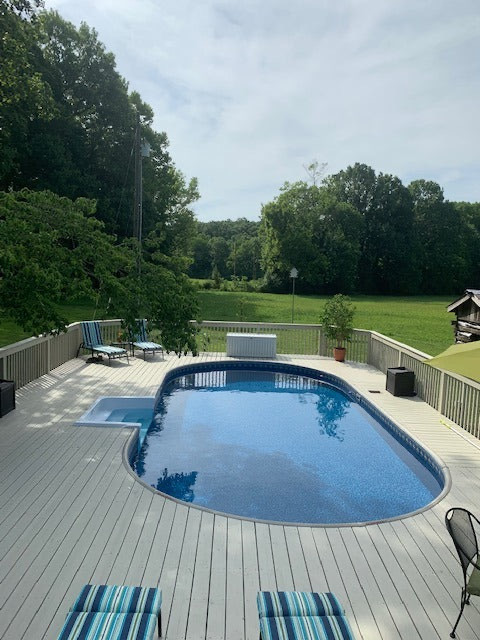 Round: 15′ | 18′ | 21′ | 24′ | 28′ | 30′ | 33′
Oval: 10'x20′ | 12'x24′ | 15'x30′ | 18'x33′ | 21'x41′
Grecian: 12'x24′ | 14'x28′ | 16'x32′ | 18'x36′
Rectangle: 12'x24′ | 14'x28′ | 16'x32′ | 18'x36′ | 20'x40′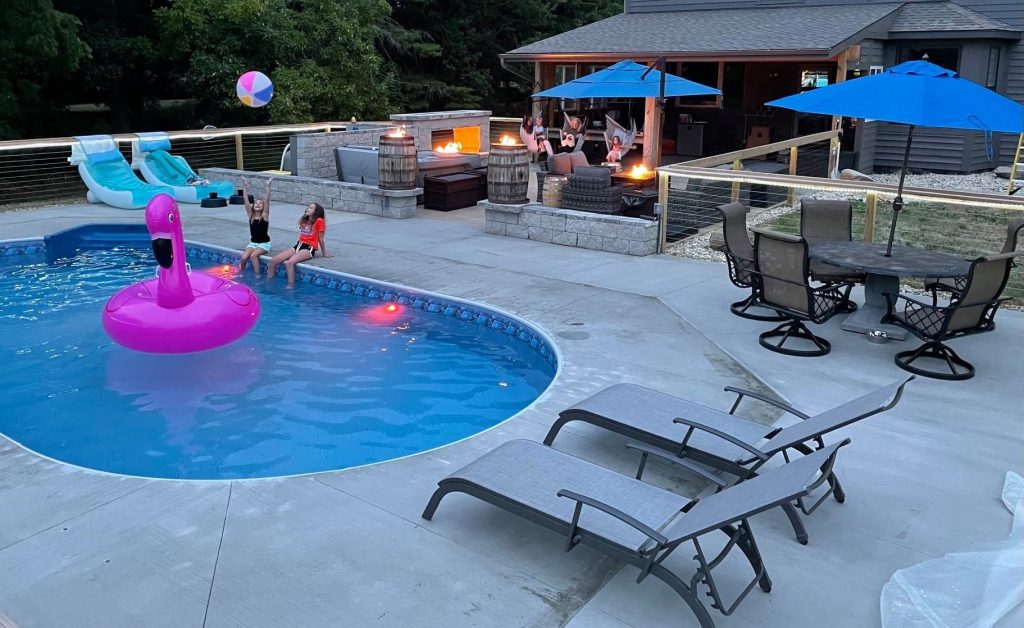 Step 2: Determine if you want a pool heater to extend your pool season.
A big consideration for midwest pool owners is whether or not to invest in a heater for your pool. Those that do are traditionally able to open their pool in April and keep it open through Halloween in October! Pool heaters vary by pool size but range between $1,600 – 3,700 and are a small price to pay for a much longer pool season.
Step 3: Book your pool installation before it's too late.
If you're a homeowner, you're well aware of the delays when it comes to contractors' schedules. Hansen's has a network of experienced installers that can begin installation as soon as the ground is soft enough to dig and level your pool. Traditionally once the temperature is over 60 degrees is the best time to install a pool liner. Once you've picked out your pool package at Hansen's they will make an introduction to their recommended installation crew for your project.
Hansen's Pool & Spa makes your new pool as EASY as 1, 2, 3!
It's important to preplan your backyard oasis if you're seeking the best savings. There's never been a better time to head on over to Hansen's Pool & Spa located at 4440 Green Bay Road in Kenosha to begin designing the pool of your dreams! If you are unable to visit the store please text (262-697-1114) to schedule a telephone or video conference if preferred.