The legacy of the "citizen soldier" is coming to life in Somers, as the Pritzker Archives & Memorial Park Center rises from a farmfield near Interstate 94 and Highway E.
And as ambitious as the project is — with its 270-plus acres, famous family name, international designers, and promise of making Somers a gathering place for researchers, students and tourists wanting to explore our country's military history — it is at its core about telling the stories of those who served our country for generations.
Roberto Bravo never forgets that.
"What we are building is not just a repository of artifacts and books. It's an avenue to bring forward our mission," said Bravo, senior director for the Pritzker Military Museum and Library in downtown Chicago.
The Somers development, he said, is "a place for the public to trust us with their legacy."
It is a place to honor military families, like that of a man who recently asked Bravo if he would take in sketches his father had done while he was a Prisoner of War in World War II. The man had his father's old uniform, too. "Things that just had been sitting in the attic," Bravo said.
Those "trench art" and other items may now be on display at an upcoming POW exhibit in Chicago — and likely eventually be housed long-term in Somers.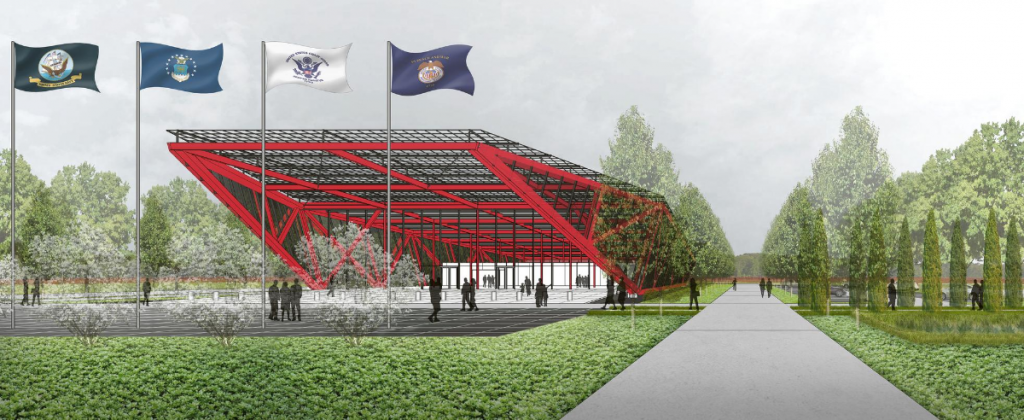 Project phases
The Pritzker Archives and Memorial Park Center will extend the reach of the Pritzker Military Museum and Library, founded, first as a library, in 2003 by Jennifer N. Pritzker, a retired United States Army lieutenant colonel and the cousin of Illinois Gov. J.B. Pritzker.
Its mission is "to increase the public's understanding of military history, military affairs and national security by providing a forum for the study and exploration of our military — past, present, and future — with a specific focus on their stories, sacrifices, and values."
The Pritzker Military Museum and Library began with Jennifer Pritzker's personal and family holdings, a collection that has grown to about 100,000 books, artifacts and other items, Bravo said. The two-story, 50,000 square-foot Military Archives Center — at the heart of the Somers development, and under construction now — will help house some of those materials and support another 20 to 25 years of growth for the organization and its collection.
"We built this out of necessity, for expansion," Bravo said of the local project. "The warehouse we have in Chicago is completely full. We don't want to be in a position where we turn people away that donate items to us, or trust us with their story. We are planning ahead."
The Somers project includes several phases, with construction likely lasting into 2025, or longer.
The Archives Center is expected to be completed in November of 2022, with the move of archival items to follow. In addition to serving the needs of Pritzker, it will also be available for lease to others in need of archival storage, according to the organization.
A second element of the Somers project — the Mission94 Firearms Education Center, at 15,000 to 20,000 square feet — "is in the very early stages of design," said Len Skiba, managing director and founding partner of Daccord LLC, the project's construction consultant. A groundbreaking on the firearms center is possible for the fall of 2022. The facility, to be built entirely underground, will focus on firearms "safety, awareness, education and training," according to its website.
Perhaps the most ambitious piece of the Somers development is the Cold War Veterans Memorial, built "to create permanent recognition that stimulates ongoing thought and study which honors American military and civilians who served and sacrificed during the Cold War era," according to Pritzker.
Construction on the memorial is tentatively projected to start in 2024, after an international design competition earlier this year yielded finalists from the United States, Italy, Japan and Jordan. 
"All four of the shortlisted competitors took a very different approach to the memorial, and they are in their own way very, very exciting," Skiba said.
You can see and learn more about the initial design concepts below.
'A place for their legacy'
Less than 7 percent of the acreage will be used for buildings, according to Pritzker.
Green space — including more than 7,000 feet of publicly accessible walking and bike paths, as well as picnic areas — will surround the Pritzker Military Archives Center and Cold War Veterans Memorial. Wetlands will remain undisturbed, according to Pritzker, and the center will be powered by a 455.2 kW solar array, expected to be operational by November of 2022.
The main focus of the Somers center will be restoration, preservation, and storage of items in the Pritzker collection and its library holdings. A digitization facility will ensure all items coming into the archive collection will be photographed and cataloged for quick access.
Bravo said the center will accept and make available items from all branches of the military and from all conflicts, "collecting all the stories that other institutions can't."
Can't, won't, or don't.
And even if there was an interest in having those stories told, "a lot of institutions are not in a position to collect more artifacts and stories because they have a huge backlog," Bravo said.
The center's focus on the Cold War and more recent conflicts will make it even more unique.
"These stories have not been told at large," Bravo said. "Look at what high school students get to study these days. They may not even get to Vietnam. We need to bridge that gap."
Added Bravo: "We are collecting these stories for a positive purpose. The soldier does not end their service when they are released from their duties in the military. A space like this treats them with care and respect."
'A real attraction'
Bravo expects a wide range of users for the Archives Center.
Everyone from history scholars to the general public can access materials at the center, which will feature a Gallery Center with approximately 9,400 square feet for public viewing. The public will also be able to access materials via interlibrary loan through the Kenosha Public Library, Bravo said.
The center will also house researchers to help provide context and tell deeper and broader stories too often untold — like with the POW's World War II sketches.
Bravo called the facility "a magnet for visitors," and especially wants students from the University of Wisconsin-Parkside, Carthage College and area high schools to use it.
"It will be a public space — and we want it to be a space the public will use for remembrance," he said. "Just the historical part of it will be fascinating for people. It will be a real attraction."
"Somers will be very proud of this center. We need something like this."

– George Stoner, Somers Village President
Somers Village President George Stoner agreed, calling the development "amazing."
Stoner noted its place in the overall transformation of the area near I-94 and E, with millions of new square feet of warehousing and commercial development erected or planned. More than 1,100 new housing units are also coming to Somers starting in 2022, Stoner said.
"Somers will be very proud of this center," he said. "It's telling the story of the citizen soldier. Our schools are really getting away from that. We need something like this."
Cold War Veterans Memorial
The Cold War Veterans Memorial will further set the project apart. 
According to Pritzker, the memorial is "dedicated to those who have served from 1945-1991. It will be a publicly accessible display where citizens can honor, reflect and learn about the bravery and sacrifice displayed to further the freedom that our country enjoys."
"In missions on and off the battlefield, Americans of all stripes made immense sacrifices in defense of our national interest. They deserve to be recognized, and the weight of this era deserves to be understood. This memorial will provide a place where their contributions are honored," Col. Jennifer Pritzker said in the September news release announcing the finalists.
"These stories have not been told at large. Look at what high school students get to study these days. They may not even get to Vietnam. We need to bridge that gap."

– Roberto Bravo, senior director for the Pritzker Military Museum & Library
Skiba said the memorial, once built, will have the same iconic, architectural significance as the Santiago Calatrava-designed Milwaukee Art Museum Quadracci Pavilion.
"I think it will be that kind of destination location," he said
Still, Skiba said, "it has a long way to go. It's a very complex project, architecturally and engineering wise." Additional fundraising is necessary as well.
The four groups of selected finalists will evolve their concepts for the memorial and more fully define design concepts by late February, according to Pritzker. Procedures in this stage include a virtual competition briefing, Q&A, mid-course review, and design exhibit.
Pritzker's Competition Leadership Group will then conduct an individual review of each design submittal and provide an advisory report of its findings to a jury, which is expected to announce a winning design publicly in March.
Stoner is excited to see what comes of it — and to see continued progress on the project.
"It's the history of America," he said. "And it's right here."
Cold War Veterans Memorial Design Finalists
In April, the Pritzker Military Museum & Library launched an international competition for the new Cold War Veterans Memorial to be built in Somers. Four finalists were chosen in September to advance to Stage II of the competition.
From the press release, they are …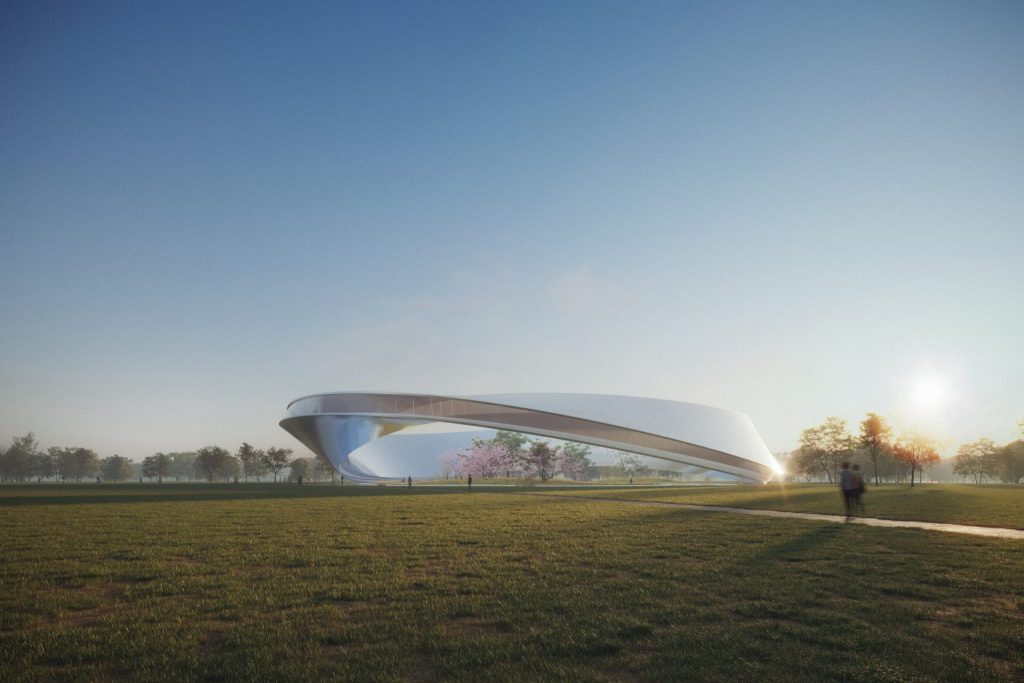 Infinite Life
Michele De Lucchi con Francesco Forcella (project architect), Nicholas Bewick, Junmei Liu, Emanuele Novembre, Guido Tarantola, Mayya Sargsyan of AMDL CIRCLE in Milan, Italy
Although this Memorial project was born out of the importance of respecting and honoring those that served during the Cold War period, we also see its relevance as a heroic symbol towards our continually evolving universe and the existence of human life. For this reason, we have chosen not only the metaphor of infinity, by evoking the 'Moebius Loop or Orbit' in our design concept, but also to create an experience and place from which to think about our complex global interrelationships, in the hope that they can find a harmony that links every single person and preserves the physical environment in which we all live.
---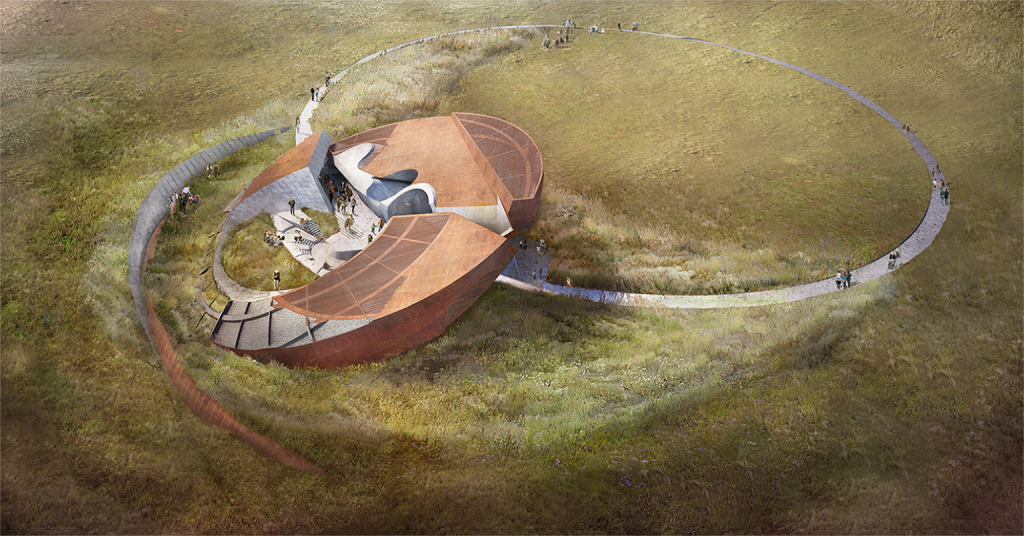 Orbits of Time
Jenny Wu and Dwayne Oyler of Oyler Wu Collaborative in Los Angeles, California, USA
The proposed design envisions a memorial that embodies the ideals and mission of Memorial Park, making more tactile a context that can't be measured in a single name or event: only in glimpses of history. Within these glimpses is layered a timeline of both personal and collective experiences emblematic of the Cold War – a paradigm that rebalances the interconnected narratives of American innovation and service.
---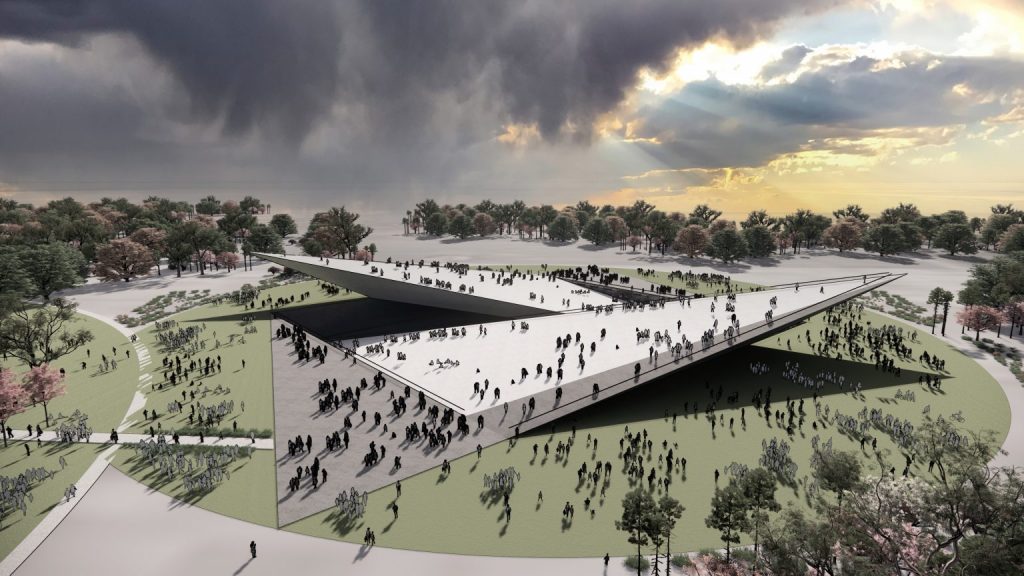 The Conflict
Mai Abu-Shanab and Jalal Al-Sadi of m+j architect studio atelier in Amman, Jordan
This cold war memorial is intended to honor individuals and groups and give a permanent recognition to accomplishments, as quietly made, by countless individuals and groups as they pursued the expansion of freedom and democracy, creating a place for reflection and remembrance, inspiring the public to perceive freedom for centuries to come.
---

Eternal Circulation
Shinsaku Munemoto of Shinsaku Munemoto & Associates, Architects in Kyoto, Japan
This memorial intends to preserve the memories, records, and achievements of the veterans in perpetuity. By uncovering the layer of land, one space separates into two. The space of the "past" underneath meets the layers of the veterans' work and time, where one can relive the veterans' history and memories of the Cold War. The satellite dish formed above forges the "present" space to transmit the histories and memories. Through the hole opened in the unfolded land, the archive is seen, bridging the "past" records to the "present," creating an ETERNAL CIRCULATION of education and communication.