On average 60% of the United States population grills on Memorial Day weekend, 45% Father's Day weekend and a whopping 73% grill for Independence Day. What does that mean? It's time to get your hands on the hottest grills and accessories before the big weekends arrive! Whether you're grilling for one, feeding the neighborhood or looking for the perfect gift for grilling fanatics in your life, Hansen's has you covered.
From grilling accessories to the ultimate backyard setup, the knowledgeable staff at Hansen's Pool & Spas provides the best options and service that you can't find anywhere else locally. Every team member at Hansen's is trained on products to help you select the perfect grill for your lifestyle, and they will remain available to help you navigate any future part or warranty needs so you don't have to sit on hold if an issue ever arises. Hansen's also offers competitive prices, including a meet or beat guarantee – so don't turn to a local big box store for your next grill, choose to support a locally owned and operated family business.
Louisiana Wood Pellet Grills & Smokers, exclusively available in the Kenosha area at Hansen's, offer a pressurized cooking system that includes an oversized fan which forces more flavor and heat into your meat to cause a deeper smoke ring. The rear exhaust fan allows for more even heat distribution versus having a smoke stack on one side of your smoker. Louisiana's multi-use unit also allows for grilling and a direct flame cooking option. For the 75% of you that grill all year long, this option also includes Bluetooth and Wifi technology so you can monitor the temperature from anywhere, including your warm home in the winter months.
Napoleon Grills, a leader in gas grilling is available in the Kenosha area at Hansen's, offers the perfect longterm happy medium for grillers looking for gas and charcoal options. The optional charcoal tray can be lit by gas burners and every Napoleon comes with the popular rotisserie option, as well as a rotisserie basket to tumble your grilled items. There are many different sizes available for every need, including the TravelQ Grill that's super simple and convenient for travel, tailgating and camping. All Napoleans also come with a 15 year bumper-to-bumper warranty, so the investment you make on the front end will save you in the long run from replacing your grill every few years!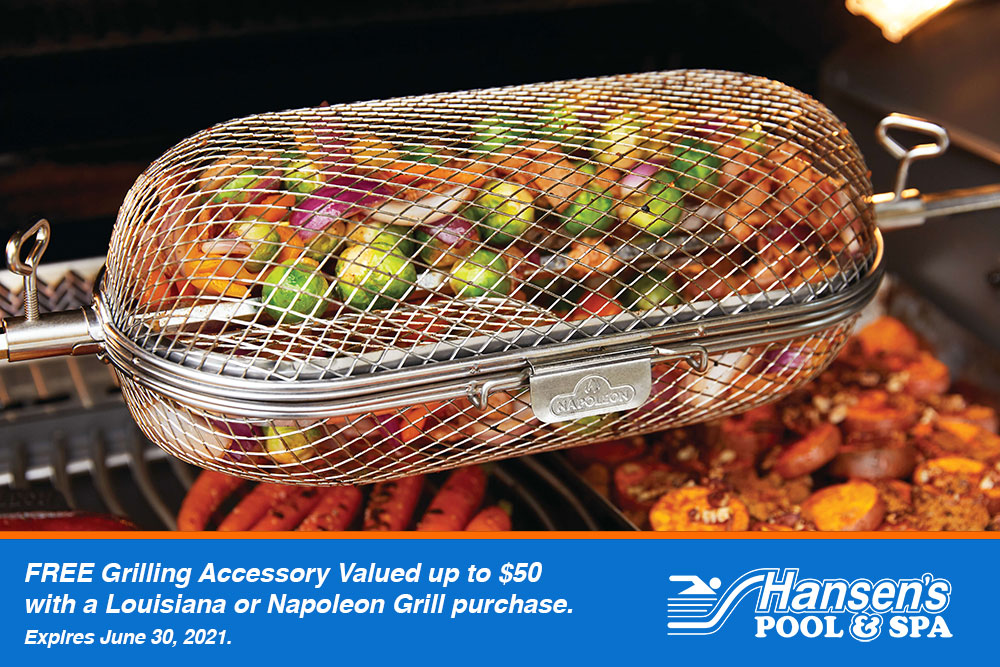 In addition to grills, Hansen's stocks over 70 different grilling accessories to make your grilling experience perfect! From woks to a quesadilla basket, to seasonings, sauces, pellets, covers, gloves and more, you can find everything you need at Hansen's, including the perfect Father's Day gift!
In business since 1982, Hansen's Pool & Spa stocks, sells and services items that keep families together. In addition to grills, you'll find a large selection of above ground swimming pools for summer family enjoyment and water exercise, spas and saunas for year round relief for stress and pain, patio furniture to create the ultimate oasis, games and accessories for indoor winter fun. So no matter the season, Hansen's Pool & Spa located at 4440 Green Bay Road in Kenosha has what you are looking for to complete your family fun and outdoor leisure project.
Don't forget to mention you read this article and receive a FREE $50 grilling accessory with your purchase of a Lousianna or Napoleon Grill this summer!