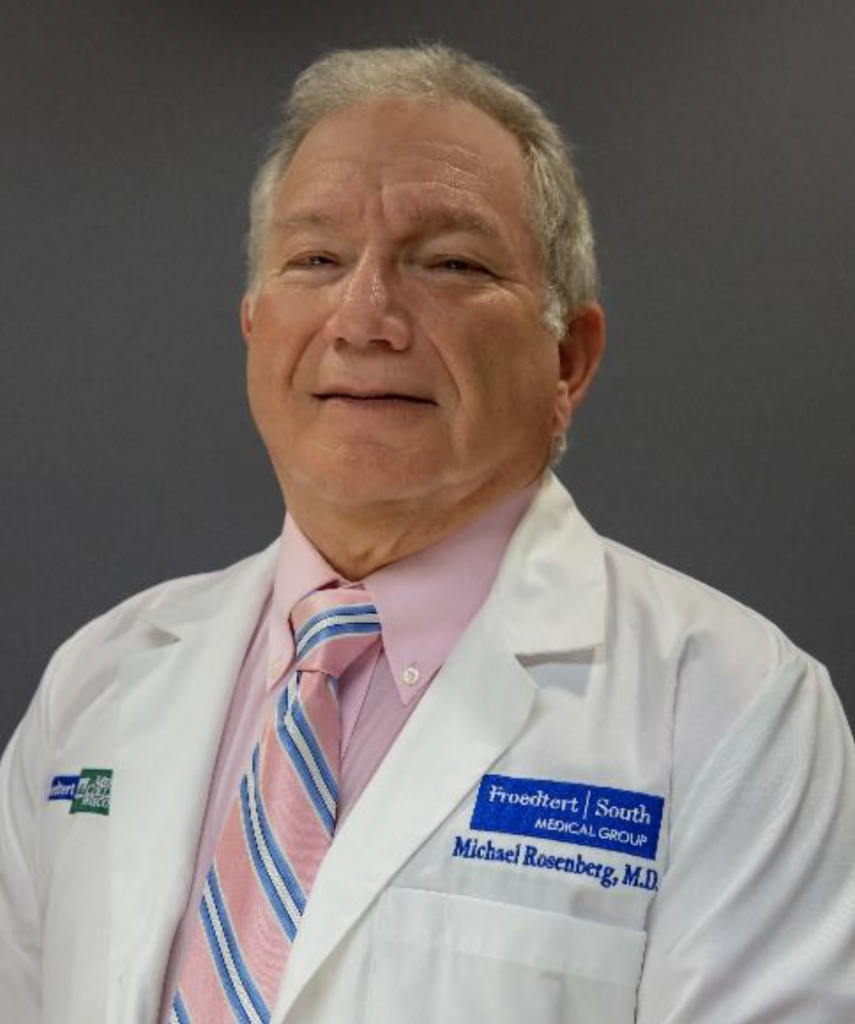 The Cardiac Catheterization/Interventional Procedures Lab is where multi-disciplinary teams of cardiologists, pulmonologists, cardiovascular surgeons, electrophysiologists, and interventional radiologists quickly and skillfully treat the life-threatening scenarios of patients with heart attack, cardiac arrest, pulmonary embolism or an acute cold leg. Each situation, while unique and complex, must be treated immediately. When minutes matter, the real-life heroes at Froedtert Pleasant Prairie Hospital are ready for action.
AN INTERESTING SUNDAY
Dr. Michael Rosenberg, Northwestern graduate, Chicago native, and Froedtert South Medical Group Interventional Cardiologist, told patient Humberto Casas Acosta following his cardiac catheterization, "What an interesting Sunday you made for us!"
Humberto said, "I will forever be grateful to Dr. Rosenberg and the team at Froedtert Pleasant Prairie Hospital for saving my life."
An active cyclist, Humberto was enjoying a bike ride with a friend on the western Kenosha County trails near Silver Lake. Shortly into the bike ride, Humberto began experiencing pain in his chest. Thinking it would go away, he pedaled on. The chest pain increased, and he told his friend they should turn around. Humberto said, "I felt like something was going to happen to me."
Humberto rested for a few minutes in hopes of feeling better. The pain radiated to his left arm and his hand felt numb. He also felt a very uncomfortable tightness under his chin. Humberto frighteningly realized these were symptoms of a heart attack. He knew he needed help right away.
From the bike trail, it is a half hour drive to his home in Illinois. Humberto knew that going home would be wasted time, and he could be stranded on the road with no help at all. He made the wise choice to call 911. Responding onsite first was a local fire chief to assess him. Within moments, Humberto was relieved to see the lights of an ambulance through the trees.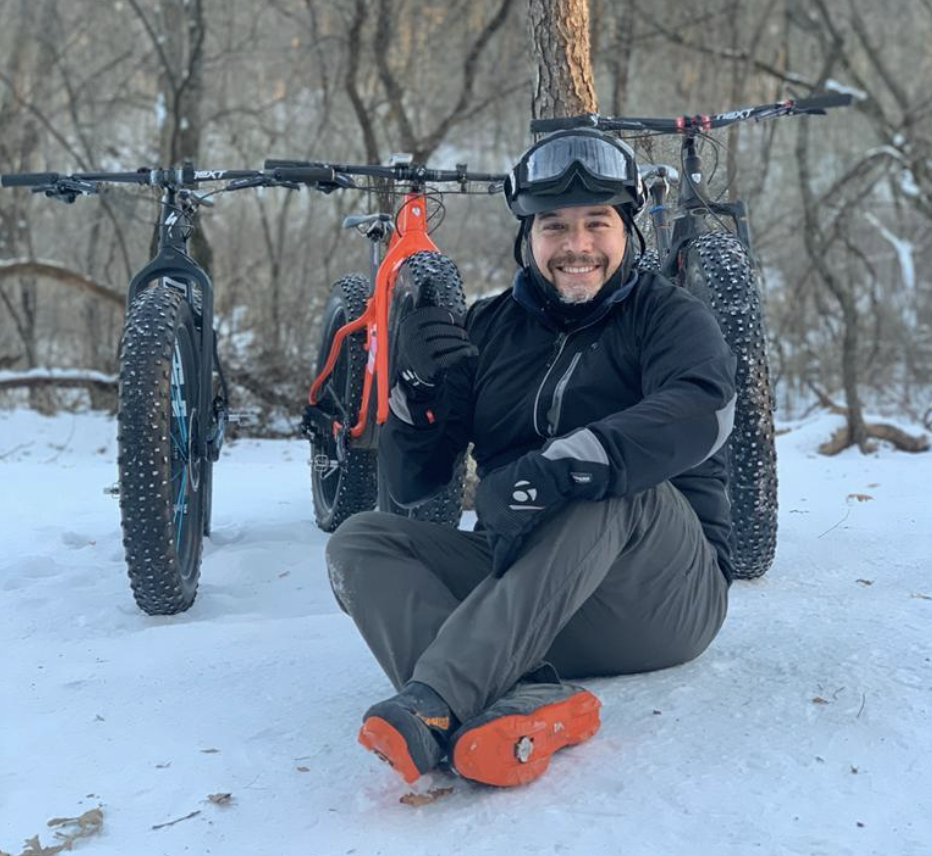 The Emergency Medical Services (EMS) personnel identified Humberto's ST Segment Elevation Myocardial Infarction, or STEMI, heart attack and his need for an immediate cardiac catheterization to open his blocked artery. EMS activated the Straight-to-Cath Lab protocol and began prepping Humberto. Humberto said, "They kept me calm and assured me that they would take me to the best facility in the area to help me."
Upon the ambulance's arrival at Froedtert Pleasant Prairie Hospital, Humberto said, "The team was ready and waiting for me. Everybody knew what was going on and performed their responsibilities precisely. Dr. Rosenberg introduced himself to me and explained what was happening. A team member called my wife and calmly explained everything to her also. No time was wasted. I asked Dr. Rosenberg if this was a life-or-death situation, and he put his hand on my knee and with a calm, caring voice told me, 'Yes. Yes, it is.' I knew in a moment everything could change, but I felt I was in the best place with the right people for my life to be saved."
FAST-TRACK TO IMMEDIATE CARE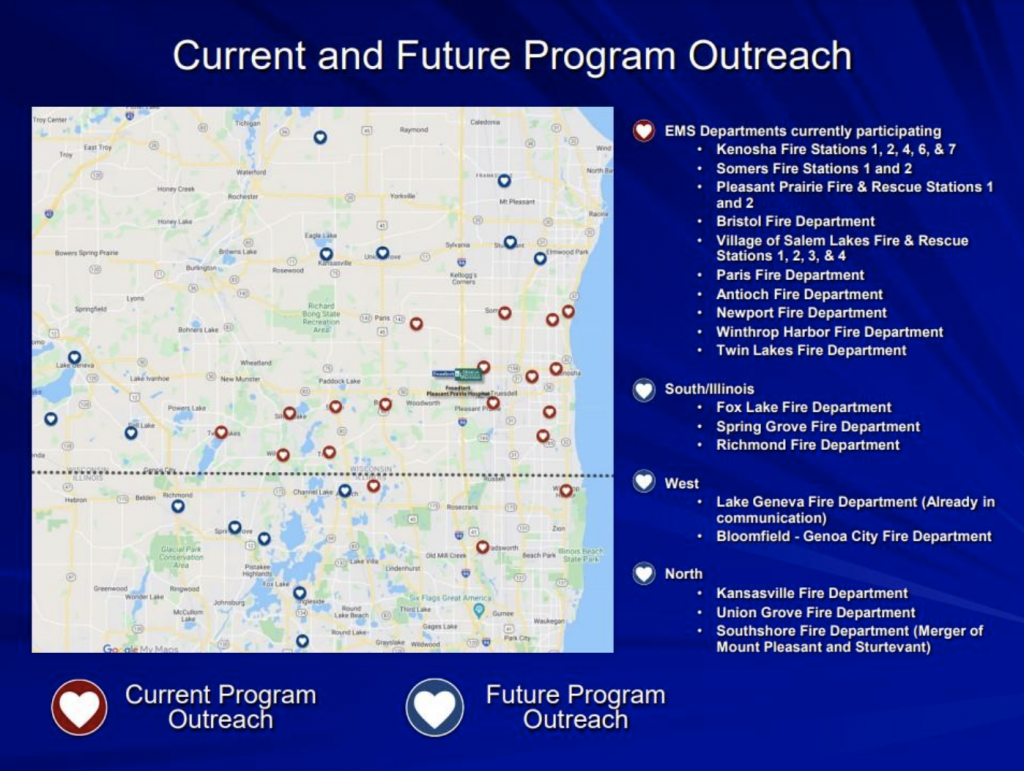 By calling 911, the EMS personnel that responded to Humberto's call were able to activate a large-scale, cooperative system of care to prepare Humberto for a cardiac catheterization approximately 50 minutes sooner than if he would have been brought to the Emergency Department. Dr. Rosenberg explained, "During a heart attack, time is muscle. Patient outcomes are entirely dependent on the time it takes to get the artery opened. Patients experiencing chest pain should call 911 as soon as possible to activate the very organized, collaborative system that is in place from EMS through the Straight-to-Cath Lab program. The patient will be prepped enroute to the hospital by trained EMS team members and brought directly to the Cath Lab where equipment is pre-positioned and the Cath Lab team is prepared to open the artery and restore blood flow to the heart. Every minute matters in preserving the functionality of the heart muscle." 
As that Sunday progressed, Humberto suffered two cardiac arrests (ventricular fibrillation) during his heart attack. Both were successfully treated as the artery was opened. "When Dr. Rosenberg told me that I was fine, I was more grateful than I could ever explain. The whole team had an intensive workout that day working together to keep me alive. They put their hearts into their jobs to save mine," said Humberto.
IT'S ALL IN THE TEAMWORK
Scott McArthey, Staff Vice President with oversight of the Interventional Procedure/Cardiac Catheterization Lab, praised the Straight-to-Cath Lab process and wants the community to know that, "Froedtert Pleasant Prairie Hospital is the only hospital in Kenosha County that provides around the clock treatment for heart attack patients and the only one with a Straight-to-Cath Lab program. Froedtert Pleasant Prairie Hospital has collaborated with many area EMS teams and empowered them to activate the Cath Lab team while enroute and bypass the Emergency Department saving significant time.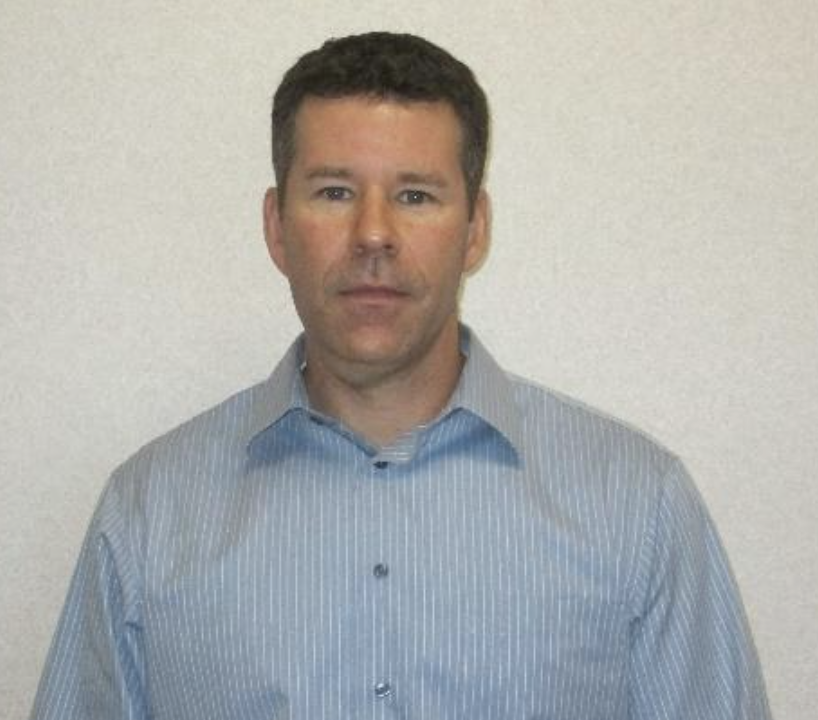 Prior to this, Kenosha County had no organized 24-hour STEMI program. Precious time was lost transporting patients to facilities in other areas such as Milwaukee. Now, with this program, we are meeting the needs of patients having heart attacks 24 hours a day in Kenosha, Walworth, and much of Racine Counties in Wisconsin and parts of Lake County in Illinois. When time is muscle, don't delay. Don't drive yourself. Call 911! The procedures are in place to get you the lifesaving care you need in less time right here close to home." 
The Interventional Procedures/Cardiac Catheterization Lab teams at Froedtert Pleasant Prairie Hospital, in addition to providing immediate care for patients with a heart attack, are prepared to perform immediate procedures for patients with pulmonary embolism (blocked blood flow to a lung) or an acute cold leg (blockage of blood flow to a leg). Three multi-disciplinary teams, including five interventional cardiologists and two interventional radiologists, are prepared for emergency cardiac and vascular interventional procedures 24/7. If more than a catheterization is required, cardiothoracic surgery and placement of advanced implantable support devices are also available onsite. "We've established a wonderful process to speed up care. Not every hospital does this. This expedited approach saves lives, saves limbs, and improves heart function," said Dr. Rosenberg. 
"I'm eternally thankful for the EMS team who took me to Froedtert Pleasant Prairie Hospital," said Humberto. "Because of the Straight-to-Cath Lab team, I went home the next day, and I am able to keep on enjoying life with my family and running my business. I'm following every step of Dr. Rosenberg's advice and completed cardiac rehab. I've started a biking club, and I teach others about healthy living habits. Thank you to the helpful, respectful, professional team that saved my life."