Tom Kenny has built a career manufacturing chiropractic tables. Now, he makes sandwiches, too — and is excited to have his family join him in the venture.
Kenny on Wednesday (Dec. 8) opened his latest Jersey Mike's Subs location – his fifth, and first in the city of Kenosha – at 5836 75th St.
It was a family affair. His son, Matthew, a regional manager with three of the family locations under his direction, cut the ribbon. His wife, Paula, worked behind the counter, at one point prepping jalapenos ahead of Monday's ceremony.
Kenny's other three children are also involved in the business, which is exactly how he wanted it when he decided to add "sandwich guy" to his other title, "CEO."
"It pulls the family together," Kenny said. "I spent a lot of years away from the family. I missed a lot of birthdays, I missed a lot of horse shows. My wife, she was the rock. We're all together now, and we've had great extended family come in. We're having a ball."
It's also a second career for Kenney. In addition to owning the local Jersey Mike's franchise, Kenny is CEO of Williams Healthcare Systems, an Elgin, Ill.-based company and world's largest manufacturer of chiropractic tables.
"That's the day job," Kenny said.
And some nights and weekends too.
The sub shops are in part a way to make up for that lost time – and give his kids a chance to learn valuable life and job skills through some unique on-the-job training.
In that way, Kenny is building his growing Jersey Mike's franchise empire for them.
"We looked to establish a business around their interests," he said. "My kids don't have a place guaranteed for them in any business we do. They have to earn it. The last name doesn't do it. Their orientation is food service – that's what they like to do."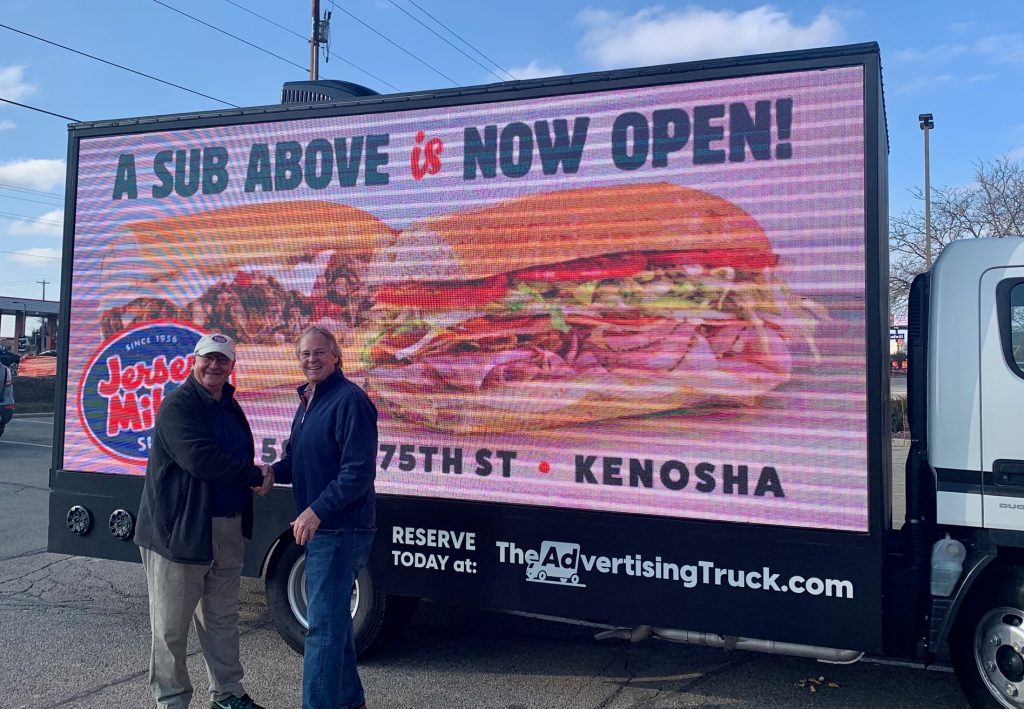 Kenny spoke glowingly of the work his son has done to step into the management role.
Jersey Mike's executives were also impressed, taking note of Matthew's business experience even at a young age on the family's western Kenosha County farm.
"They asked him, 'Have you ever started a business?'" Tom Kenny said. "He said, 'Yeah, a very successful business. I raised prized pigs.' Then he took them through a pro forma P&L. 'What was the cost to acquire those piglets? What did it cost to feed them? What was your labor cost on them?' … Sure enough, you look at the revenue for auctioning off those pigs vs. the cost to raise them, they looked at him and said, 'Matthew, you ran a good margin on that at 9 years old.' That was it. He was in."
New Jersey roots
Jersey Mike's was an easy choice for Kenny.
Kenny grew up in Paramus, N.J., a 70-mile trip down the Garden State Parkway to Point Pleasant, the birthplace of Jersey Mike's. It's a place Kenny knows well – he ate there many times as a kid on summer trips to the Jersey Shore.
Back then, Jersey Mike's was called Mike's Subs, with a strong local following and reputation for quality products and service. In the 1980s, it grew into a national brand under Peter Cancro, who worked at the sub shop in high school before buying it and growing it under its current name, to capture the authenticity of where the sub sandwich shop was born.
Today, Cancro is CEO of Jersey Mike's Franchise Systems Inc., overseeing more than 2,000 locations open and under development.
"It's the way we eat out in New Jersey," Kenny said. "I was there when a local Italian bakery baked the bread. Thousands of loaves went in every week."
Kenny never forgot that, even as he dove into international manufacturing.
He opened his first Jersey Mike's less than three years ago.
"We took a look at the different brands that were out there, and it was clear to us," Kenny said. "We like the Jersey Mike's organization because they are all type A personalities. They have an outstanding business culture … entrepreneurial in spirit, but also giving back to the community."
Giving Back
Since 2010, Jersey Mike's locations throughout the country have raised more than $65 million for local charities.
Indeed, Kenny sees the business as a way "to try and make a difference with the people we serve" – an opportunity he's come to appreciate more later in his career. "With 22 years focused outside the United States, I didn't even know who my neighbors were," he said.
Now, in keeping with Jersey Mike's mission, his stores have a clear focus on helping others.
For the grand opening, for instance, Kenny is holding a fundraiser through Sunday, December 12 to support Indian Trail High School, Mahone Middle School and Tremper High School. Customers with a special fundraising coupon can make a minimum $3 contribution to Indian Trail High School, Mahone Middle School and/or Tremper High School in exchange for a regular sub. Customers must have a coupon to be eligible.
"We don't do it for a pat on the back. We do it to make a difference," Kenny said. "If we can raise funds for good causes and to help people … in the small amount of time we occupy the planet, why not do it right? I'm just full of joy that I have an opportunity to do that."
Kenny hopes to make an even bigger difference as he continues to grow in his Jersey Mike's territory, which stretches from Delafield and Port Washington south into Illinois, and east from Lake Michigan to Lake Geneva. He said his sixth and seventh stores are coming soon in the Milwaukee area, with another 15 or more potentially coming in the next five to six years.
"You go big or you go home," Kenny said.
For more information on the newest Kenosha location of Jersey Mike's, click here.