SOMERS — Craig Becker blasted the message to the Becker brothers' open text string: The University of Wisconsin-Parkside wrestling coach was stepping down.
The "reply all" came quickly: "Nick, you applying?"
Almost immediately, the pulsing dots flashed on the screen … the future of the storied Parkside wrestling program hanging on a few words. Nick Becker, the three-time national champion undefeated UW-Parkside wrestler, was writing his reply.
"All three of us brothers were eagerly awaiting what he would say," Craig said.
It didn't take long for the answer.
"Hell yeah, 110%" is how Kyle remembered Nick's message.
"100 percent interested," is how Nick today paraphrases one of the most important texts in the history of Ranger athletics.
That was in March. Less than six weeks later, Nick was named head coach, writing another chapter in the storied history of the Becker brothers and Parkside wrestling.
Four Beckers — Brad, Craig, Kyle and Nick — have wrestled at UW-Parkside, and all of them were All-Americans; Brad, Craig and Nick won individual titles. Nick was a three-time NCAA Division II National Champion (2016, 2017, 2018), finished his career 89-0, and was two-time NCAA Division II Wrestler of the Year.
Now Nick is back to lead Parkside wrestling at age 28 as just the fourth coach in program history, hoping to build on a legacy left by the man whose name is on the wrestling room door: iconic former head coach Jim Koch.
"The sport of wrestling is Nick's passion," Brad said. "He's not going to settle for mediocrity. He's going to make that program better. We have a pretty successful wrestling tradition, and I think he's going to make it greater."
And, in doing so, further build on a family tradition.
"More broken furniture than broken bones"
How many families have a basement wrestling room? The Beckers did.
But the best matches may have been in their Hartford living room.
"It usually always started in the living room," Brad said.
"We'd get into an argument over who was taking the trash out, and it turns into a brawl," Craig said. "That's where the stitches come into play."
Yes, stitches. Body parts met fireplace mantle on occasion.
A sofa or two may have borne the brunt.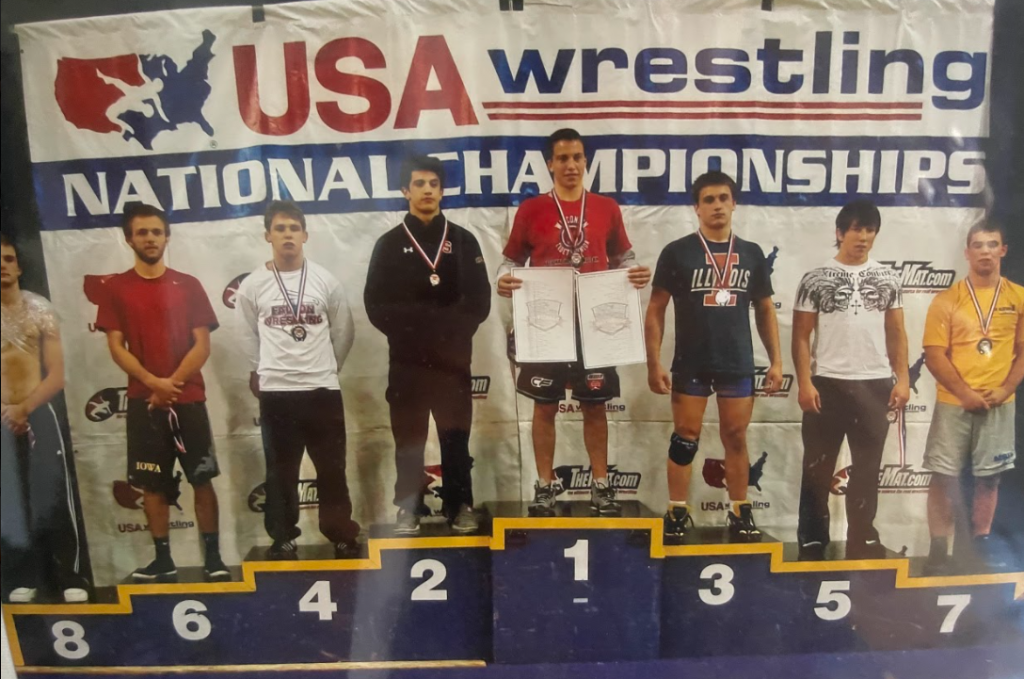 "We probably had some stitches," Brad said, "But there was probably more broken furniture than broken bones."
The Becker siblings say their family toughness comes from their parents.
The four brothers — and sister, Andrea — grew up on a third-generation farm, started by their grandfather and now owned by the siblings' uncle.
Their father was a mason for decades and now drives a truck. (Scott Becker was also a Hartford wrestler, finishing as high as fourth in State.)
There were farm chores, and they joined with their dad to pour basement foundations. Roofing was a regular summer job for Nick and Craig.
"We were brought up to have an incredible work ethic," Nick said. "Whether it was cutting wood or crushing cans or burning garbage, there was always daily chores to do around the house. That translated to our wrestling careers."
So did the love of family.
Nick was the youngest of the five kids, but also showed the most promise on the mat, even as his three brothers starred at Hartford and, later, Parkside.
Nick was a multi-sport athlete growing up, but wrestling was always the focus.
"It's the level of commitment he put into the sport," said Craig, now associate athletic director for facilities and capital projects at Parkside and an assistant coach for his brother. "Obviously, you can't wake up one morning and expect to be a three-time undefeated national champ. You have to put the time and the work in, and that was something he probably did — whether people saw it or not — more than any of us other brothers. He was a mat rat when it came to everything related to wrestling."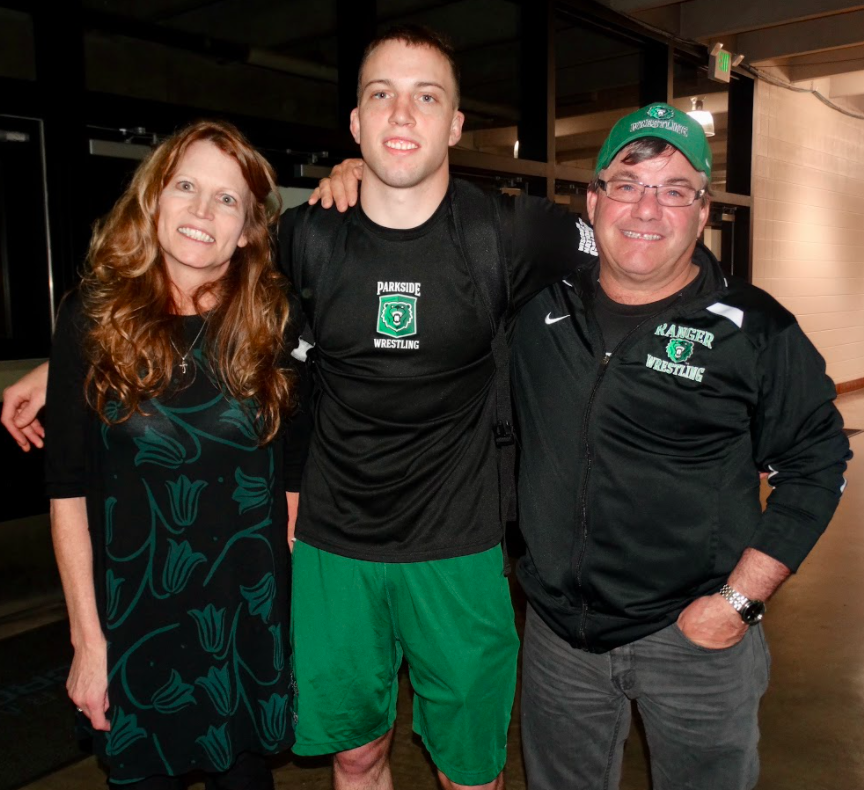 That work paid off with a 182-25 career record at Hartford, four appearances in the WIAA State Tournament, and a state title at 152 pounds his senior year, putting Nick on a different trajectory in the sport than the brothers who came before him.
Brad coached him all four years.
"If I had to give a word to describe Nick, I would say 'perseverance,'" Brad said. "Growing up … he probably took more losses than any of us brothers did. That put a lot more pressure on him, having three brothers growing up that were successful."
Nick felt it.
"We are a very tight-knit, close family," Nick added. "We are a family that was brought up on tough love, to be there for each other, but at the same time, me personally, when it comes to wrestling there was no taking it easy on me.
"I had to want to wrestle. Was there pressure? Yeah, probably. There were always comments like, 'Yeah, you're going to be the best Becker.' I really didn't figure out how to deal with that pressure until … later on in my college career. Pressure is always going to be there, but it's how you look at it, and how you deal with it."
"The best Becker"
Who's the best Becker? Nick, Craig said.
"Hands down," he said. "We saw that going into his senior high school season. He was the only Becker who had dreams and goals to wrestle Division I."
Indeed, while his older brothers chose Parkside, a Division II wrestling power, Nick chose a different route — NCAA Division I Central Michigan.
He spent two years in the program, and was Freshman of the Year in 2012-13 before slipping to an 11-16 mark his sophomore year and leaving the school.
"It just wasn't the right fit for me," Nick said. "Academically I was struggling. I think I was a little homesick, too far away from home. But I learned so much from Central Michigan and my coaching staff there. It was the simple things of me developing into a man and owning my mistakes. (Coach Tom Borrelli) believed in me. The last meeting we had, I remember him telling me, 'You can do it, you can graduate college. You can reach your goals. You just have to believe in yourself.'"
Still, Becker said, "There were times I wanted to give it up and quit."
Being away from family at Central Michigan didn't help.
"Our family is extremely close," Kyle said. "Growing up, me and my brothers had each other. There was not as big a psychological change when we moved to college because we had each other."
Nick didn't have that in Michigan, and leaving the school put Nick at a crossroads.
"We love wrestling. We ate, slept and trained wrestling, that's just how our family is," Kyle said. "Then you fail and you have to look at yourself in the mirror and really dig deep and get to the point to think, 'How am I going to do this, how am I going to change this around to be a positive?'"
It wasn't easy.
"At that point in his life, I don't know if there were a great deal of options for Nick," Craig said. "And he wasn't going to get any sympathy, from mom and dad or his brothers. So he took it upon himself to enroll here at Parkside and continue what he loved to do."
Bold prediction
How is this for confidence? Now at Parkside in 2014, Nick called his shot.
Shortly after deciding to enroll, Nick told his brothers he would go undefeated as a Ranger and win three national titles.
"I think I probably said that," he said, smiling.
Oh, he said it. His brothers still remember it, seven years later.
"He was in the garage when he said it, back at home," Craig said. "He wasn't even officially on the roster, he wasn't even moved in."
"Me and my brothers looked at each other," Kyle remembered. "I know how hard I tried to make it happen, and for him to say something like that, his mind was more developed and he was stronger mentally than anybody I have witnessed."
Added Craig: "You have to have a little confidence in yourself and in your abilities to achieve what he achieved. Maybe that is something that set him apart from us."
When Nick transferred to Parkside, family stepped up again, and helped make the transition smoother. Nick lived with his brother, Craig, for a year when he came back, and Craig would coach.
"That was awesome, living a dream, to be right there matside watching him not lose," Craig said. "Early on, when he stepped in here at Parkside, he had the ability and the talent level to win, and I think most of us knew that.
"I don't think at the time that even he knew for sure."
Craig saw his brother's confidence grow after his championships in 2016 and 2017 — confidence further established when Nick started beating his older brother on the mat.
"I was crawling out of the room, saying, 'Hey, little brother is too big to wrestle with me anymore,'" Craig said. "That came after his first year. I needed to pick and choose how often I wrestled with him because I was waking up sore the next morning otherwise."
Overcoming tragedy
Jim Koch would have been proud.
Even though the Parkside legend retired from coaching in 2011, after 41 seasons leading the program, he helped make Nick into a champion.
"He was like a grandpa to me," Nick said. "He didn't help physically, technically, in the room all that much — he wasn't on the mat. But it was more life lessons, how to be a better man, how to believe in yourself, the mental side of wrestling.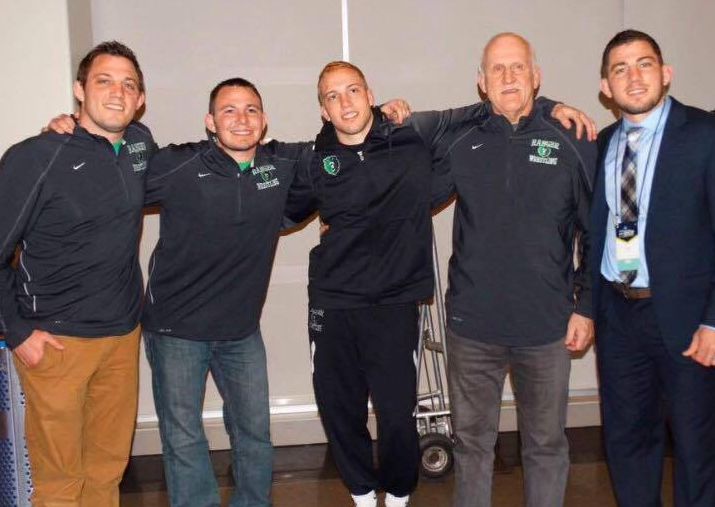 "The biggest thing about Coach Koch is he had faith in people when people didn't have faith in themselves. He always saw the good in people."
He especially loved coaching people like Nick, who needed a second chance after leaving Central Michigan.
"It didn't matter if you were the national champion, or a third-string walk-on," Craig said. "He cared about everyone the same and made sure he brought that culture into the room. That's why he had so much success, on and off the mat."
Then, he was gone. Koch died after being struck by a car at the 2017 NCAA Division I Championships in St. Louis. His death hit Nick hard.
Nick had already won two titles by that point, and the third would be for Coach Koch.
There is a photo of Nick taken immediately after he won the 2018 NCAA Division II championship match where he is looking up at the ceiling, pointing.
He is pointing at Koch.
"That was my way to cope with his death, to work harder, and win for him," Nick said. "I'm not a big celebratory guy after matches, but that is one where I had to recognize him, not only for me, but as a program as a whole. He shaped so many lives."
And if Coach Koch knew Nick was back coaching the Rangers?
"He would be ecstatic. He'd be at a loss for words," Craig said. "Ten years ago, if you would have told him you would have Nick at the helm and me as an assistant helping run this program, I think he would be speechless.
"At the end of the day, that would have been his best-case scenario. As much as we saw him as family, he saw that in us as well, as he did with all the guys."
Added Kyle: "I know Coach Koch is smiling down right now, and he's like, 'Yes, we have Nick and Craig here.' He couldn't pick any two guys he would want more to take over that program."
After Parskide
Dramatic gesture aside, Nick's college wrestling career was over after that 2018 match.
"I walked off the mat and said, 'That's the biggest f-ing relief there is,'" he said. "It was the sweetest because it was the final stepping stone of my college career. That third national title was in the back of mind for every day since I won my second.
"I knew going into my last year that was it. If I lost, I looked at myself as a failure. If I won, it was sunshine and rainbows."
Sunshine, rainbows, graduate and get a job.
Nick graduated with a degree in criminal justice, but never left wrestling.
Following graduation, he spent the 2018-19 season as a graduate assistant coach at Parkside. He has also worked with the Ben Askren Wrestling Academy for three years.
Most recently, Becker served as the head coach of Wisconsin's Junior National Team, where he worked with the best wrestlers in the state preparing for USA Wrestling regional and national events. He worked with the University of Wisconsin wrestling program from 2019-20 at the Wisconsin Regional Training Center in Madison.
Nick also had a sales career, and made a comfortable living.
"I was pretty content with my life, where I was at with my career I decided to go into after wrestling," Nick said. "Money can't buy happiness, I know that."
Then came the text.
When it came to responding or not, "there really wasn't much thought into it," Nick said. "It was like, 'Yeah, I'm going to apply, and if I don't get it, I'm going to go back to my 8 to 4 job. And if I do get it, wrestling will be (my career) the rest of my life."
Coming back
"Coaching college wrestling," Nick said, "was probably the most rewarding career I could have in my life and bring me the most happiness."
All he needed was an opportunity. That came when Parkside wrestling Coach Corey VanGroll — himself a former Ranger wrestler — stepped down unexpectedly in March after four seasons. VanGroll was Nick's coach in 2018, leading Parkside to a third-place finish in the NCAA Division II national tourney.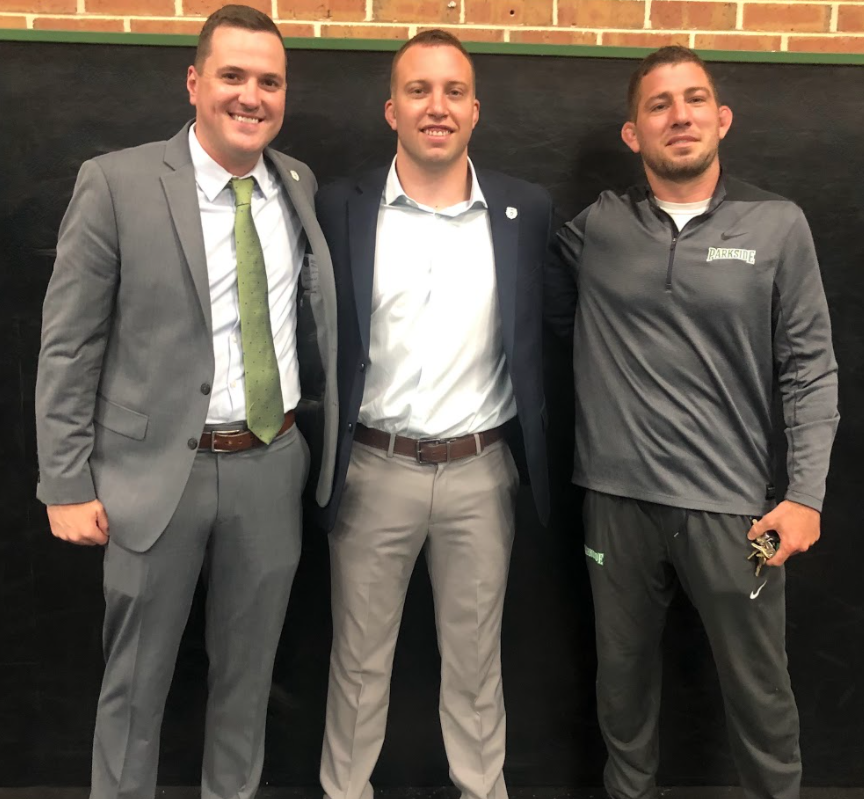 "It was a little unexpected," Parkside Athletic Director Andrew Gavin said. "You pretty quickly try to turn your attention to the recruitment and how do you best recruit a really strong pool. As it relates to Parkside wrestling, I knew that part wouldn't be a challenge."
Gavin was happy Nick applied, as he witnessed Becker's last championship run and saw how he performed as a graduate assistant coach the following season.
"At a young age, as a student-athlete he was looked to as a leader," Gavin said. "His resume from a wrestling perspective speaks for itself. His picture is blown up on the doors entering the Jim Koch Wrestling Room. That is for a reason.
"He's the GOAT. He's the undefeated three-time national champion of Parkside wrestling. I don't think a recruit or our current guys can walk in that room and not feel an immediate respect for what he did."
Kyle said his brother will translate his on-mat success to coaching success, quickly.
"His calling was to be in coaching," Kyle said. "He doesn't want to wait around to be the best, he wants to do it now."
Adversity has equipped him to do it.
"Some of the greatest people who achieve athletic success are those who fail first and keep going after it," Kyle said. "He's going to have a lot of success just because he felt that failure. He can relate to the kids who are struggling in the classroom, struggling being away from home. The wrestling part is the easy part. It's the other stuff that is the hard stuff, keeping them motivated, keeping them engaged, getting them to go to class."
More than anything, Nick wants to help young men grow.
"Every guy on our team needs help in one way or another, whether it's on the mat, in their personal life," he said. "I just want to be that guy, that arm of their support system they can come to anytime. I'm their guy to vent to, listen to and try to help them."
Nick said he is excited about the additional investments flowing into the program — the new Jim Koch Wrestling Center, upgrades to the De Simone Gymnasium, the addition of staff, and more — but he is also trying to keep focused on what's in front of the team.
"Whitewater, Wednesday night," Nick said prior to the team's first. (The team would lose the dual, Nick's first as coach, 18-17.) "We have to get these guys ready to go. We're excited for the season, the opportunity to compete at the Division II level, an opportunity to compete at the national tournament, and have a shot at winning a NCAA Division II title. But we have work to do between now and March."
That mentality goes back to the "heart and hard work" of being a Becker, Nick's sister, Andrea, said.
"Our parents tell us you don't stop until you get what you want," she said. "You just keep going. Nick made a couple stops along the way, and now he's here. And I think he's definitely here to stay. He's doing something he definitely was meant to do."
Unmatched Success: A Nick Becker Timeline
Newly named University of Wisconsin-Parkside Coach Nick Becker leaves quite a legacy on the mat, including an 89-0 record as a Ranger. But his success extends well beyond Parkside.
UW-Parkside
2017-18: Won third straight NCAA Division II Championship at 174 pounds, defeating No. 2 Nolan Kistler of California Baptist, 8-4. … Named NCAA Division II Most Outstanding Wrestler of the Tournament. … Ended season 24-0, earning eight wins by fall, eight by technical fall and four by major decision.
2016-17: Won second straight NCAA Division II Championship at 174 pounds, defeating UNC-Pembroke's Blaze Shade, 8-4. … Finished season 25-0, earning eight wins by fall, three by technical fall and six major decisions. … Named 2017 NCAA Division II Wrestler of the Year by DII Wrestling Coaches Association. … Also named GLVC Wrestler of the Year and Super Region II Wrestler of the Year.
2015-2016: Won first NCAA Division II Championship at 174 pounds, defeating UNC-Pembroke's Blaze Shade, 9-3. … Finished the season undefeated with a 41-0 record, recording 10 pins, 11 tech falls, and 10 major decisions, scoring 517 match points. … D2WCA Midwest Region Wrestler of the Year.
2014-2015: Compiled a 13-0 record at three tournaments, competing unattached.
Central Michigan
Finished 2013-14 season with a record of 11-16 wrestling at 165 pounds. … Upset No. 14 John Staudenmayer of North Carolina at Northeast Duals, 5-1. … In 2012-13, compiled a 26-7 record while competing unattached in open tournaments. Awarded program's Freshman of the Year Award. … Finished second in 165-pound freshman/sophomore division at Eastern Michigan Open. … Claimed Alma College Open title at 165 pounds.
Hartford Union High School
Finished career with a mark of 182-25. … Placed at State meet four times. … Claimed WIAA Division I 152 state championship senior season. … Finished fourth as a freshman, third as a sophomore and fifth as a junior. … Finished fifth at the 2012 Flonationals. … Claimed championship at 2011 Asics Preseason Nationals. … Finished seventh in freestyle and Greco at 2011 Junior Nationals. … No. 12 ranked 165-pound recruit in the country by InterMat.
Source: UW-Parkside Athletics