Jerry Smith Pumpkin Farm debuted in 1975 with a table on the corner of Highways EA and L in Somers, Wisconsin. Owners and farmers Rosemary and Jerry Smith then showcased a variety of homegrown vegetables including cabbage, potatoes and sweet corn. The table soon became the garage; the garage was renovated in 1978 into the Country Store. The Country Store, including its hearthstone fireplace, remains a bustling fall destination today.
Rosemary Smith loved painting faces and displays on dozens of pumpkins and then incorporating the pumpkins into scenes based on popular television shows, books and movies. The first few years, Rosemary painted only a handful of pumpkins outfitted in the Smith family's clothing including Jerry's boots on the Three Stooges. Rosemary continued to grow the number of painted pumpkins to 25 displays with over 80 hand-painted characters including Snow White and the Seven Dwarfs, Alice in Wonderland, Peter Pan, Flintstones, Lion King and many more. Today Rosemary's daughter-in-law, Amy Smith, along with other family members, continue the tradition that Rosemary lovingly started.
In 2012, Joe & Amy Smith began managing operations at Jerry Smith Pumpkin Farm with their children who committed to continuing the longstanding tradition of family fun and excellence in homegrown produce at the Jerry Smith Pumpkin Farm. The Country Store and hand-painted fall displays remain free for the public to enjoy daily between the hours of 8 a.m. – 8 p.m.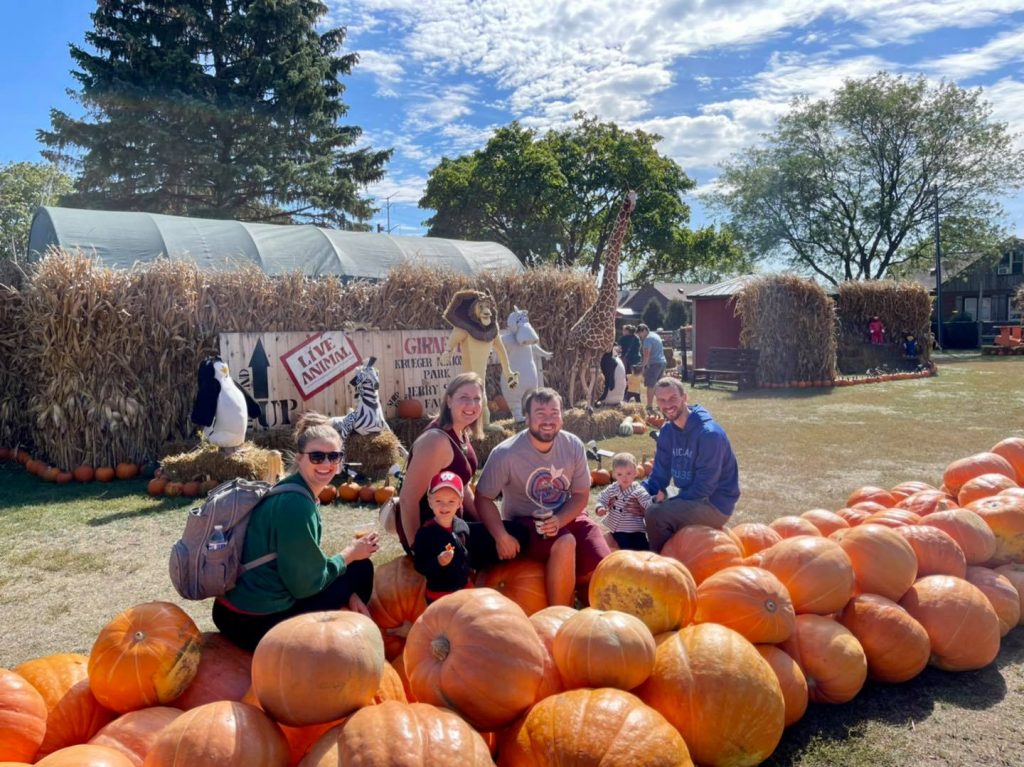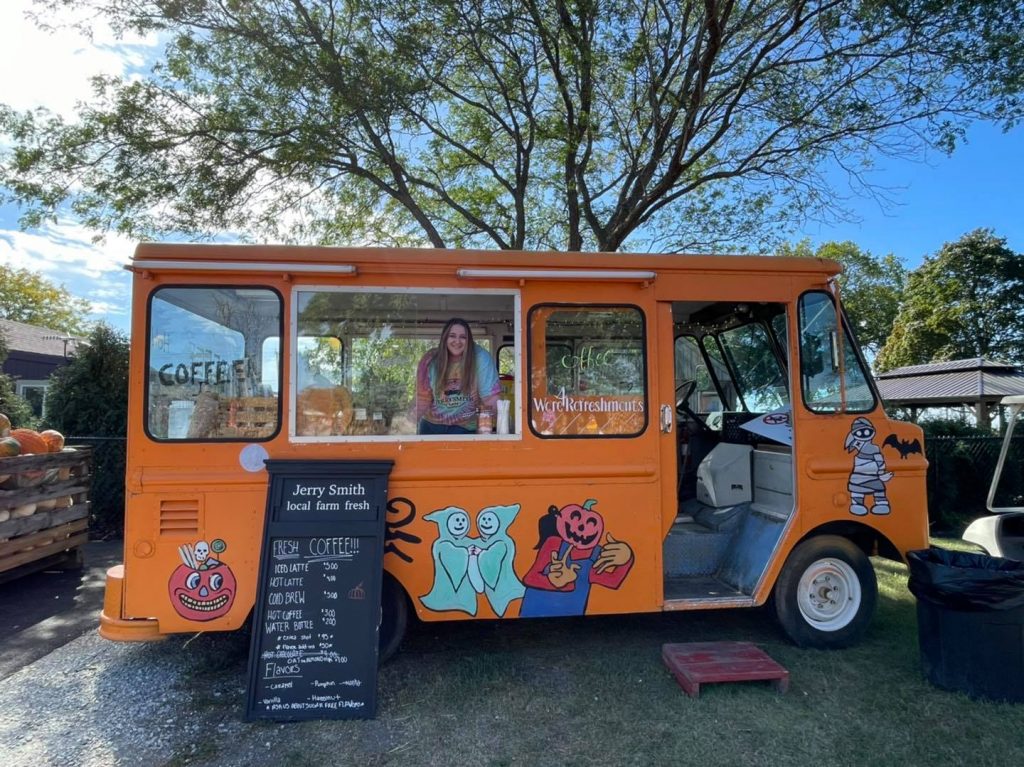 Joe & Amy have expanded the back half of the farm into a family friendly activity area. They take great pride in offering affordable fun to families and love to see all of the familiar faces return year after year to make lifelong memories. The paid activity area (weather-permitting) is open Monday–Friday from 4:00pm–8:00pm and Saturday–Sunday from 10:00am-8:00pm.
Family Activities (included w/ admission – $6 on weekdays, $11 on weekends, 2 and under free)
UNLIMITED Giant Bounce Pad
UNLIMITED 6 Acre Crazy Corn Maze
UNLIMITED Petting Zoo (additional cost for feed & animal encounters)
UNLIMITED Hayrides
UNLIMITED time in all of our play areas including:
Tire Mountain
Climbing Wall of Tires
Giant Tube Play Area
Tube Swing
Wooden Tractor Play Structure
2 Rainbow Play Sets with sand piles
Big Sand Toy Hill
Basketball Hoop
More Activities (for a small fee):
Dr. Destruction's Haunted Forest – $10 (NOT OPEN October 31)
Food/Concessions Open until 7:30pm
Hungry? The farm offers options for all appetites!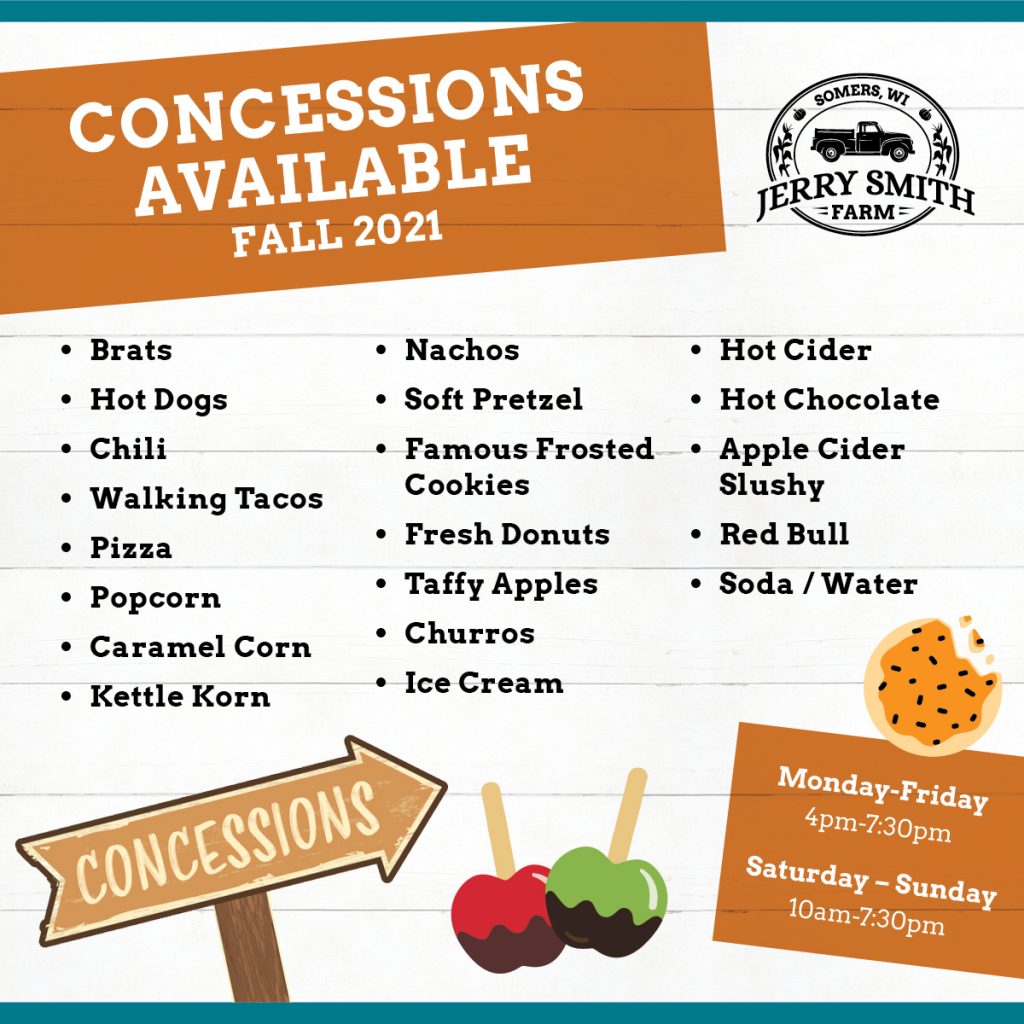 Plan Your Visit
In addition to Jerry Smith Farm, the family also operates Jerry Smith Feed & Seed Station and Jerry Smith Green Acres in Kenosha, Wisconsin. This October make sure to plan a visit to Jerry Smith Pumpkin Farm located at 7150 18th Street (Highway L) in Kenosha!