For Dr. Mary Campagna-Gibson, a Neurologist with the Froedtert South Medical Group, it was a 45-year-old man with teenage daughters. "He thought he was healthy enough that he just never went to see any doctors," Dr. Campagna-Gibson said. Until one day when he suffered a stroke. "He had sudden paralysis on his right side and couldn't speak at all," Dr. Campagna-Gibson recalled. "He was unable to hold himself up. He had no strength in his arms, legs or face. He couldn't swallow."
Today, thanks to swift emergency treatment he received at Froedtert Pleasant Prairie Hospital, he's made a remarkable recovery. "He's walking independently, driving again, back to being there for his children, even lifting weights at the YMCA," Dr. Campagna-Gibson said. "Seeing someone go from paralyzed to walking again is amazing."
A GREAT FEELING
For Dr. Arvind Ahuja, a Neurosurgeon and Neuroendovascular Specialist with the Froedtert South Medical Group and Neurosurgery and Endovascular Associates, it was a 35-year-old woman who was "working, independent, with a great life," Dr. Ahuja recalled. Until about a year and a half ago. "She had a large brain hemorrhage and was comatose," Dr. Ahuja said. "Now, she's functional, she's talking, she's active, she interacts with others. It just makes us very happy every time we see her, and her family around her. We're fortunate enough to see that day in and day out at Froedtert South."
Dr. William Falco, Medical Director of the Froedtert South stroke program and an Emergency Medicine Physician, said achieving results like these for patients is what makes him passionate about stroke care. "When we see a patient with extreme stroke symptoms," Dr. Falco said, "and then in front of our very eyes we see them talking again after being unable to speak, and able to move their arms and legs again, it's a really great feeling."
"We're focused on providing the best possible care and keeping the patient's future in mind when we're making decisions," said Shannon Godbolt, Stroke Program Coordinator and a Nurse Practitioner at Froedtert South. "We work hard to make sure we're doing everything right."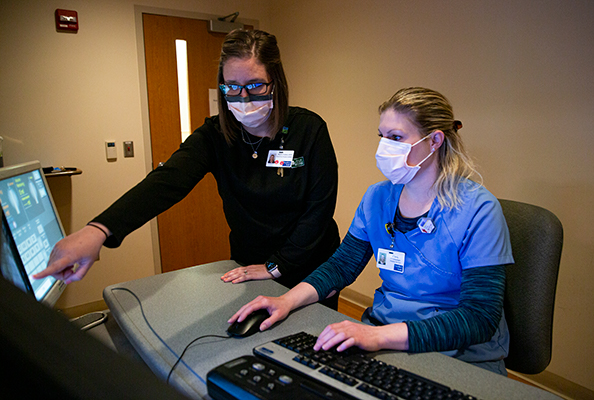 PRIMARY STROKE CENTERS
Since 2017, Froedtert Kenosha Hospital and Froedtert Pleasant Prairie Hospitals have been certified as primary stroke centers by the American Heart Association and The Joint Commission, an independent organization that accredits healthcare organizations worldwide.
"Being certified stroke centers is a big positive for the community," Dr. Falco said. "It shows that we recognize the devastation that stroke can cause, and that we're acting responsibly to provide the highest level of stroke care to the community."
COMPREHENSIVE STROKE CARE
"It tells the community that we have a dedicated team that really cares about everything that happens to patients and their families," Dr. Ahuja said. "It also says we care about timely treatment. Over the last ten years, we have enhanced the speed with which we treat stroke patients."
"Being a certified primary stroke center means that there's a team of people working together to benefit each patient," Dr. Campagna-Gibson said. "It starts with all the emergency medical services (EMS) in the area. They know we're a certified primary stroke center so they bring patients here because this is where they're going to get the best, most comprehensive stroke care."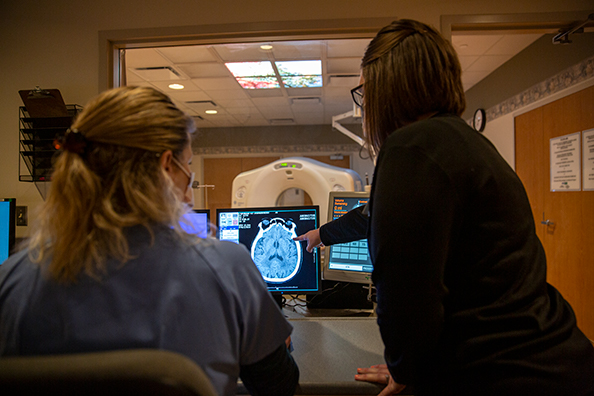 STROKE ALERT
"The EMS team calls our emergency department while they're on the way with a stroke patient," Shannon Godbolt said. "We activate our stroke team by calling a stroke alert."
"There's a team waiting in the emergency department to get everything going immediately," Dr. Campagna-Gibson said. "In most cases," Shannon Godbolt said, "patients go straight to a CT scanner to get a scan of their brain. We also do labs, an electrocardiogram and other diagnostic tests much more quickly – all within the first 30 minutes."
"With a stroke," Dr. Falco said, "time is brain, meaning that as seconds go by, brain cells are dying. So the sooner we can treat a patient, the better our chances of being able to limit the impacts of a stroke."
Patients who have suffered an ischemic stroke – typically caused by a blood clot in the brain – may be given medication called tPA to break up the clot. "If that doesn't work," Dr. Ahuja said, "my role is to insert a catheter through the groin, like other physicians do for the heart. If a clot is stuck in the middle of a patient's brain, I can take it out and get oxygen and nutrition flowing back to the brain."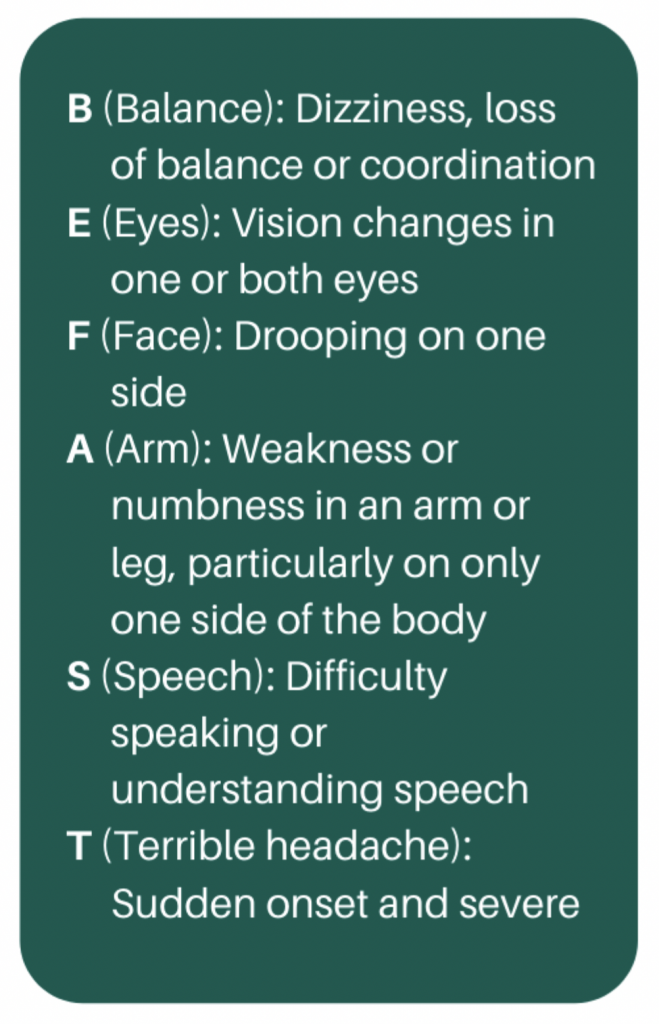 BE FAST
In addition to non-invasive procedures, Dr. Ahuja is one of only a few surgeons in the world who also performs surgery for ischemic strokes as well as hemorrhagic strokes, which are typically caused by a ruptured aneurysm or brain injury.
"At Froedtert South," Dr. Ahuja said, "we have the ability to perform minimally-invasive vascular surgery as well as open surgery for strokes caused by a blood clot or hemorrhage. Either way, time is of the essence. When you see the symptoms, don't wait to see what happens," Dr. Ahuja said. "We want patients to BE FAST. Come to the hospital to get diagnosed and treated."
"Knowing these signs and symptoms," Dr. Campagna-Gibson said, "and getting to the hospital as soon as possible can improve your chances."
BE OUR BEST
After patients leave the hospital, monitoring, educating and a support group provide long-term care. "Whatever we're able to accomplish to get them back to normal, or as healthy as possible," Shannon Godbolt said, "means everything for the rest of their life and their ability to do the things they love."
"If a member of your family had a stroke," Dr. Falco said, "you may know how life altering it can be for a patient and their family. That's one of the reasons we're so passionate about what we do. We know how an excellent stroke program can positively impact the lives of patients and their families."
"When things go well for a patient, it makes it all worth it," said Shannon Godbolt. "This is what we're here to do: be our best for them."