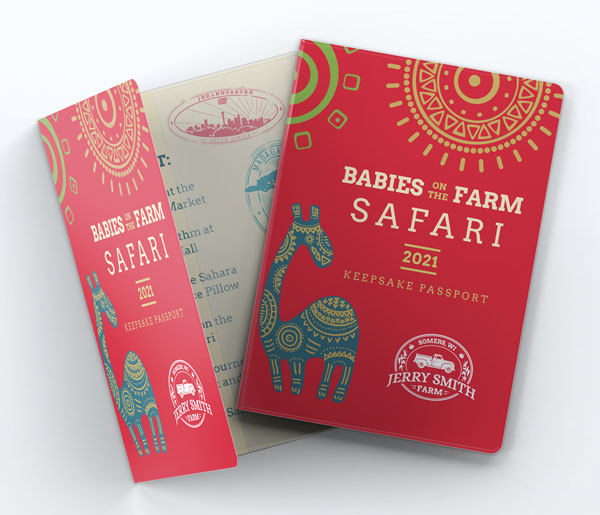 Have you ever wanted to take a Safari through the African savanna? Or travel to India to see some of the exciting wildlife? This June join Jerry Smith Farm for the Babies on the Farm Safari edition that'll bring the excitement of travel to Kenosha! The 4th Annual Babies on the Farm provides a new twist with exotic safari themed animals, as well as your farm favorites.
Count the stripes of beautiful Nyala, a striking South African Bunga! Then fly over to Asia to meet the largest Asian Antelope in the world, the Nilgai. Bounce on over to Australia to meet our kangaroo then head to South America to meet Cocoa, a sweet and soft Alpaca cria and Indy a Miniature Zebu calf. After your trip around the world, come back home to North America to spend some time with our sheep, goats, ducklings, chicks, pigs, calves, ponies & more!
Think you have what it takes to be a zookeeper? Purchase a feed cup and bottle to test your skills by helping to feed the baby antelope, goats and calves. Soar over the Sahara at the bounce pillow, take a ride through the wild on the wagon, grab a bite at the Marrakech Market then take a stroll through the local makers vendor fair. Babies on the Farm Safari will offer lasting memories for the entire family.
Dates and Tickets
The Babies on the Farm Safari event will be held from 10 am – 6pm on Saturday and Sunday, June 12 & 13 and Saturday & Sunday, June 19 & 20 at Jerry Smith Farm located at 7150 18th Street (Highway L) in Kenosha. Please note the admission gates will close at 5 pm so all guests have plenty of time to explore. Tickets are $10.00 per person and available for purchase online or at the gate. Children two and under are free. Keepsake passports will be given to the first 500 guests so be sure to save the date to visit the Babies on the Farm Safari event early and often! Follow Jerry Smith Farm Facebook and Instagram pages for more information and to meet the animals you'll see on your safari!