The Kenosha Public Market has blossomed during the COVID-19 pandemic.
The downtown institution has found tremendous success through its indoor market and new online store.
The online store — which launched in June — provides locals the opportunity to safely and easily purchase fruits, veggies, eggs, breads and proteins at home. They can obtain their orders in-person or with curbside pick-up Saturday mornings at 620 59th St.
Folks may order online 1 p.m. Saturday to 9 a.m. Friday.
"Our online service is KPM2Go, and it's a supplement to our live market," said Lorna Bacle, vice president of the Kenosha Public Market. "You order online. You can pick-up at the market. The nice thing is that all of the to-go orders are put in an area not in the main market. You can also do curbside. It's like any other curbside service. They come and pull-up, call a number and we bring their order out completely contact-free."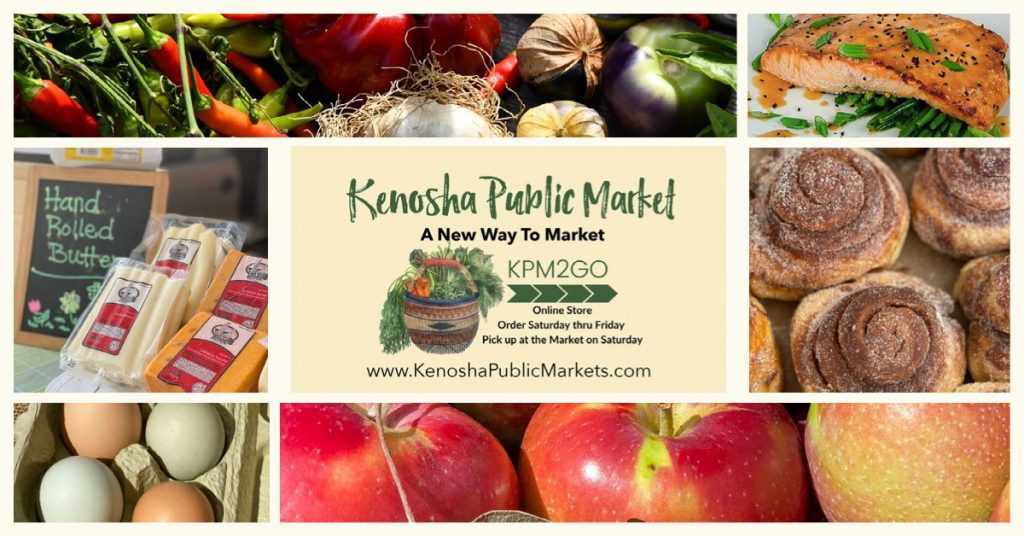 Bacle said the indoor market provides farmers and producers much-needed opportunities to sell their products.
The online store accepts payments via major credit cards, along with SNAP/EBT and WIC. The market is the only downtown establishment where a variety of fresh produce can be purchased.
"It's going amazing," Bacle said. "I was just looking at orders today and I do a monthly analysis. Our customer count from the first month we offered it in June to December, we saw a 683 percent increase in customer count. The sales increased 2,000 percent since June."
Such increases are not adjusted for seasonality, which means compared to last season the market is booming.
"Most farmer's markets don't have an online shopping presence like we do. Our customers can go online to stay safe from COVID-19, or see what's available each week," she said.
Bacle said curbside and contactless customers are a good mix between millennials and senior citizens.
"Our curbside and contactless orders are about 25 percent seniors and the other 75 percent in the 25 to 40-year-old range," she said.
That same ratio applies to those who walk the market and peruse items.
"It keeps our farmers with an outlet to sell. That is how they make their income," she said.
The online market boasts dozens of farmers and producers. Their product count is 1,238 across 23 categories.
Some of the most popular categories are bakery bread, fish, cheese, microgreens and eggs.
Jerry Gulley, secretary of the market, said the online store helps ensure customers can purchase their favorite things before they're sold out. The market is open Saturdays 9 a.m. to noon.
"That's honestly why I use it each week," he said.
Bacle said struggling small downtown businesses hoping to expand their online presence during the pandemic should reach out to the market and ask to use their online storefront.
"We want all of our downtown business to stay viable," she said. "That's the goal."