Offer someone an encouraging word today; it might launch a new career and benefit an entire community.
That's what happened when Samantha Jacquest, owner of Blue House Books, went to an advisor at University of Wisconsin-Parkside's Small Business Development Center with her idea of opening a bookstore in Kenosha.
"I thought he'd say 'You're an idiot. Just stop.' But he was so encouraging and that inspired me to go forward," Jacquest said, recalling her fateful conversation with SBDC's James McPhaul several years ago.
Thanks to that spark, Jacquest's vision has materialized into Kenosha's only retail bookstore and more, including a proprietor whose energy and dedication promises great things for downtown Kenosha. After years as a pop-up and a temporary shared space, Blue House raised a banner on a permanent home at 5615 Seventh Ave. this winter.
While the grand opening marked a beginning for the downtown retail location, the roots of Blue House Books stretch to 2016, when Jacquest came to a fork in the road of her literary career.
After earning her Master's degree in publishing at Oxford Brookes University in England, Jacquest returned to the States. Her plan to join an East Coast publishing firm took a backseat to her vision of opening a bookstore here in her hometown.
She started as small as can be, with just a concept and a name for her fledgling endeavor: Blue House Books is what her nephew affectionately called Jacquest's family home when he visited.
Like any good student, Jacquest did her homework. She reached out to the local business owners, relied on a nationwide network of independent booksellers, and connected with Kenosha's creative community.
"The support has been incredible," Jacquest said. "From other independent booksellers, fellow business owners, and the community, it's just been amazing. I did have my doubters, though. It's not that they didn't want me to succeed, they just weren't sure about opening a bookstore in the internet age."
Armed with community support and plentiful entrepreneurial resources, Jacquest started to blaze her own trail. She launched her first pop-up in 2017, seeking out venues throughout the city, sometimes in unexpected places. Beach parties? Coffee shop? Farmers markets? Why not?
The customers from those early days have stuck around, and she has picked up more loyal Blue House Books regulars with every move.
"I didn't have the early struggles finding customers, because I already had them. Some have been with me since my very first pop-up," Jacquest said.
Through McPhaul and the SBDC, Jacquest connected with Francisco Loyola, executive director of Kenosha Creative Space. Jacquest said Loyola's philosophy of a "creative economy" is what drives her approach to business.
"It has definitely been great," Jacquest said of her work with Loyola. "He showed me that blending creativity with a business model is a great formula for success."
That association has opened doors for Jacquest, both figuratively and literally.
Through Kenosha Creative Space, Jacquest eventually found a temporary landing spot in October 2019, sharing a small slice of the building with the Kenosha Art Association. Several days a week, Jacquest hauled her inventory out of a closet after the KAA's classes concluded. She set up a functional "micro-bookstore," complete with attractive displays making the most of the tiny space, then packed it back up at the end of the evening.
Jacquest performed that literal labor of love for six months, while still working another full-time job. When an opportunity for a permanent space happened in summer 2020, Jacquest embarked on the huge project of renovating, planning, and finally opening as a brick and mortar store on Sept. 19.
The transformation to a new location and operating as a full-time, full-service store changed Jacquest's workload as well. She was no longer hauling crates of books, but instead found herself doing the "heavy lifting" of accounting and marketing.
"I'm so thankful to no longer be lifting heavy, heavy bins of books, but this definitely has its own challenges," Jacquest said. "I've never done anything like this with all the administrative tasks.
"I went to one of the finest business schools in the state, UW-Whitewater, and I never took a single business class," she said with a laugh. "I have no experience in marketing or social media, and never pictured myself opening a business, and yet, here we are. I'd say the biggest surprise is that I'm doing it at all."
A humorous post on Blue House Books social media revealed that Jacquest truly is a one-woman band. As the store's only employee, she wished herself a Happy Bosses' Day.
"Yes, everything is 100% me," she said. "While tasks like accounting and ordering from vendors can be boring, the day-to-day operation is really very fun."
For someone with no prior experience or specific training in her new chosen field, Jacquest certainly wears her Jack-of-all-Trades hat quite fashionably.
In addition to the everyday operations of her store, she has proved to be a whiz at marketing. She has garnered thousands of followers on social media, and has events planned virtually for now with big things to come in the future. The BHB Book Club currently meets online, and a virtual storytime is coming soon.
A special event featuring a live-streamed show by local musician Ben Mulwana and the unveiling of his collaborative project with Blue House is scheduled for January 27.
Putting in-person events on hold has been necessary but tough for Jacquest, a natural "people person" whose dream is tied to involving the community in much more than a purchase. She still manages to connect through social media and her friendly in-town delivery of those cheerful bright blue packages.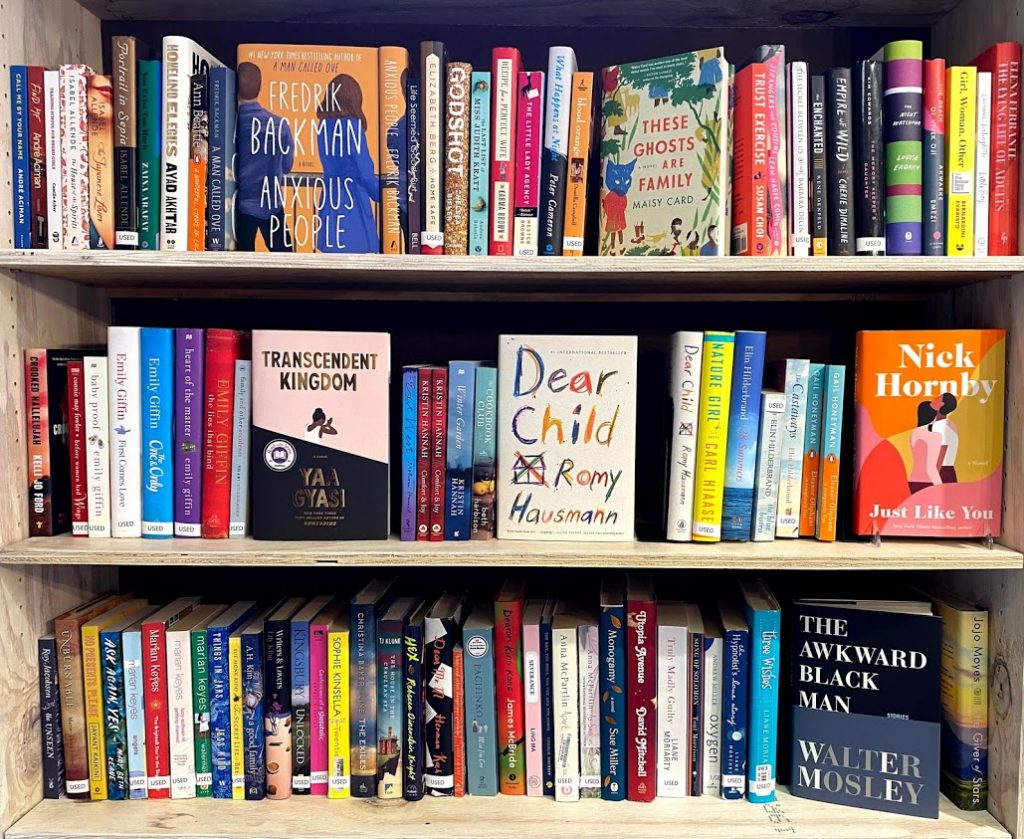 "I never wanted to be a place where people just come to make a transaction and then leave," she said.
On the road from pop-ups to permanent, with a pandemic thrown at her along the way, Jacquest has exceeded everyone's expectations, except her own. She said she is looking forward to the time when special events and the allure of the lakefront bring people back to downtown.
"Kenosha really is a great tourist destination; I miss the great events and the foot traffic that brings," she said of the impact of the pandemic.
Jacquest looks forward to the day when long-time and new customers can gather in Blue House Books' inviting atmosphere.
"I can't wait until we can really connect with the community in person again," Jacquest said. "We will come back with a big bang."