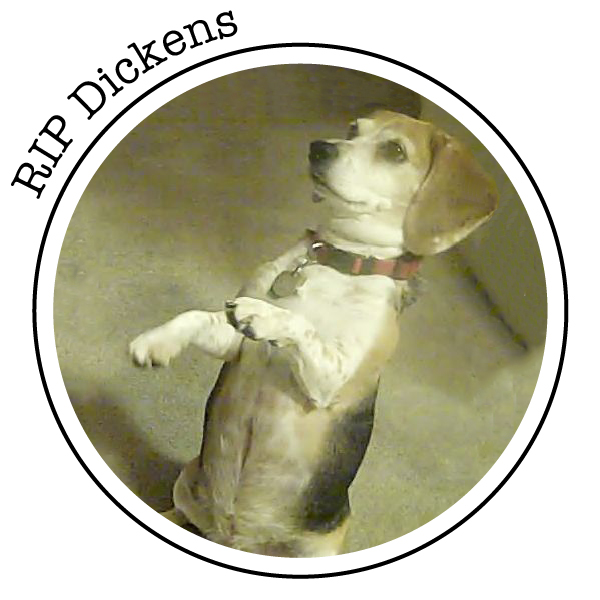 Since this is the first (and hopefully last) COVID-19 Thanksgiving, I thought I'd offer a few tips on cooking for a smaller-than-normal Thanksgiving crowd.
This is easy for me, since most years, I'm cooking Thanksgiving for two (three, if you include our late beagle, Dickens Marovich).
The most popular-sized turkey is 12 to 14 pounds, which all of you are probably familiar with. If you're cooking for a dozen people, that size is fine, but for two to four people, that's a lot of leftovers.
Look for a 10-pound bird, if you can find one. I order mine, typically Norbest, from Hometown Meats, 4924 60th St., and always ask for a small one.
I also usually ask those same friendly folks to put the turkey on the meat saw and split it down the middle. There's two good reasons for doing this.
First, you now have a five-pound turkey instead of a 10-pounder, and you can cook a five-pound bird in less than 2 1/2 hours, including resting time. You do let your turkey rest after it comes out the oven, don't you?
The second advantage of sawing your turkey in half is that now you can have hot Thanksgiving turkey twice. We usually go with Thursday and Sunday.
Looking for a smaller alternative to turkey? How about a duck? I love duck, and my favorite brand is Maple Leaf Farms from Leesburg, Ind.
Maple Leaf Farms ducks are available at most Kenosha groceries for $15 to $20. Ducks average five to seven pounds, and you won't find one for less than three dollars per pound.
They come frozen, so plan on at least four days to thaw out in the refrigerator. You might be able to feed four people on one duck, but you'll be sorry you didn't get a half for yourself.
From my deep background in the restaurant business, here's the best way to roast a duck.
After it thaws and a day or two before Thanksgiving, hack off the wings and trim off any excess fat. Save the wings and the neck bone and make a quick stock. Strained and reduced duck jus, as the French call it, is great drizzled over the cooked meat when you serve it.
Season the duck lightly, inside and out with kosher salt and black pepper and roast at 350 degrees for 75 to 90 minutes. Like any poultry, the juices should run clear and the leg bones should move easily. Save the duck fat or give it to me.
After the duck cools completely, cut it in half lengthwise and gently remove the rib bones with your fingers. Now, you have a mostly-boneless duck, just like you get in supper clubs.
On Thanksgiving, simply reheat at 350 degrees until it's hot and the skin sizzles a little bit and gets crisp. I like duck with braised red cabbage/bacon/apples out of "The Joy of Cooking" along with speatzle and several Pilsner Urquels. It reminds me of Czechoslovakia, even though I've never been there.
If you really want to simplify things, there's absolutely nothing wrong with a perfectly-roast chicken. There's an old truism that the only thing that chefs want to eat on their infrequent days off is roast chicken. I'm guilty–I could eat roast chicken every day. Here's a recipe with three ingredients, including salt and pepper: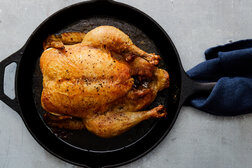 Simplest Roast Chicken
Source: Mark Bittman, New York Times
With an ingredient list just four items long (chicken, olive oil, salt, pepper), the genius of this bare-bones roast chicken is in its technique. To make it, thoroughly preheat a cast-iron skillet before sliding onto it a seasoned bird, breast side up. In under an hour you'll get a stunner of a chicken, with moist, tender white meat, crisp, salty chicken skin, and juicy dark meat all done to a turn. If you don't already have a cast-iron skillet large enough to hold a whole chicken, this recipe is a good enough reason to invest in one.
Ingredients:
1 whole chicken, 3 to 4 pounds, trimmed of excess fat
3 tablespoons extra-virgin olive oil
Salt and freshly ground black pepper
Preparation:
Put a cast-iron skillet on a low rack in the oven and heat the oven to 500 degrees. Rub the chicken all over with the oil and sprinkle it generously with salt and pepper.
When the oven and skillet are hot, carefully put the chicken in the skillet, breast side up. Roast for 15 minutes, then turn the oven temperature down to 350 degrees. Continue to roast until the bird is golden brown and an instant-read thermometer inserted into the meaty part of the thigh reads 155 to 165 degrees.
Tip the pan to let the juices flow from the chicken's cavity into the pan. Transfer the chicken to a platter and let it rest for at least 5 minutes. Carve and serve.
For sides, my best piece of advice for a smaller crowd is to cut recipes in half. Read over your favorite recipes first and see if the original amounts are conducive to just cutting in half. They usually are, and with things like stuffing, exact amounts are not all that important.
Here's a few tried and true Thanksgiving recipes of mine. I didn't include a recipe for roasting a turkey. If you don't know how by now, you might be in serious trouble next Thursday (Nov. 26).
Savory Dry Turkey Brine
Source: Williams-Sonoma
Allow 48 hours for this. It's my go-to dry turkey brine. Enough for an 18-pound bird.
Ingredients:
4 tablespoons kosher salt or 3T regular salt
1 tablespoons brown sugar
2 teaspoons dried thyme
2 teaspoons dried rosemary
2 teaspoons dried sage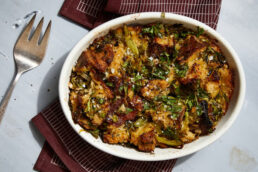 Buttered Stuffing with Celery and Leeks
Source: Alison Roman, New York Times
Like any stuffing recipe, feel free to improvise. I often add things like leftover cornbread, sausage, apples or dried fruit. Stuffing is a very personal thing — use your imagination. Those of you who love stuffing know that it might be the only reason to host Thanksgiving. This version is an updated classic — no dried fruit, no surprise ingredients, no "twists" — just a very buttery, deeply savory stuffing made with garlic, leeks and a lot of celery. The bread is crusty and torn, never cubed (for those crisp, craggy edges) and the whole thing is baked in a baking dish, never inside the turkey (to keep it light and fluffy with a custardy interior and a golden-brown top). All stuffing needs two trips to the oven: Once, covered, to cook it through and twice, uncovered, to crisp up the top. You can do the first bake ahead of time if you like, or do one after the other if the timing works out that way.
Ingredients:
1 large loaf good, crusty bread, preferably sourdough or ciabatta (about 1¼ pounds)
¼ cup olive oil
8 tablespoons unsalted butter
6 garlic cloves, thinly sliced
2 large leeks, white and light green parts, chopped
Kosher salt and freshly ground black pepper
6 celery stalks, thinly sliced, leaves reserved for garnish if available
½ cup dry white wine
½ teaspoon red-pepper flakes (optional)
2 ½ cups low-sodium chicken, turkey or vegetable broth
3 large eggs
½ cup finely chopped parsley
¼ cup finely chopped chives
2 tablespoons finely chopped marjoram, oregano or thyme
Preparation:
Using your hands, tear bread, crust and all, into 1 ½ to 2-inch pieces. (Alternatively, you can cut the bread with a knife, but I prefer the way the craggy bits toast and soak up the goods). Place chunks on a rimmed baking sheet, and let sit uncovered at room temperature for 12 to 24 hours. If you're short on time, you can toast the chunks in a 300-degree oven instead, tossing occasionally, until lightly crisped, but not browned, on the outside.
Heat oven to 375 degrees. In a large skillet over medium-high heat, combine olive oil and 4 tablespoons butter. Once butter has melted, add the garlic and leeks. Season with salt and pepper and cook, stirring occasionally, until leeks are bright green and totally softened, 8 to 10 minutes.
Add celery, and season with salt and pepper. Cook, stirring occasionally until bright green and tender, 4 to 6 minutes. Add white wine, and cook until reduced by about three-quarters, 3 to 4 minutes. Add red-pepper flakes, if using, and remove from heat.
Whisk together broth and eggs in a medium bowl. Place bread in a large bowl (you want a lot of room for mixing, so go big), and add the leek and celery mixture, parsley, chives and marjoram. Stir to coat so that everything is evenly distributed, trying not to totally crush the bread. Pour the egg mixture over everything and toss a few times. Let sit a minute or two and give another toss. Repeat twice until all the liquid has absorbed and evenly distributed to each and every piece of bread.
Transfer mixture to a 2 1/2 to 3-quart baking dish (a 9-by-13 pan also works), making sure not to pack it too tightly. (You want to keep the bread in the stuffing as light as possible). Dot the top with the remaining 4 tablespoons butter, making sure to pay extra attention to the corners, where the stuffing will get the crispiest.
Cover with foil and bake until the stuffing is sizzling at the edges and completely cooked through, 25 to 30 minutes. If it's not yet time to serve, remove stuffing from oven and set aside. (If you are nearly ready to serve, proceed directly to the next step and continue without pausing).
When ready to serve, remove foil and increase temperature to 425 degrees. Bake stuffing until crispy, crunchy and impossibly golden brown on top, 20 to 25 minutes. Scatter with celery leaves, if using, and serve.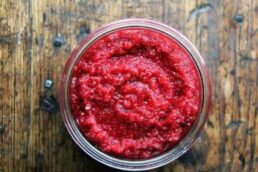 Cranberry Sauce
Source: Food & Wine Magazine
I really like Anthony Bourdain's no-cook cranberry relish (link below), but for a more-traditional cooked cranberry sauce, the "Joy of Cooking" recipe is fine.
Ingredients:
Navel orange (large scrubbed and cut into -inch pieces)
12 ounces fresh cranberries (3 1/4 cups)
1 cup sugar (can use as little as ¼ cup)
Preparation:
In a food processor, pulse the orange with the cranberries until very finely chopped. Scrape the mixture into a medium bowl and stir in the sugar. Cover and refrigerate. Serve chilled or at room temperature. The relish can be refrigerated for one week.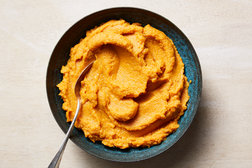 Sweet Potatoes with Bourbon and Brown Sugar
Source: Melissa Clark, New York Times
These silky mashed sweet potatoes are spiced with cloves, nutmeg and a little black pepper, brightened with lemon zest, and spiked with bourbon (or orange juice, if you'd prefer). Puréeing them in a food processor yields the smoothest, airiest texture, but for something a little more rustic, you could mash them by hand. Whichever you choose, these reheat well, either in a microwave or in a pot over low heat.
Ingredients:
3 ½ pounds sweet potatoes, pricked with a fork (10 to 12 sweet potatoes)
6 tablespoons unsalted butter
3 to 4 tablespoons dark brown sugar, or to taste
1 ½ tablespoons bourbon or orange juice
¾ teaspoon grated lemon zest
¾ teaspoon kosher salt, plus more to taste
½ teaspoon freshly grated nutmeg
¼ teaspoon black pepper
Large pinch of ground cloves
Preparation:
Heat oven to 350 degrees. Wrap potatoes in foil, place on a rimmed baking sheet, and bake until tender, about one hour. Let rest until cool enough to handle but still warm, then remove the foil and peel off the skins.
Add sweet potatoes to a food processor, along with butter, brown sugar, bourbon or juice, lemon zest, salt, nutmeg, pepper and cloves. Purée until smooth. (Or, for a chunkier texture, mash them by hand.) Taste and add salt, sugar or both if you like. Serve while still warm or reheat before serving.
Tips
This recipe can be made up to 3 days in advance and stored in the refrigerator. Reheat just before serving, either in the microwave or in a pot on the stove over low heat.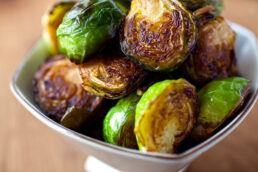 Roasted Brussel Sprouts
Source: Sam Sifton, New York Times
Included because you're supposed to include a vegetable recipe in a Thanksgiving article. This one's easy, if you like brussel sprouts, which I do. Here's a simple, foolproof way to prepare brussel sprouts: Toss with a little olive oil or bacon fat, salt and pepper and roast until tender inside and crisp outside. Finish with a little red-pepper flakes or a drizzle of balsamic vinegar, if you'd like. This recipe serves two, but it doubles or triples easily.
Ingredients:
¾ pound brussel sprouts
2 tablespoons extra-virgin olive oil or bacon fat
Kosher salt and black pepper to taste
Red-pepper flakes to taste
Preparation:
Heat oven to 400. Trim the ends of the brussel sprouts, and remove all yellowing exterior leaves. Put the sprouts in a large bowl, and toss with the oil or bacon fat, and season well with salt and pepper.
Pour the sprouts onto a sheet pan and roast in the oven for 30 to 40 minutes, shaking the pan occasionally to brown the vegetables evenly, until crisp on the outside and tender within. Sprinkle a little more salt on them and, if you like, red-pepper flakes.

Pie?
You bet, and you can't go wrong with anything from Elsie Mae's pie truck on Sixth Avenue and 51st Place (order ahead and I'll see you there when I pick up my pumpkin pie).